Bille August travels east for this misfire about a bomber pilot shot down behind enemy lines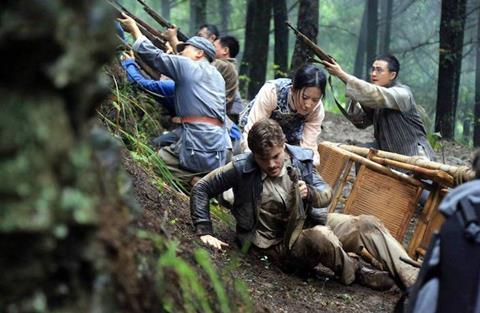 Dir. Bille August. China. 2017. 107 mins.
A last-minute switch in the 20th Shanghai Film Festival programme led to the underwhelming Bille August-directed The Chinese Widow unexpectedly opening the event. That may remain the most memorable element of this basic wartime romance which plays out between an American bomber pilot (Emile Hirsch) shot down in China and the beautiful young widow (Crystal Liu) who finds him, and which shows little affinity for either side of the story.
Veteran Danish director August (1987's Pelle The Conquerer) has presented a well-meaning, flat film which also feels somewhat unfinished - although there's not much in here to suggest that a further reworking is merited. (A credited Vivian Wu as a character's older incarnation fails to appear, leading to a sense that Greg Latter's script may not have survived entirely intact.) Travel seems unlikely after The Chinese Widow's place in the Shanghai sun, after which it should set to VOD.
While his last film was the intimate, Danish-set euthanasia drama The Silent Heart (2014), the 68 year-old August has expanded his horizons to the Pacific Theatre during World War II for The Chinese Widow, which should be shortly followed by Helena Bonham Carter-starrer 55 Steps, and a Gianni Versace biopic with Antonio Banderas.
Recounted in flashback while the war still rages on, The Chinese Widow stars Hirsch as a bomber pilot who has to fight his way through some wincingly poor CGI on a Roosevelt-ordered mission to rain destruction on Tokyo. After dropping his load, he's supposed to land in opposition-occupied Kuomintang China – although this isn't made entirely clear – when the plane is forced to divert and crashes behind enemy lines in the picturesque Zhejiang Province. ("We made a terrible mistake during the night!" exclaims a soldier, not the worst example of stiff dialogue in the film).
Discovered hanging from a tree by his parachute by a sweet little girl Nunu (Fangcong Li), the wounded Captain Jack Turner is rescued and hidden by her mother, Ying (Crystal Liu), the film's titular widow. Ying's husband has been killed during the war, and she's resisting efforts by the village head Kai (Kevin Yan) to move into her in-law's compound. She's supporting them, however, by weaving silk, an occupation which seems strangely profitable in wartime China but is still a photogenic boon for DoP Filip Zumbrunn. The ancient village in which they live is also picturesquely captured.
As we know from the start of this plodding narrative, Jack has survived his adventures in China, so the question is whether Ying and Nunu manage to make it out of the village alive and given the lovely Crystal Liu carries the air of a sacrificial angel from the get-go, suspense isn't exactly sky-high throughout this film's 107-minute running time. The point is to draw attention to the herosim of ordinary Chinese during the the war, but following on from Ann Hui's Our Time Will Come (which had been due to open the fest), framing that through a star-crossed East/West romance seems retrograde and fatally lacking in edge.
Technical credits are ok, although the fist-act CGI as Captain Turner lifts off an aircraft-carrier in stormy weather are as misguided as the story they illustrate.
Production company: Zhejiang Roc Pictures Co Ltd
Producer: Sun Peng
Screenplay: Greg Latter
Cinematography: Filip Zumbrunn
Editor: Gerd Tjur
Music: Annette Focks
Main cast: Crystal Liu Yifei, Emile Hirsch, Fangcong Li, Kevin Yan