Dir/scr. David Pablos. Mexico, France, 2015. 105 min.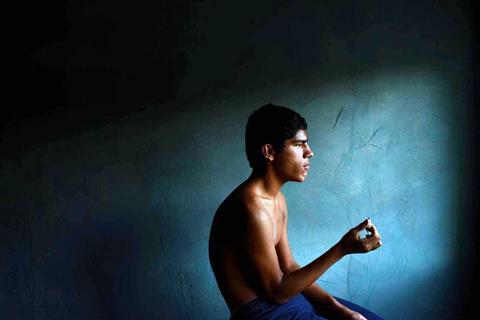 Most probably conceived as a righteous pamphlet against child prostitution, this blunt tale of a 14-year old girl who falls for a grim-faced, inexpressive boy slightly older than her and ends up in a Tijuana brothel working double shifts has very little that is original or perceptive to say on a subject that needs far more incisive treatment. The script, by David Pablos (The Life After), has a tendency to treat the characters as prototypes rather than individuals and is ultimately thin, repeating key elements.
Everything looks lurid and unflattering, the sex taking place almost entirely off-screen
The story is centred around Sofia (Nancy Talamantes), only 14 and living with her mother and little brother. She is in love with Ulise (Torres), without suspecting that he has been charged with seducing her and passing her over to his father (Edward Coward) and older brother (Jose Santellan Cabuto) who run a chain of cheap brothels in Tijuana. But when Ulise refuses to give Sofia up, his dad and brother grab her anyway and put her to work. They beat Ulise up cruelly to teach him a lesson, and when he still says he wants Sofia, they tell him he can have her, if he brings in a substitute.
To do so, he picks up another girl, Marta (Leidi Gutierrez) who, once again, lives with her mother and little sister. This time, the courtship, though it goes through very similar stages, is more elaborate. Ultimately, however, Marta is also beaten into submission and forced into her new job by Ulise, driven into an act of despondent fury by all the pent-up anger and frustration inside. (Not that anyone would guess it from his stony face).
Both Talamantes and Gutierrez are gullible, lively, and innocent enough as the doomed victims while Carolina Costa's gritty photography suggests this is to be viewed as closer to documentary than fiction. And, to Pablos' credit, there are no titillating sequences here. Everything looks lurid and unflattering, the sex takes place almost entirely off-screen, energetically conveyed through sounds and with Sofia's distress written all over her face as deafening echoes of bodies slapping against each other and loud moans reverberate throughout the soundtrack.
That is one of the very few memorable features one can take home from The Chosen, whose presence in the program at Cannes may generate more expectations than it can reasonably satisfy.
Production companies: Canana, Manny Films
International sales: Mundial (cristina_garza@mundialsales.com)
Producer: Pablo Cruz
Executive producers: Gael Garcia Bernal, Diego Luna, Marta Nunez Puerto, Arturo Sampson, Walter Von Bortsel
Cinematography: Carolina Costa
Editing: Aina Calleja, Miguel Schverdfinger
Production design: Daniela Schneider
Music: Carlo Ayhllon
Cast: Nancy Talamantes, Oscar Torres, Leidi Guiterrez, Jose DSantillan Cabuto, Alicia Quinonez, Edward Coward, Raquel Presa