A heartfelt tribute to Thessaloniki highlighting its sorrowful history of antisemitism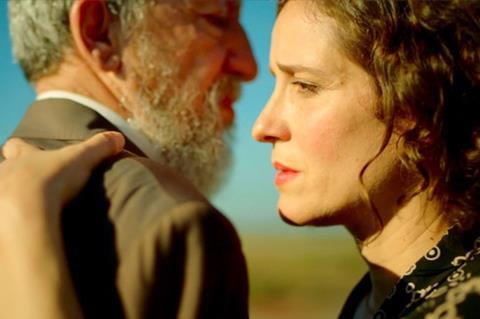 Dirs/scrs: Christos Passalis, Syllas Tzoumerkas. Greece 2022. 87 minutes
Greek duo Christos Passalis and Syllas Tzoumerkas deliver a kaleidoscopic chronicle of mid-20th-century anti-semitism in their native Thessaloniki via their first writing-directing collaboration The City and the City (I Poli ke i Poli). A deliberately disorienting affair which shifts freely between fiction and documentary elements, colour and monochrome images, live action and stills across multiple time-lines and several languages (some sentences start in one tongue, finish in another), it's an absorbing and appropriately disturbing indictment of man's inhumanity to man.
A complex and moving tapestry of persecution and defiant resistance
Premiering in the Berlinale's competitive, edgier Encounters section, made with the collaboration of the Thessaloniki International Film Festival and the support of myriad august international cultural/historical bodies, this ambitious affair is guaranteed plentiful further festival play in the coming months. It functions as a heartfelt, sorrowful and elegiac love-letter to Thessaloniki, which before the Second World War was a dazzlingly polyglot cosmopolis with a majority-Jewish population. Only 1% would remain by the time of the nation's liberation from Nazi terror in October 1944.
The first real pre-shocks of Thessaloniki's coming cataclysm were felt in 1931, when nationalist and xenophobic forces grouped together and started persecuting their Jewish neighbours via arson attacks: the multi-part film's first proper chapter ('One Day Before The Fire') touches on these events in impressionistic, claustrophobic fashion.
This section is preceded by a brief, woozy-dreamy prologue, mainly unfolding in slow-motion, in which a mother, father and son holiday in a forested area. Only at the very end of the film, during an even more explicitly oneiric epilogue, is the time-frame specified as summer 1983. One particular transition here, involving a barking dog and the sounds of a church organ, is achieved with quite thrilling aplomb — editor Yorgos Zafeiris also cut Apples, Christos Nikou's festival favourite from last year.
From this moment it's evident we're in artistically confident hands. While what follows is inevitably uneven and often skirts opacity, by the end — the climax a self-contained, nightmarish vignette whose Kafka-influence extends to it being titled 'The Trial' — the fragments of story and documentary have been persuasively woven into a complex and moving tapestry of persecution and defiant resistance.
The closest thing to a conventional narrative through-line relates to the plight of one typical, fairly affluent Thessaloniki Jewish family: first among equals in an ensemble cast are Vassilis Kanakis as Leon and Niki Papandreou as his sister Nina. Leon is able to flee the bloody oppressions of the city and, it is implied, the country: a radio-interview with Yugoslav leader Tito suggests that he makes it across the border into what is now North Macedonia.
Simos Sarketzis' camera (shooting hand-held and in colour) follows him as he wordlessly wanders through rural areas into a city. As with Christian Petzold's Transit (2018), the only period detail comes via character costume, and the urban zones Leon traverses after sunset are unambiguously the present day. In polar contrast, Nina's most striking sequence is a grim, haunting, extended monologue executed in black-and-white, zooming in very slowly on her face as she sits at the end of a long table.
In his three previous solo efforts to date — most notably A Blast (2014) — Tzoumerkas has established himself as a fresh and unpredictable voice in Greek cinema, quite distinct from the globally-acclaimed "weird wave" of Lanthimos, Tsangari and company. And with The City And The City (which somewhat bizarrely shares its title with China Miéville's bestselling, Hugo Award-winning novel) he once again shows commendable willingness to take creative risks, usually with productive outcomes.
His collaborator Passalis first came to attention playing the son in Lanthimos' breakthrough Dogtooth; he later appeared in Tzoumerkas' Homeland (2010) and offbeat cop drama The Miracle Of The Sargasso Sea (2019), whose luminous lead Angeliki Papoulia here figures prominently in the committed ensemble cast.
Production companies: Homemade Films, Greek National Opera
International sales: Homemade Films, info@homemadefilms.gr
Producer: Maria Drandaki
Production design: Christos Passalis
Editing: Yorgos Zafeiris
Cinematography: Simos Sarketzis
Main cast: Vassilis Kanakis, Niki Papandreou, Alexandros Vardaxoglou, Angeliki Papoulia, Argyris Xafis