It's a case of 'same situation, new location' for Liam Neeson and director Jaume Collet-Serra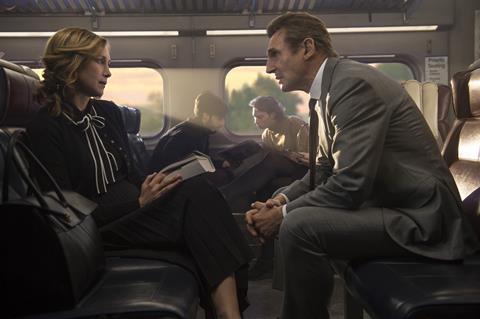 Dir. Jaume Collet-Serra. UK/US, 2018, 104 mins.
Liam Neeson takes a routine ride through familiar action-thriller territory in The Commuter, reteaming with Unknown, Non-Stop and Run All Night's Jaume Collet-Serra for their fourth film this decade. Starting with a montage of ordinary mornings sums up their latest repeat effort, with the star and director happily sticking to the same well-worn formula. Their mode of transport may have changed, as well as a few stops taken along the way, but the destination remains the same.
The Commuter is never boring, though its initial moral quandary isn't the novelty Collet-Serra and company think it is
For audiences taking the journey, that means one thing: Neeson in tough-guy mode, chasing shady foes, righting wrongs and showing off his particular set of skills in yet another outlandish high-concept scenario. With a mid-January roll out around the world, StudioCanal (and its partner Lionsgate in the US) will be hoping fans of the pair's previous collaborations hop back on board. Given that the film delivers exactly what's expected in its undemanding, by-the-numbers fashion, they should achieve that wish.
Pacing around in a train rather than Non-Stop's aeroplane — and enlisting mystery woman Joanna (Vera Farmiga) to spark the drama — Neeson plays 60 year-old ex-cop turned insurance salesman Michael McCauley. He's working the daily grind to provide for his wife (Elizabeth McGovern) and college-bound son (Dean-Charles Chapman); however his efforts aren't paying the two mortgages, let alone tuition fees. When he's unceremoniously fired, having a few drinks with his ex-partner (Patrick Wilson) can't drown his sorrows. But, as he heads home on the 6.25pm service, Joanna's sudden proposition could erase his problems.
With the promise of a $100,000 payoff, Michael is asked to spot a new face among the regulars he has travelled with for the last ten years. He isn't told why, or what will happen to the person he's searching for — and while he suspects that something sinister is afoot, ending his own financial struggles is alluring, even if it's at the expense of a stranger.
As the train hurtles from New York City to Cold Spring, finding the wanted party and working out just what's going on become Michael's predictable mission, whether he wants to or not. Though clearly influenced by everything from Hitchcock to The Fugitive to Speed, debut screenwriters Byron Willinger and Philip de Blasi lay the clichés on thick and fast. Michael is five years away from retirement, red herrings abound in his quest for the truth, and his fellow passengers include a kindly old-timer (Jonathan Banks), a rebellious college student (Florence Pugh, worlds away from Lady Macbeth) and an arrogant Wall Street banker (Shazad Latif) who bears the brunt of the feature's blunt everyman-fights-back sentiment.
What The Commuter lacks in nuance, depth, surprises, logic and serviceable dialogue — "you have no idea who you're up against," ranks among the more obvious statements uttered — it can't make up for in its effective single-location tension or well-choreographed action, though both rank among the film's modest highlights. With a UK set standing in for the New York Metro, production designer Richard Bridgland (Unknown) gives the recreated train a suitably grimy look, while cinematographer Paul Cameron (an Emmy nominee for Westworld) makes the most of the confined space in Collet-Serra's preferred jittery and energetic style.
Both help ensure the film retains interest for enough of its 104-minute length, even with its "same situation, new location" approach. Indeed, The Commuter is never boring, though its initial moral quandary isn't the novelty Collet-Serra and company think it is. If he'd really wanted to branch out, casting Neeson in last year's shark thriller The Shallows would have been significantly more interesting. Instead, the frequent collaborators hurtle through the expected with an unshakable been-there, done-that air. They're competent and confident, but they're simply, uninspiringly retracing their usual route.
Production companies: Ombra Films, StudioCanal, The Picture Company
International sales: StudioCanal
Producers: Alex Heineman, Andrew Rona
Executive producers: Jaume Collet-Serra, Michael Dreyer, Shana Eddy-Grouf, Ron Halpern, Juan Sola
Screenplay: Byron Willinger, Philip de Blasi
Cinematographer: Paul Cameron
Editor: Nicolas De Toth
Production designer: Richard Bridgland
Costume designer: Betsy Heimann, Jill Taylor
Composer: Roque Baños
Cast: Liam Neeson, Patrick Wilson, Vera Farmiga, Sam Neill, Jonathan Banks, Elizabeth McGovern.