Marine Vacth, Romain Duris star in a war-time drama from the director of 'Made In France'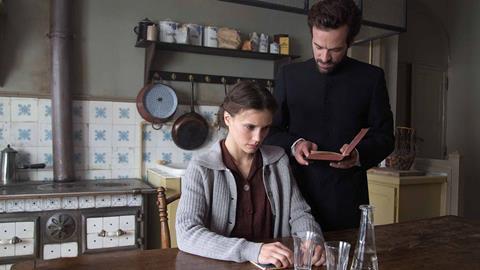 Dir/scr: Nicolas Boukhrief. Fr. 2017. 98mins
A headstrong young woman who is a defiant atheist spars and jousts with the new priest in her village as to whether or not God exists in The Confession. In a French town under German Occupation, Marine Vacth couldn't be better opposite a velvet-voiced Romain Duris as dedicated Father Morin whose faith is unshakeable and whose humor and compassion make Catholicism seem welcoming and worthwhile in harrowing times.
The source novel previously inspired Jean-Pierre Melville's classic Leon Morin, Priest(1961) starring Jean-Paul Belmondo and the late Emmanuelle Riva
Nicolas Boukhrief - whose clever Made In France, about home-grown French jihadists, was pulled from cinemas as being too close to home in the wake of genuine terror attacks — delivers a solid, consistently compelling look at the big questions of life laced into the framework of a transformative meeting of the minds under dicey circumstances. This should find takers wherever serious art house patrons are found.
Anybody who thought Vacth was just a pretty face (or shapely form) when she burst on the scene in François Ozon's Young & Beautiful (Jeune et joie) will be impressed by the model-turned-actress' ability to hold the screen under a variety of circumstances.
The film begins in the present day with a very young priest on the phone at the wheel of his car, cancelling a family dinner because he is needed to minister to a dying woman. It's his first such task and the assignment is doubly odd because the soon-to-expire but ineffably lovely old lady whose bedside he's brought to by her adult daughter is neither a Catholic nor a believer. Before she dies, she wants to tell him something she has never told anyone.
Except for one return to her deathbed at the film's halfway point and an extremely moving coda at the very end, the rest of the film takes place in flashback.
Barny (Vacth), whose husband has been in a German P.O.W. camp since before their young daughter was born, works at the local post office with three other young women under the stern eye of their older boss, (an imperious Anne Le Ny). Her co-workers are all aflutter about the new village priest, one Father Leon Morin who is apparently quite handsome in addition to delivering great sermons.
As a Communist and atheist, Barny couldn't care less. But a few weeks later she decides to enter the confession booth to hear for herself how this talented smooth talker will respond to her contempt for the Church and its manipulative teachings. She's borderline rude but he's a good listener and game for some intellectual chess. She hasn't the slightest doubt that God doesn't exist. He firmly believes that God is both real and worth getting to know. She agrees to read a few Gospels and he agrees to meet regularly with her. Their pointed exchanges are quietly thrilling. It's 1944. She has no respect for fellow citizens who collaborate with the Germans; he tries not to judge.
Their give and take is cleverly scripted and always sharp and challenging. There's little to eat and the village women have gone years without their menfolk. At the post office, letters of denunciation arrive often, including one accusing Barny of hiding Jews.
The more she's exposed to Father Morin's approach to faith, the less Barny finds to ridicule in Catholicism. The Second World War will end eventually but Barny will carry a rich secret for decades.
Wrestling with her no-faith, Vacth's Barny is an appealingly strong female character whose drop-dead beauty in no way detracts from her stern principles. Serious about his calling but playful and good natured in administering to his flock with a kind and personalised touch, Duris conveys a work ethic illuminated from within. Always alert to suffering souls, Father Morin exudes confidence in an era when spiritual convictions were a major component of daily life even if life was upside down and dangerous.
Beautifully lit with spare but evocative production design, the film works well as an historical melodrama whose portrayal of impossible romance is impossibly romantic. The award-winning 1952 novel previously inspired Jean-Pierre Melville's classic Leon Morin, Priest (1961) starring Jean-Paul Belmondo and the late Emmanuelle Riva.
Production companies: Radar Films, Nebo Productions, Scope Pictures, PSB
International sales: SND Groupe M6, charlotte.boucon@snd-films.fr
Producers: Clement Miserez, Matthieu Warter, Nicolas Jourdier
Screenplay: Nicolas Boukhrief, freely inspired by the novel 'Leon Morin, Pretre' by Beatrix Beck
Cinematography: Manuel Dacosse
Editor: Lydia Decobert
Production design: Julia Irribarria
Music: Nicolas Errera
Main cast: Romain Duris, Marine Vacth, Anne Le Ny, Solene Rigot, Amandine Dewasmes, Lucie Debay, Charles Lefebvre