Dir: James Wan. US. 2016. 131mins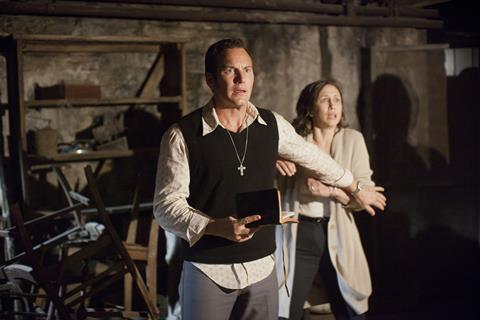 Lacking some of the simplicity and elegance of the first instalment, The Conjuring 2 is nonetheless a smoothly efficient horror movie, building to a powerhouse finale rooted in our emotional connection to the film's well-drawn main characters. Director James Wan reunites with stars Vera Farmiga and Patrick Wilson for another true-life tale of paranormal investigators who this time are hunting a pesky English demon in 1977, and although the shocks are a little more mechanical, the sequel proves to be a refreshingly sophisticated, affecting entry in a genre that often aims far lower.

If Lorraine is going to lose her husband to a ghoul, she's not letting him go without a fight.
The Conjuring was a sleeper hit in the summer of 2013, grossing $318 million worldwide on a reported budget of only $20 million. The follow-up, opening in several territories by June 10, may not be able to match those numbers, but horror fans should be satisfied, resulting in solid theatrical numbers and robust VOD and cable business.

Taking place six years after the first film, The Conjuring 2 finds Lorraine Warren (Farmiga) troubled by a dark vision foretelling the death of her husband Ed (Wilson). She thinks it's a sign that they should give up their work as investigators of paranormal phenomena, but they're drawn to the Hodgsons, a family living in North London which is plagued by an apparition who has possessed youngest daughter Janet (Madison Wolfe).

From the outset, this new film shivers with foreboding, as Lorraine is convinced that this case may spell the end for her beloved Ed. But before The Conjuring 2 focuses on the Warrens, Wan (Furious 7, Insidious) turns his attention to this English family, giving us a glimpse of their working-class lives, specifically that of single mother Peggy (an effortlessly weary Frances O'Connor). Raising four children is difficult enough, but once their new home is visited by a sinister force that insists the house is his, Peggy can no longer maintain her brave face.
The Conjuring 2's screenplay — credited to four people, including Wan — isn't as deft at capturing the family dynamics as the 2013 original, which was also based on actual events. But even if the Hodgsons don't stray far from the typical victimised clan in a horror movie, Wolfe and O'Connor manage to elicit sufficient sympathy.
About 20 minutes longer than the first film, The Conjuring 2 can spend too much time establishing the creepy terrors which visit the Hodgsons at night. Adding to this sense of bloat is the fact that the scares tend to be all in the same vein: a character is fearful about something in the distance, looks down, and then looks up to discover that it's suddenly right in front of her.
But once the conflicted Warrens show up to investigate, The Conjuring 2 finds its rhythm. Wan, cinematographer Don Burgess, composer Joseph Bishara and editor Kirk Morri give the proceedings a stately but tense vibe, the actors treating these paranormal activities with utter realism — so much so that one of the film's most gripping moments simply involves Ed speaking nonchalantly to the unseen demon in the Hodgsons' living room. Here, the sequel matches the old-fashioned horror tone of the original, favouring tingling dread to outright gore.
As in the first film, Farmiga and Wilson make a believable married couple, their bond strengthened by their surreal line of work. Since Lorraine is a psychic, her premonition about Ed's gruesome demise has at least some validity, and the characters' relationship is fraught with concern that, despite Ed's insistence that he'll be careful, this could finally be the case that brings tragedy into their lives. Farmiga is particularly riveting as the film winds toward its operatic conclusion, giving a performance that's appropriately histrionic. If Lorraine is going to lose her husband to a ghoul, she's not letting him go without a fight.
Production companies: New Line Cinema, RatPac-Dune Entertainment, Safran Company, Atomic Monster
Worldwide distribution: Warner Bros., www.warnerbros.com
Producers: Peter Safran, Rob Cowan, James Wan
Executive producers: Toby Emmerich, Richard Brener, Walter Hamada, Dave Neustadter, Steven Mnuchin
Screenplay: Chad Hayes & Carey W. Hayes & James Wan and David Leslie Johnson, story by Chad Hayes & Carey W. Hayes & James Wan, based on characters created by Chad Hayes & Carey W. Hayes
Cinematography: Don Burgess
Production design: Julie Berghoff
Editor: Kirk Morri
Music: Joseph Bishara
Website: www.theconjuring2.com
Main Cast: Vera Farmiga, Patrick Wilson, Frances O'Connor, Madison Wolfe, Simon McBurney, Franka Potente