The lives of Korean ex-pats in Europe collide in Jo Hee-young's accomplished debut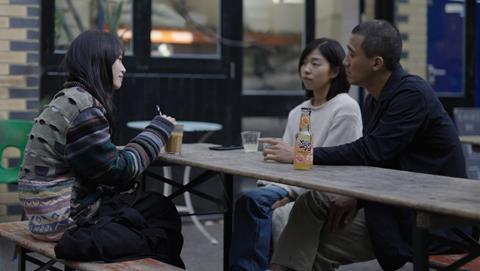 Dir/scr: Jo Hee-young. South Korea. 2022. 87 mins.
The lives of five young expat Koreans gracefully intersect in writer-director-editor Jo Hee-young's coolly-calibrated The Continuing Land, a quietly accomplished fiction-feature debut. Bowing in the Korean Cinema Today – Vision strand at Busan, this delicate, aesthetically pleasing miniature of longing, loneliness and love seems sure to be a popular choice for the more discerning festivals in the months ahead.
Transcending the limitations of what was evidently a low budget, this is a conspicuously good-looking film from beginning to end
International appeal is likely to be boosted by Jo's evocative use of exclusively European locales: mainly London and Milan, much-filmed cities presented afresh through outsider eyes. And occasional echoes of Hong Sang-soo (including the screenplay's diptych structure) won't do the film any harm — it's a reasonable guess that Jo, like Hong, has learned much from French masters like Eric Rohmer
In any case, from the first shots depicting a placid park in leafy east London it's clear we are in safe, stylishly distinctive hands. Jo knows how to frame a shot, to establish mood using found music (classical piano), and to operate at a sedate pace without succumbing to gratuitous protraction. A major plus throughout is the limpid digital cinematography by Lee Jin-keun — who shot one of Hong's less noteworthy efforts, the Croisette-set Claire's Camera (2017) — that boasts the richness and depth of celluloid.
Transcending the limitations of what was evidently a low budget, this is a conspicuously good-looking film from beginning to end. Decisions relating to cutting, blocking and framing are also clearly the result of careful deliberation: the first close-up is withheld until the 23-minute mark, earlier scenes consisting of long and medium-long shots. In an era when many emerging film-makers are cranking out lo-fi works which seem primarily aimed at small-screen play, Jo's attention to matters of craft is welcome indeed.
Plot-wise, not a great deal goes on. Twentysomething Ho-rim (Jung Hoe-ryn) wanders around London, stumbles across a discarded camcorder, accesses footage that features another young Korean woman, and meets her ex (of several years past) Dong-hwan (Kam Dong-hwan) on a park-bench for what is supposed to be a brief chat. But when Dong-hwan's current girlfriend Kyung-seo (Ryu Se-il) turns up, followed by her pal Yi-won (Gong Min-jeung), the quartet ends up sipping wine back at Dong-hwan and Kyung-seo's flat.
Here Ho-rim confides to Dong-hwan that she still has powerful feelings for him; these are not reciprocated. Ho-rim later leaves with Yi-won, whom she realises is the young woman from the camcorder footage. At this point, just over 40 minutes in, the film switches tack to follow Yi-won; the location shifts with her to Milan, where a street-encounter with yet another young Korean (Kim Seo-kyung) yields unexpected consequences.
The duo walk and talk until dark in what Yi-won's (unnamed) new pal describes as "a pretty perfect city"; echoes of Richard Linklater's Before pictures are clearly intentional. During this dialogue there is an exchange about how trees of the same species grew near-identically despite being planted in different locations with different soil and environmental conditions.
This chat, which provides clues towards the picture's enigmatic title, has obvious metaphorical applications to the experiences of Koreans outside Korea — Jo's abiding concern. A short coda in another corner of Italy then satisfyingly wraps up proceedings in a few simple strokes, typical of her careful economy and her capacity for low-key, subtly poetic charm. All in all, a lovely debut.
Production company: Jo Hee-young
International sales: Jo Hee-young, c.est.tout.555@gmail.com
Producers: Lee Hye-sung, Jo Hee-young
Cinematography: Lee Jin-keun
Production design: Choi Min-ji
Editing: Jo Hee-young
Main cast: Gong Min-jeung, Jung Hoe-ryn, Kam Dong-hwan, Ryu Se-il, Kim Seo-kyung