Dir. Tom Hooper. UK-US, 2015, 120 mins.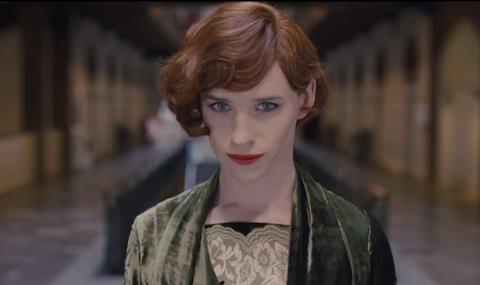 "I was always pretty, you just never noticed," says Eddie Redmayne's character in trangender drama The Danish Girl. In fact, Redmayne's androgynous prettiness has always been one of the noticeable factors of his intriguing screen presence, and it makes him a perfect fit for the film's theme - the story of painter Einar Wegener, later known as Lili Elbe, who underwent a pioneering gender reassignment operation in the 1930s. Redmayne's performance, and the very sumptuous polish of Tom Hooper's drama will undeniably make The Danish Girl a lead contender in the forthcoming awards season.
The film's most obvious appeal is as a love story, with the interplay between Redmayne and Vikander centrally effective. Unfortunately, they don't always seem to be acting together, or in the same film.
But this is an over-varnished, sometimes dramatically leaden, and determinedly mainstream drama that never really gets under the skin of a complex subject that has been depicted to far more trenchant effect elsewhere (not least, and with effortless brio, in recent Sundance hit Tangerine). Even so, visual gloss, prestige performances and the usual Working Title magic should make this audience-friendly package a very solid piece of middle-brow box-office bait.
Adapted by Lucinda Coxon from David Ebershoff's novelisation of Wegener's life, the story starts in mid-20s Copenhagen, where Einar is a painter of moody landscapes, beginning to find success - though it eludes his portrait painter wife Gerda (Vikander). The loving, and passionate heterosexual relationship is defined by Einar's feminine delicacy and Gerda's no-nonsense forcefulness - as defined when she barks at a hapless male portrait subject, "Sit!" (the command actually directed at a Jack Russell named Hvap, whose pertness Hooper overindulges shamelessly).
An interest in a new silk nightgown of Gerda's - a faint unwitting touch of Ed Wood's Glen Or Glenda here - is Einar's Road to Damascus moment, as he begins to realise that he has a woman within him. That woman takes the form of Lili, initially presented in public as a shy country cousin. But Einar's gradual reappraisal of his body, and discovery of a range of feminine gestures - which he studies, in the film's most intriguing scene, in a Parisian peepshow - not only transform his life, but also help Gerda rediscover her mojo as a painter of erotic nudes, who all have Lili's shy smile.
The film's most obvious appeal to audiences will be as a love story, with the interplay between Redmayne and Vikander centrally effective. Unfortunately, they don't always seem to be acting together, or in the same film. Vikander stresses Gerda's sexual and social confidence, but makes the character's knowingness too archly emphatic throughout. Redmayne's performance, meanwhile, comes across as narcissistic in a way that his Stephen Hawking, in A Theory of Everything, was not. That's unavoidable, no doubt, in a film whose protagonist spends so much time examining his/her body language, but he's overdependent on a range of coy moves and gestures that may make viewers feel that they're being flirted with a little strenously. Support playing is uneven, but Ben Whishaw and Sebastian Koch come across most substantially, giving the film some solid ballast.
Visually, the film can come across as too determinedly exquisite, although Eve Stewart's design, Danny Cohen's photography and Paco Delgado's fabulous costumes undeniably make for a heady brew. We're sometimes too emphatically treated to local colour - those Copenhagen fish sellers with their paper hats - but the nature shots, and grace notes such as a blue hat in a street of deep ochre houses, mean that they're always something to marvel at. Alexandre Desplats' score, however, is one layer of deep varnish too many.
Production companies: Working Title Films, Pretty Pictures
International sales: Universal Pictures International, festivals.mailbox@nbcuni.com
Producers: Gail Mutrux, Anne Harrison, Tim Bevan, Eric Fellner, Tom Hooper
Screenplay: Lucinda Coxon
Cinematography: Danny Cohen
Editor: Melanie Oliver
Production design: Eve Stewart
Music: Alexandre Desplat
Main cast: Alicia Vikander, Eddie Redmayne, Amber Heard, Matthias Schoenaerts, Ben Whishaw