Dir/scr: Simon Stone. Australia. 2015. 96 mins.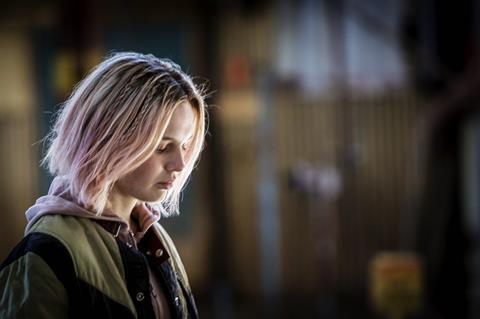 Making his feature debut, Sydney theatre's enfant terrible Simon Stone corrals stars Geoffrey Rush, Paul Schneider, Sam Neill and Miranda Otto into a family tragedy which plumbs the usual depths of secrets and lies. Two layers of adaptations converge in the writer/director's The Daughter, a version of his own award-winning staging of Ibsen's The Wild Duck. The weighty effort, which premiered at the Sydney Film Festival, succeeds in conveying intimacy and conjuring tension courtesy of strong performances, and will appeal to audiences fond of textured emotional dramas, even though its narrative wallows in familiar territory.
Multiple parties bicker over blood ties, both brutally and broodingly, in a blatant heart-wrencher which is likely to resound with empathetic viewers.
When prodigal son Christian (Schneider) returns to the quiet logging town which generations of his family have called home, his arrival reopens old wounds and exposes new worries. His visit is sparked by the impending marriage of his timber mill owner father, Henry (Rush), to Anna (Anna Torv), the much-younger woman who was formerly the family housekeeper; however resentment still lingers over the death of Christian's mother years earlier.
Further trouble emerges when Christian reconnects with old childhood friend and mill worker, Oliver (Ewen Leslie), meets Oliver's wife Charlotte (Otto) and teenage daughter Hedvig (Odessa Young), and starts to piece together a scandal involving both families.
Escalating theatrics which emanate from the unearthing of hidden deeds are far from original, particularly within an Australian cinema landscape that boasts Lantana and Beautiful Kate in its recent history. Even those unacquainted with Ibsen's 1884 work, or with Stone's 2011 play and its subsequent seasons in Oslo, Vienna and London, should be able to predict where the narrative is headed.
In fact, the verbose dialogue references the age-old nature of the central conflict, and The Daughter's affection for obviousness doesn't stop there. The feature's title, though more marketable than The Wild Duck, strongly foreshadows its eventual focus, leaving viewers to wait for the inevitable rather than immersing them in mystery. The original moniker rears its head in a heavy-handed display of symbolism with an injured animal cruelly shot down and struggling to fly again.
What The Daughter lacks in narrative surprises, however, it works hard to make up for in its confident approach. Stone takes to the cinema with assurance and a flair beyond his limited filmmaking experience (a segment in Australian anthology The Turning is his only other film credit). In its theatre iteration, his interpretation of the tale was a stripped-back affair in both story and staging; here, he embraces the full potential of his new medium.
When cinematographer Andrew Commis isn't taking the time to roam around the feature's woodland setting, he's using the camera's handheld movements to impart perspective and subjectivity. Editing by Veronika Jenet delicately weaves the conversation-heavy histrionics together. The score, composed by Mark Bradshaw, lays the emotion on thick, but also proves suitably moody and haunting.
Amidst such an enthusiastic yet overt display, Stone relies upon his cast to impart the nuance the film desperately needs, and though he is surrounded by higher-profile names, it is Australian actor Leslie – best known to international audiences from The Railway Man and TV's Top of the Lake – who shines brightest. Playing off of Schneider, who is gifted his best role in years while remaining tasked with conveying exposition, Leslie embodies the simmering pain always lurking within the storyline.
Rush, Otto and Sam Neill receive less screen time yet leave an impression, particularly the latter as Oliver's father, another figure with a complex, interconnected backstory. Their presence doesn't just add marquee names to the bill, but further fleshes out The Daughter's core: multiple parties bickering over blood ties, both brutally and broodingly, in a blatant heart-wrencher likely to resound with empathetic viewers.
Production company: Fate Films Pty Ltd
International sales: Mongrel International, international@mongrelmedia.com
Producers: Jan Chapman, Nicole O'Donohue
Cinematography: Andrew Commis
Editor: Veronika Jenet
Production design: Steven Jones-Evans
Main cast: Geoffrey Rush, Ewen Leslie, Paul Schneider, Miranda Otto, Anna Torv, Odessa Young, Sam Neill.