A windowed grandmother uses near-future technology to bring her husband back from the dead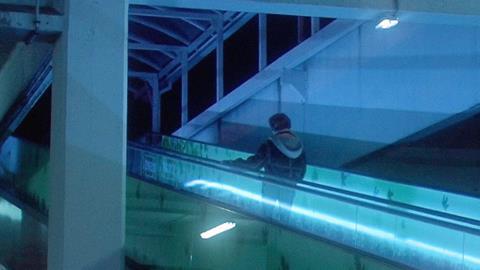 Dir/scr: Maxence Stamatiadis. France. 2021. 67mins
An imperfect soulmate is better than no partner at all in The Day Today (Au jour d'aujord'hui), the unclassifiable feature debut of French-Greek director Maxence Stamatiadis which celebrates unconditional, undying love in the age of Artificial Intelligence. The heady mixture of romance, science-fiction, mockumentary and satire reveals an inventive mind and a generous heart. It often feels more art gallery installation than conventional feature but adventurous festivals might want to support the promise of a new talent.

Stamatiadis does everything he can to imbue this story with a documentary-like authenticity
The melancholy air, whimsicality and dry, dark humour all suggest clear affinities between Stamatiadis and the Greek "Weird Wave" sensibilities of Yorgos Lanthimos, Athina Rachel Tsangari or Christos Nikou. The influences also encompass Spike Jonze and a young John Waters. Despite that, it is still a film that proudly marches to its own drum. The Day Today revisits elements of Stamatiadis's short films, including dystopian mockumentary Purina No 1 (2018) and Frisson D'Amour (2019), and also finds him once again using his grandparents as the lead characters.
The first stretch of the film is set in Les Pavillons-sous-Bois in 2013 and focuses on a family unit addicted to technology. Smart phones, laptops and televisions dominate their lives. In a dark, gloomy bedroom, the elderly Edouard (Edouard Mouradian) sits playing Call Of Duty Black Ops or typing his thoughts on to the screen. On the surface, he drifts along with the wishes of his wife Suzanne (Suzanne Mouradian) and their granddaughter. His on-screen confessions reveals a man full of resentment, anger and regret. He dreams of a second chance at life. He festers with a desire to enact his own genocide. "I'm overwhelmed by my thirst for killing," he notes.
Stamatiadis does everything he can to imbue this story with a documentary-like authenticity. You assume the affection between his grandparents is true to life. The fuzzy aesthetic, claustrophobic settings and fondness for extreme close-ups counters that with what feels like a vision of domestic hell.
The location remains the same but events move on to 2024. A widowed Suzanne is doing her best to fill her days but cannot help but miss the presence of her beloved Edouard. Photos and memories are not enough to fill the void. Then she stumbles across The Day Today, an organisation that promises to reunite you with your lost loved ones. The appliance of science allows them to imprint a volunteer "swapper" with the features and characteristics of someone else. She orders a new Edouard but the search through his digital history reveals much of the anger and bitterness that has previously been concealed. There is something not quite right about Edouard, especially when he starts to act on his impluses. Suzanne is happy to have a version of her husband back and willing to accept any substitute, even this modern day Frankenstein.
The Day Today fleetingly touches on a whole range of topics from the dangers of the dark web to the Armenian genocide, cautionary reflections on the use of cutting edge technology and what we are willing to endure in the name of love. Not all of it is sharply focused but direction and "performances" remain fully committed to the mockumentary concept right down to a closing dedication to the loving memory of Edouard Mouradian.
Production Companies: Agathe Berman Studio, Bad Manners, Hutong Productions
International sales: Oyster Films oyster.films.info@gmail.com
Producers: Agathe Berman, Neil Beloufa, Lucie Rego, Pauline Tran Van Lieu
Cinematography: Marine Atlan
Editing: Elsa Jonquet, Maxence Stamatiadis
Main cast: Suzanne Mouradian, Edouard Mouradian.