A devout Christian teenager finds his faith tested by adolescence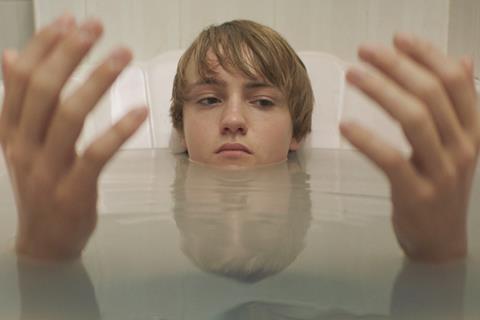 Dir/scr: Andrew Hulme. UK. 2017. 102mins
A boy raised within the sheltered certainties of a born again Christian family finds his faith tested by adolescent hormones, science and a discovery which may or may not be a sign from God. The sophomore feature from editor-turned-writer/director Andrew Hulme juxtaposes a teenage coming of age story with a world which seeks to smother the sexual awakening which is an inevitable part of growing up.
Handsomely shot, the film makes evocative us of its location
This is not the first time that Hulme has taken religion as a central theme. His 2014 feature debut, Snow In Paradise, told of a small-time criminal who finds answers in Islam; here the central character is tormented by questions to which his evangelical background offers no solutions. But while Snow In Paradise was propelled by a forcefully muscular main performance, the unformed, diffident quality of the troubled child at the heart of this follow-up means that the story is less emphatically gripping and, as such, finding an audience presents more of a challenge.
Newcomer Noah Carson plays Robert, an introverted, imaginative boy who has been homeschooled by his devout parents and seems to exist in a world of his own. His parents smile benignly as he gazes, motionless, at the oil on the surface of a puddle; through Robert's eyes, we see an extra moon in the sky. But Robert now has to attend secondary school, and finds himself ill-equipped to deal with the turbulent pack mentality of school and fresh ideas which undermine the very core of his Christian beliefs.
Meanwhile, at church, two new figures cause unrest within the congregation. David (Mark Stobbart) is a magnetic lay preacher who calls for his fellow Christians to stand up and be counted against the godless tendencies of the town. And Marcus (Daniel Frogson) is a cynical teenager who offers Robert a taste of forbidden knowledge, introducing him to crude sexual banter and pornography.
While Robert's mother (Keeley Forsyth) is very much taken with the fervour of the preacher, his father (Alex Lowe) is uncomfortable, particularly when his wife insists that he haul a cross through the shopping centre at the head of a proselytising show of faith. There's something about the icy fire in David's eyes which is unsettling. He preaches about the threat of the 'devil outside'. But he also warns temptation comes in all forms, something that clearly plays on Robert's father's mind as his watches his wife and David praying together, breath intermingling, hand in hand.
It's during this period of upheaval and uncertainty that Robert discovers a body in a local wood. Already primed to believe that God is everywhere, he convinces himself that the bearded cadaver is, in fact, Jesus.
Handsomely shot, the film makes evocative us of its location, a small former mining village in Nottinghamshire. The abandoned pit heads and slag heaps loom like a warning; the locker room in the long disused mine buildings offers Robert another window into the grubby minds of men.
Repression and restraint go hand in hand; and the film's themes and imagery are generally understated and unassuming. Flickers of humour are a welcome release. It is, however, also a picture which tentatively flirts with the language of horror at times and, as it draws to its wistfully ambiguous close, you rather wish that Hulme had given in to temptation and ramped up the madness and shock value a little more.
Production company: Ipso Facto, The Jokers Films
International sales: Protagonist anne-lise@protagonistpictures.com
Producer: Christine Alderson
Production Design: John Stevenson
Editing: Andrew Hulme, Nicolas Chaudeurge
Cinematography: Mark Wolf
Music: Kevin Pollard
Cast: Noah Carson, Keeley Forsyth, Mark Stobbart, Alex Lowe, Zara White, Gail Kemp, Daniel Frogson