Dir: Robert Schwentke. US, 2016, 121 mins.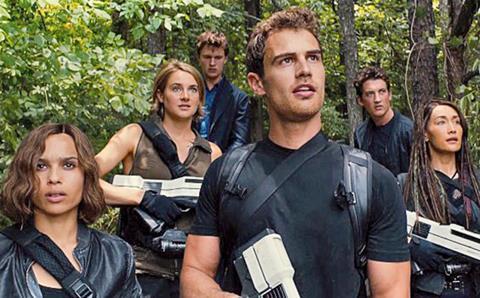 The practice of splitting franchise finales – which started when Harry Potter carved two films out of The Deathly Hallows and was enthusiastically embraced by Summit/Lionsgate for the Twilight and Hunger Games series – will be put to the test as the Divergent films wind, or grind, down to their final moments, with Allegiant setting the scene for next June's finale, Ascendant. Long, shiny, and treading a lot of water, Allegiant should preach to hardcore fans of Veronica Roth's trilogy of YA dystopian novels and those already invested in the first two films, but would seem to lack momentum outside that base.
This is a YA dystopia which parents can be happy with.
Summit's futuristic franchise bobbed in at just under the $300m mark with its 2014 and 2015 episodes (Divergent and Insurgent) with a domestic drop-off being compensated by increased international takings. Allegiant's plot, in which the protagonists climb the wall for a baffling origins story before returning to Chicago for the next film's showdown, is not always compelling. But director Robert Schwentke, returning from the sequel, burnishes the film with enough gleaming futuristic visuals to sell Allegiant to its target market.
Shailene Woodley and Theo James return to the fray, although both come across as hesitant heroes. Kate Winslet is out, of course, her Janine vanquished in the last film; Naomi Watts as Evelyn becomes an increasingly imperious leader of those left behind in the wake of the insurrection, while Jeff Daniels makes an appearance as 'David', a mysterious God-like puppet-master who lives beyond the wall and works for 'The Bureau'.
For those new to the series, Divergent is a dystopian fantasy spun out around the idea of segregation and subjugation: in the post-apocalyptic city of Chicago, survivors are divided into factions according to their virtues. Those who don't fit are 'divergent', like Tris. Roth's final novel turned the tables and writers Noah Oppenheim, Adam Cooper and Bill Collage add their own tweaks to turn Allegiant into an anti-eugenics treatise, although the plot doesn't always flow well. Meddling with human DNA has led to an apocalyptic war, it seems, and 'The Bureau' has fenced the genetically modified population inside the wall in Chicago, where it watches their every activity.
The main emotional thrust of Allegiant seems to be to bring the tentative Tris (Woodley) to a place where she steps up to being a leader. As David frequently tells her, she's "pure", unique, special – Tris is the chosen one. "I don't know who told you being different is bad," he says.
In this film, Tris leaps over the wall with her followers – the tattooed Four (Theo James), Christina (Zoe Kravitz), dubious Peter (Miles Teller), her brother Caleb (Ansel Elgort) and Tori (Maggie Q, who isn't long for this film). Outside, in the fringes, they discover that "somebody seriously messed up the world". They arrive at a radioactive post-apocalyptic wasteland where even the rain is red. Fortunately, though, a squadron of vessels arrives through a nifty shifting barrier and their leader announces: "Welcome to the future; we've been waiting for you."
'The future' is housed in Chicago's O'Hare airport and is run by David, who seems to want to map Tris's DNA, is intent on separating her from her boyfriend Four, and is generally not to be trusted. Tris wanders around some antiseptic rooms wearing halterneck tops while Four goes out on one of David's raiding missions to steal children from their parents (no particular reason is given). And at home, Evelyn's forces range against those of the former Amity faction's Joanna (Octavia Spencer).
All this takes place in an impressively ruined world, although the art department tends to over-egg the aesthetic by dressing combatants in red military fatigues to go with the rain, for example, and the rusty-coloured gas which David is sending to Chicago to give everyone amnesia.
This is a YA dystopia which parents can be happy with. The kids themselves are surprisingly vanilla in this 12-rated film. Tris and Four don't have sex, or swear, and although she's independent-minded, Tris is remarkably credulous. One death is briefly touched on, but otherwise, there's not much to rock the boat. There are no cynical one-liners, no real set-pieces, and Tris is no Ripley.
This makes the likely audience for Allegiant skew low, and forgiving of the film's blurry edges. Schwentke's pronounced aesthetic will give it a wow factor, but if the Divergent series is to remain viable, next year's finale will need to deliver fireworks to keep the value of the boxed set intact. The problem with the young adult demographic is that it's such a fleeting moment in time; a 13-year-old in 2014 will be 17 by the time the series pumps out its finale. Can Shailene and her crew keep up?
Production company: Red Wagon Entertainment
International distribution: Lionsgate
Producers: Douglas Wick, Lucy Fisher, Pouya Shahbazian
Executive producers: Todd Lieberman, David Hoberman, Barry Waldman, Neil Burge
Screenplay: Noah Oppenheim, Adam Cooper, Bill Collage, based on the novel Allegiant by Veronica Roth
Cinematography: Florian Ballhaus
Editor: Stuart Levy
Production designer: Alec Hammond
Music: Joseph Trapanese
Main cast: Shailene Woodley, Theo James, Naomi Watts, Octavia Spencer, Zoe Kravitz, Ansel Elgort, Jeff Daniels, Miles Teller, Maggie Q, Ashley Judd.