The chronicle of a Portuguese land-owning family as their fortunes change across 45 years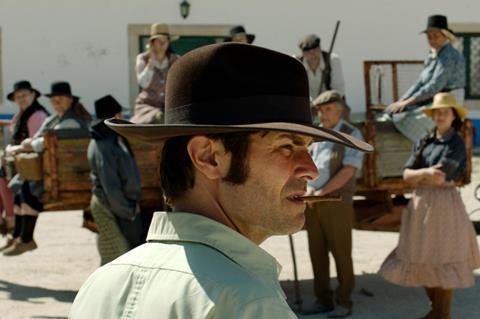 Dir: Tiago Guedes. Portugal. 2019. 166mins
Running as deep and slow as the Tagus, the river that borders the huge landed estate at the centre of the film, Tiago Guedes's The Domain is an almost three-hour-long Portuguese family saga that builds through dramatic peaks and troughs to a remarkable portrait of a patriarchal fiefdom gradually being eaten away from both outside and in.
Tiago Guedes' direction is measured and controlled throughout, and technical contributions are impressive
There's no need to have much of a grasp of Portuguese history to appreciate a film that spans the 45 years between 1946 and 1991, but rarely leaves the 14,000-hectare 'herdade' or domain that pens its characters in a kind of open-air prison. Though sometimes excessively languorous in its pacing, and a good 20 minutes too long, Guedes' film builds authority and power, thanks also to Albano Jeronimo's magnetic presence as a handsome, disdainful estate owner with a superiority complex but also a fierce attachment to his land. Playing Toronto after its Venice competition debut, The Domain can eventually expect to slow-burn its way into a few arthouse territories beyond the Portuguese-language zone.
An opening scene set in 1946 acts as a sombre preface to a film that is mostly set in two later timeframes – the months before and after Portugal's 'Carnation Revolution' in April 1974, which overthrew Salazar's autocratic Estado Novo regime and eventually ushered in an era of democracy, and a final part set in September 1991.
In the 1970s section estate owner Joao Fernandes (Jeronimo) is first seen breaking in a black stallion, treating with barely disguised contempt two politicos who have come to try to persuade him to lend his support to the government over its aggressive colonial policy in Africa. Here, in a script that flirts mostly engagingly with elements of soapy melodrama, the dashing Joao could easily be the cruel, rich heartthrob hero of some pulpy romance – but it's exactly this domineering male myth that the film will gradually pull apart.
It does so partly through The Domain's other standout performance, that of Sandra Faleiro as Joao's wife Leonor. The daughter of a high-ranking general, Leonor is no less impervious to her husband's attraction than most of the other women that surround him – including Rosa (Ana Vilela da Costa), the pretty, dark-eyed young wife of the estate's steward and Joao's right-hand man, Joaquim (Miguel Borges). But Leonor has no illusions about her husband, and we see love and bitterness fighting within her, with the latter inexorably winning, in a film that is as much about its characters' watchful silences as it is about what they say to each other.
Joao seems to care more about his workers than he does about his wife or sweet yet fragile little son Miguel, who's always getting ill. It's the loyalty, albeit grudging, that he seems to inspire in employees like Communist tractor driver Leonel (Joao Vicente) that enables him to ride out the backlash against landowners that followed the Carnation Revolution. But by the film's final early 1990s section, a now greying Joao is losing control over his modern-day serfs and family (where the 20-something Miguel, played by Joao Pedro Mamede, is now a willfully self-destructive drug-addled waster), while continuing to act the cold, imperious lord of all he surveys, finding a connection only with his beloved black horse.
The contrast between the inside and outside spaces of Joao's world is marked. The low white house at the centre of the estate is no posh mansion: rooms and corridors are narrow, like the bed where Joao and Leonor sleep in uneasy proximity, and it seems immersed in constant penumbra. Outside, the sky is as big as the fields and rice paddies that extend to the edges of the screen and beyond, but certain locations – like a hill crowned by an oversize olive – take on a sinister connotation as places of death or dissolution.
Guedes' direction is measured and controlled throughout, and technical contributions are impressive in everything from Roberto Perpignani's slow, rhythmic edit to the film's costumes and lighting – the latter brilliantly in evidence in a sequence near the end in which Joao retreats further and further into the shadows to become a black silhouette outlined by the first light of dawn.
Production companies: Leopardo Filmes, Alfama Films Production
International sales: Alfama Films, jason.alfamafilms@orange.fr
Producer: Paulo Branco
Screenplay: Rui Cardoso Martins, Tiago Guede, with the collaboration of Gilles Taurand
Production design: Isabel Branco
Editing: Roberto Perpignani
Cinematography: Joao Lança Morais
Main cast: Albano Jerónimo, Sandra Faleiro, Miguel Borges, Joao Vicente, Joao Pedro Mamede, Ana Vilela da Costa, Rodrigo Tomás, Beatriz Brás, Teresa Madruga