Dir/scr: Jocelyn Moorhouse. Australia. 2015. 118 mins.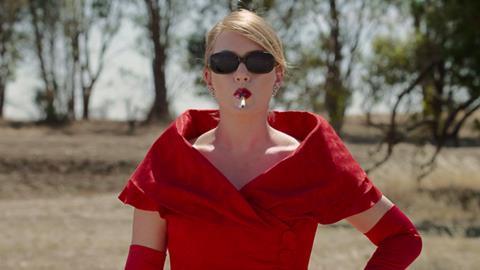 Light comedy, romantic drama, small-town secrets and revenge schemes might not seem an easy or winning mix; however in The Dressmaker, the combination fits. Making her first film since 1997's A Thousand Acres, director/co-writer Jocelyn Moorhouse adapts Rosalie Ham's 2000 novel of the same name into a handsome crowd-pleaser. After premiering at the Toronto International Film Festival, expect a warm reception upon release, particularly in the feature's home territory of Australia.
Set in 1951 and always looking the period part, The Dressmaker provides many a ravishing sight — including Kate Winslet's football match-stopping appearance in a figure-hugging, eye-catching red dress
The performance of star Kate Winslet as Myrtle "Tilly" Dunnage has much to do with the film's charm, though The Dressmaker is more than just a vehicle for its leading lady. A cast of recognisable local actors include Judy Davis and Hugo Weaving as fleshed-out comic relief, plus Liam Hemsworth as the requisite loveable, while the behind-the-camera skills of veteran cinematographer Don McAlpine and experienced editor Jill Bilcock enhance an period offering that hits both stylistic and storytelling marks.
Perfecting an antipodean accent again (after 1999's Holy Smoke), Winslet's Tilly arrives in town under the darkness of night, lights a cigarette after stepping off a bus, and exhales the film's first words with a cloud of smoke: "I'm back, you bastards." After two decades away from Dungatar, including studying haute couture in Paris, her impeccably dressed homecoming is far from happy or welcome. Her ailing mother, "Mad" Molly (Davis), ostensibly provides the inspiration for her return, but revealing the true reason behind her banishment — involving the death of a classmate when she was ten years old, and the closing of the one-street community's tight-knit, gossip-hungry ranks in response — is her true motivation.
Determined to discover the truth of the past, Tilly commences reconciling with Molly, reluctantly falling for kindly local lad Teddy McSwiney (Hemsworth) in the process while endearing herself to the populace with her sewing skills. Making over the likes of shopkeeper's daughter Gertrude Pratt (Sarah Snook) with image-changing outfits helps her find a sliver of favour, and the secretly fashion-obsessed police sergeant (Weaving) is also a fan. Unable to shake the feeling she has been wronged and is cursed, however, and adamant about exposing the involvement of the town's many acid tongues in her downfall, her sartorial flair comes with stitches of vengeance.
Set in 1951 and always looking the period part, The Dressmaker provides many a ravishing sight — including Tilly's football match-stopping appearance in a figure-hugging, eye-catching red dress — with the intricate work of costume designers Marion Boyce and Margot Wilson clearly pivotal. And yet, the narrative is as engaging as the custom-built, dust-laced setting, as co-translated to the screen by the director and her filmmaker husband P.J. Hogan (best known for Muriel's Wedding, My Best Friend's Wedding and Confessions of a Shopaholic), who took on second unit directing duties as he did on Moorhouse's Proof and How to Make an American Quilt. Flitting from mystery to tragedy to laughs with graceful changes in tone provide some of the film's highlights.
A veritable who's who of Australian performers (Snook, Barry Otto, Gyton Grantley, Rebecca Gibney, Shane Jacobson, Alison Whyte, Shane Bourne and Sacha Horler, plus New Zealander Kerry Fox), provide ballast. In their efforts and in Moorhouse's gentle yet spirited direction, local quirkiness and universal themes of retribution and redemption make for a film that's sincere and witty as it tells of clothing, clandestine affairs and comeuppance.
Production companies: Film Art Media
International sales: Embankment Films mp@embankmentfilms.com
Producer: Sue Maslin
Screenplay: Jocelyn Moorhouse and P.J. Hogan
Cinematography: Don McAlpine
Editor: Jill Bilcock
Production design: Roger Ford
Main cast: Kate Winslet, Judy Davis, Liam Hemsworth, Hugo Weaving, Kerry Fox, Sarah Snook.