Dir: Aleksei Mizgirev. Russia. 2016. 110 mins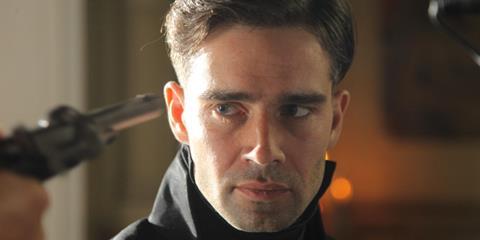 Violent passions, retribution, honour, betrayal and guilt - not to mention vast amounts of gilt - form the lifeblood of this spectacular, archetypally Russian period drama. Set in Saint Petersburg in 1860, the story unfolds in an opulent, decadent world in which noblemen are permitted by Russian codes of honour to settle their differences by fighting a duel.
The dark, velvety colour palette gives the film a sense of moody foreboding
Since the notoriously touchy Russian nobility can take umbrage from something as minor as jostling in the caviar queue at the latest banquet, business has never been better for Saint Petersburg's pistol salesmen. But crucially for this story, the arcane codes of combat permit a nobleman to fight using a proxy - a professional duelist who earns his living by killing.
Russian star Petr Fedorov takes the title role in this spectacular picture which was projected in IMAX format at Tallinn's Black Nights Film Festival. And his name alone should ensure that the picture does solid business domestically and within Russian diaspora audiences. The arthouse credentials of producer Alexander Rodnyansky (Leviathan, Elena) may help to draw audiences overseas, but ultimately the film's main selling point is the huge, buffeting spectacle of this Tsarist Russian epic. It could appeal to the same audience that responded to the BBC's lavish, sexually-charged adaptation of War And Peace.
Fedorov plays a brooding, devilishly handsome retired army officer called Yakovlev who, since returning to Saint Petersburg, has made a lucrative and highly successful career out of fighting other men's duels. Yakovlev's back is covered in a lattice of scars - a sign of a dark secret in his past - but they are not as deep as the emotional wounds which prompt him to face death on a regular basis in order to seek revenge on the one man who wronged him many years before.
The backdrop, particularly the teeming, almost invariably rain-lashed streets of Saint Petersburg, is strikingly designed. There are a couple of exhilarating tracking shots which follow Yakovlev as he strides through the slurry and chaos of the flooded docks. When it's not swooping over the cobbled streets and carriages, the camera does a lot of cringing around the feet of the nobility, gazing fearfully up like a peasant hoping for a ruble but expecting a kick.
The interiors are, if anything, even more stunning. The dark, velvety colour palette gives the film a sense of moody foreboding, as if illicit secrets lurk in every shadowy nook and well-appointed boudoir. It also means that, with her white gold hair and fair skin, Princess Martha (Julia Khlynina) glows like a candle flame against the gloomy luxury of the backdrop.
It is through Martha and her gentle, decent younger brother that Yakovlev reconnects with the moral upstanding man he once was. After a spot of consensual ravishing in a carriage, Yakovlev realises that he can avenge himself and defend Martha's honour with yet another duel - this time with the nefarious Count Beklemishev (Vladimir Mashkov). Beklemishev is the man who, by writing a name on a gilt-edged card, commissions the duels that Yakovlev has fought. He is also the man, we learn through a flashback, who ruined Yakovlev's life to begin with, divesting him of his nobility and framing him for a crime.
Despite some pacing issues and a slightly repetitive second act, this is a polished production which establishes writer/director Aleksei Mizgirev as a talent to watch.
Production company: Non-stop Production
International Sales: Sony Pictures
Producers: Alexander Rodnyansky, Sergey Melkumov
Screenplay: Aleksei Mizgirev
Cinematography: Maxim Osadchiy
Editor:Igor Litoninskiy
Production Designer: Andrey Ponkratov
Score: Igor Vdovin
Main cast: Petr Fedorov, Vladimir Mashkov, Martin Wuttke, Julia Khlynina, Yuri Kolokolnikov, Franziska Petri