A young Korean woman develops a relationship with the son of the woman she cares for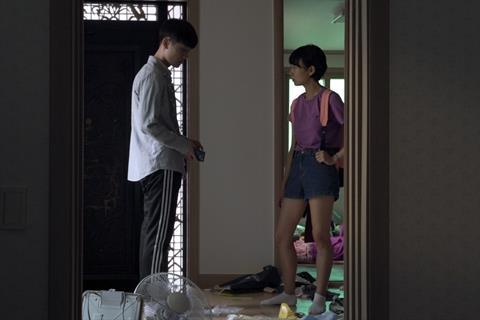 Dir/scr. Kim Duk-joong. South Korea. 2019. 98mins.
Education and the plight of young people are a recurring theme in independent Korean cinema. Kim Duk-joong approaches these slightly differently in his feature debut which, in focusing on a young woman and her job as a personal assistant for the disabled, sheds some light on the pressures facing those searching for employment along with the difficulties in nursing those with disabilities.
Young actress Mun Hye-in gives a committed performance
After the film's premiere in New Currents, a section in which has been very fruitful for Korean cinema over the years, there will surely be some initial interest. But the film's sluggish pace, and with nothing to really pull in international audiences, it could well struggle going forward.
Mun Hye-in plays the film's central character, Sung-hee, who is struggling to raise the funds to move to Spain after she graduates and is working as an assistant for the disabled. Following a back injury, she requests a less demanding job assignment that takes her to the the home of Hyun-mok (Kim Jun-hyung), where he resides with his severely disabled mother. The pair initially clash when the young student insists that Sung-hee also cleans up the home. But they soon form a friendship of sorts as she guides him in preparing for an exam to become a civil servant; a test she herself failed to pass despite investing significant time into it.
There is plenty of material to potentially delve deeper into: the pressures the exam system places on students, the psychological and physical demands of looking after a parent with life-changing health problems and the impact this has on one's own education. The film certainly touches on this these issues, but it fails to explore them in any meaningful depth and instead focuses on the relationship between the pair that also feels somewhat superficial.
Kim adopts a realist aesthetic, using a number of long-takes as he attempts to focus on the film's underlying themes with a sense of authenticity. Ultimately, however, the longer they drag out the less authentic they become. Tonally the film is an odd mix, with subtle humour inserted into the narrative at various points, but the film's overall bleak tone undermines any attempt to lighten the film's mood.
Young actress Mun Hye-in gives a committed performance, but it's a role that audiences might have problems to fully connect with. Her character's financial woes will draw sympathy yet, as the narrative progresses, Sung-hee is intentionally kept at an emotional distance. The lack of narrative closure could also be frustrating to viewers.
Production Company: Graduate School of Cinematic Content, Tiger Cinema
International Sales: Graduate School of Cinematic Content, Tiger Cinema (dj@djinside.net)
Producer: Kwon Sun-jeong
Screenplay: Kim Duk-joong, Kim Mid-eum
Cinematography: Oh Jeong-seok
Editor: Kim Duk-joong
Main Cast: Mun Hye-in, Kim Jun-hyung, Song Young-suk, Hong Ji-seok, Shin Seon-hae