Laia Costa shines in this otherwise lacklustre drama set in the Spanish Pyrenees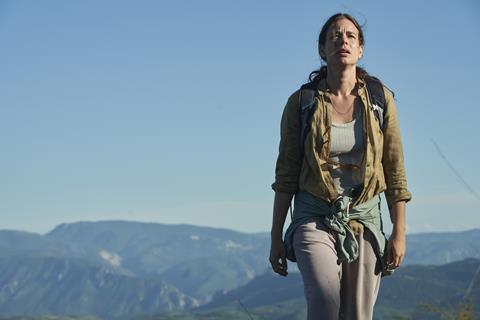 Dir: Elena Trape. Spain. 2022. 108mins
After winning Best Film at the 2018 Malaga Film Festival for her second feature, The Distances, Elena Trape returns with the Catalan-language The Enchanted, a disappointingly inert, overly-schematic drama about a woman returning to the village of her childhood following a separation from her husband and daughter. Laia Costa's central performance is wonderful, despite a script (written by Trape and Miguel Ibanez Monroy) which seems unable to bring her heroine fully alive.
Laia Costa can only go so far in giving us access to the largely hermetic Irene
Irene (Costa, who won the Best Actress Goya last year for her role in Lullaby) has separated from her husband Guillem (Carlos di Ros) and must spend time away from their four-year-old daughter. In her new apartment, she unhappily unpacks her books to the accompaniment of mournful indie music, feels out of place in a bar with a group of friends, and finally – presumably because she wants to escape her feelings – decides to drive out to the family cottage in a beautiful village in the Spanish Pyrenees.
Irene will learn the hard way that you can run all you like, but you'll always carry yourself with you. Nagged on the phone by her mother, upset by Guillem's updates on how things are going with their daughter, Irene encounters a range of characters from her childhood – among them the grandfatherly Agusti (veteran Pep Cruz), the troubled Gina (Ainara Elejalde Bel), who has cancer and who, like Irene, seems to have escaped to the pueblo, and Ingrid (Aina Clotet), happily bringing up her young family. Each has their own story, but none seem to offer Irene what she needs. Even when she tries to escape into sex, by inviting cosmopolitan Erik (Dani Perez Prada) up from Barcelona, it goes horrendously, comically wrong, a failed coupling in the cemetery later becoming a memorable (and literal) vomit fest.
Trape has shown in previous features Blog and The Distances that she's no fan of spelling out characters' motivations, preferring to quietly and naturally record their interactions and let the viewers figure it out. (A high percentage of the dialogue of The Enchanted consists of realistic but dull small talk.) The problem is that her previous films were both built around group dynamics; here, Irene is out there alone, awkward and shy as she tries to negotiate life without the daughter who has defined her.
This can make for slow viewing. There's a certain emotional coyness in the screenplay, which avoids mining this character too deeply for fear of having to tackle her messy complexities. Cast as much in the role of observer as participant, Irene becomes a challenge for the viewer; while it would be unfair to say that she loses our sympathy, she certainly tests our patience. As does the technique of the camera slowly zooming out on Irene at moments where she feels loneliest, and at her most remote.
This isn't to say that Costa, one of Spain's finest actors, doesn't do great, nuanced reaction work, or that the film isn't full of touching human moments and delightfully sharp exchanges. But Costa can only go so far in giving us access to the largely hermetic Irene, not to mention the fact that the conflicts of those around her are much more interesting: Agusti with his concerns about what the young are doing with their lives; Gina, with her bold independence; Ingrid establishing her young family; Marta (Delia Brufau) who is heading off to China.
Visually, however, The Enchanted is a delight, Pau Castejon Ubeda's camerawork fully exploits the gorgeous sunlit, windswept uplands of the Catalan Pyrenees and sheer stoniness of its villages. The title derives from a fleeting reference to a legend about enchanted beings who live in a crack in the rocks. But this concept is never properly woven into the drama and comes across as an afterthought, tacked on to give the film some symbolic heft.
Production companies: Encantats Films, Coming Soon Films, A Contracorriente Films
International sales: Latido Films, juan@latidofilms.com
Producers: Marta Ramirez, Fernando Riera, Manuel Monzon
Screenplay: Elena Trape, Miguel Ibanez Monroy
Cinematography: Pau Castejon Ubeda
Production design: Irene Montcada
Editing: Sofi Escude Poulenc
Music: Anna Andreu
Main Cast: Laia Costa, Dani Perez Prada, Pep Cruz, Aina Clotet, Ainara Elejalde Bel, Delia Brufau, Marti Atance, Carlos di Ros