Shawkat Amin Korki's taut drama concerns a young woman who risks everything to ensure she passes her exams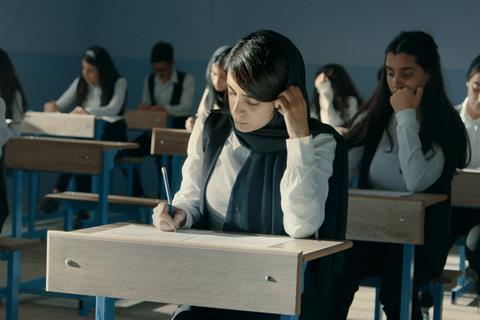 Dir: Shawkat Amin Korki. Germany/Iraqi Kurdistan/Qatar. 2021. 89 mins.
The value of education is high for young people of Rojin's (Vania Salar) generation in war-torn Iraqi Kurdistan. The results of her upcoming exams will dictate her future: pass them, and she gets to attend university; fail them and she is to be married off to a suitor chosen by her father. The latter fate is something that her older sister, Shilan (Avan Jamal), has experienced first-hand and is keen for the fragile Rojin to avoid. But the costs of a guaranteed pass, purchased through a broker who provides the answers to the student via a concealed bluetooth earpiece, is higher than either sister could have anticipated. The latest picture from director Shawkat Amin Korki is a taut female-driven story which delves into the moral ambiguities of Shilan and Rojin's increasingly desperate measures.
Long, unbroken takes lend the film an observational, naturalistic approach which is not always matched by the performances
The Exam screens in the Red Sea Film Festival having premiered in Karlovy Vary and winning the Best Screenplay prize at the Tirana Film Festival. It's the fourth feature from Korki, whose previous work includes Memories On Stone, which was the 2014 Iranian submission for the Foreign Language Oscar. The film's exploration of the plight of young Kurdish women caught between tradition and more progressive options will likely recommend the picture to the programmers of further festivals, particularly those with a focus on social issues. Outside of the festival circuit, it's a film which is more likely to connect with audiences from the Kurdish diaspora than it is with the arthouse sector.
Shilan's anxiety about her sister's fate is a complicated thing. Rojin, who has survived one suicide attempt, is still mourning the disappearance of her former fiance, who vanished two years ago. It's not clear whether it's grief which has stunted her academic abilities or whether she had never thrived in school, but there seems to be no question that, without cheating, she has no chance of passing the exams. Miserably married to the overbearing fishmonger Sardar (Hussein Hassan), Shilan sees her own fate mirrored in that of her sister. Acting covertly, without the knowledge of Sardar, she hawks her jewellery in order to pay for the answers which will guarantee Rojin an escape route from the subservience of life as a wife and mother.
Long, unbroken takes lend the film an observational, naturalistic approach which is not always matched by the performances. The male cast members in particular tend towards a shouty, finger-wagging delivery, which seems a little exaggerated and at odds with the social-realist ambitions of the storytelling.
The standout is the striking Jamal, a television actress in her first feature role, who brings a frazzled authenticity to her performance as Shilan. Her determination to protect her sibling forces her to take risks which could destroy her marriage and her future; meanwhile her increasingly suspicious husband guts carp at his market stall and grumbles darkly to anyone who'll listen about her failings. If The Exam ultimately tips into the realm of melodrama, it's perhaps understandable given the bleak scarcity of options available to young women like Rojin and Shilan.
Production company: mitosfilm
International sales: ArtHood Entertainment GmbH, info@arthoodentertainment.com
Producer: Mehmet Aktas
Screenplay: Shawkat Amin Korki, Mohamed Reza Gohari
Cinematographer: Adib Sobhani
Editing: Ebrahim Saeedi
Production design: Jalal Saed Panah
Music: Mehmud Berazî
Main cast: Avan Jamal, Vania Salar, Hussein Hassan, Shwan Attoof, Hushyar Nerway