A big-hearted caper from Denis Arcand, 30 years after 'The Decline of the American Empire'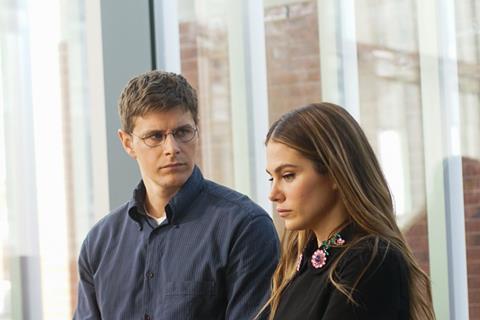 Dir/scr Denys Arcand. Canada. 2018. 129 mins
The rich grow richer and the poor are just collateral damage in The Fall Of The American Empire. More than thirty years after The Decline Of The American Empire, writer/director Denys Arcand still has some pertinent points to make about the state of the modern world. His new film is a sardonic, solidly entertaining fusion of crime caper and state of the nation rumination that should find favour with arthouse audiences who have remained loyal to Arcand through the years.
A little old-fashioned but also surprisingly endearing, and feels like some of Arcand's best work in a while
Money lies at the root of all the evils that Arcand observes. It is a theme repeated like a haunting refrain in a film that mourns the growing number of homeless sleeping on the streets of Montreal and the spread of food banks, and wags a rueful finger at all the corporate greed that fuels the inequalities of modern society.
Rather than attack his subject with bristling anger, Arcand approaches it with world-weary wit and the kind of warming optimism that might not appear out of place in a Frank Capra classic. The result is a little old-fashioned but also surprisingly endearing and feels like some of his best work in a while.
Boyish, thirtysomething Pierre-Paul (Alexandre Landry) appears to be the last apostle of decency in a rotten, callous world. He has a PhD in philosophy and peppers his conversation with quotes from Aristotle and Kant. He is still burdened with student loans and earns a living as a courier. He has come to believe that intelligence is a handicap in a world that favours the corrupt and those who have abandoned any sense of morality or community. He described himself as the "archetypal upright citizen" .
Everything changes for Pierre-Paul when he is present at a botched, blood-spattered robbery and makes an impulsive decision to pocket the multi-million dollar proceeds for himself.
Trying to figure out what to do with the money and how much it might change him fuels a cleverly plotted, smoothly flowing ensemble piece that eventually draws in ex-con Sylvain Bigras (Remy Girard) and escort Aspasie (Maripier Morin).
The notion of Pierre-Paul becoming infatuated with a big-hearted prostitute is one element of The Fall Of The American Empire that strays into Woody Allen territory and feels hopelessly old-fashioned. Yet the tender chemistry between Morin and Landry makes the relationship believable and Aspasie is given more of a backstory, presence and significance than the tart-with-a-heart cliche that one might have feared.
Some aspects of the crime story also stumble with the two detectives investigating the robbery coming across as plodding television series regulars rather than more fully developed individuals.
There are flaws in The Fall Of The American Empire, but it still works thanks to the thought-provoking material in the screenplay, some sharp lines and the quality of the performances. Alexandre Landry makes Pierre-Paul an endearingly naive, angst-ridden intellectual struggling to stay calm and survive an extraordinary situation that threatens to transform him into a latter-day Robin Hood. Arcand regular Remy Girard is a scene-stealing delight as "honest criminal" Bigras.
Production company: Cineimaginaire
International sales: Seville International, sevilleinternational@filmsseville.com
Producer: Denise Robert
Production design: Patrice Bengie
Editing: Arthur Tarnowski
Cinematography: Van Ryoko
Music: Mathieu Lussier, Louis Dufort
Main cast: Alexandre Landry, Maripier Morin, Remy Girard