Canada's Sebastian Pilote makes his most accessible film to date. competing at Karlovy Vary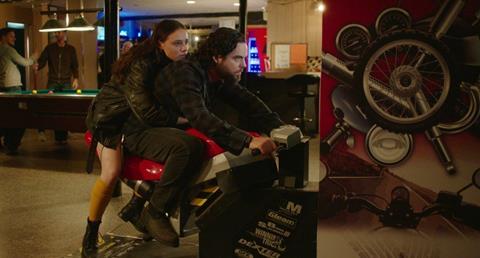 Dir. Sébastian Pilote. Canada. 2018. 96 mins
Quebecois helmer Sébastian Pilote's films to date (The Salesman, The Auction) have been beautifully crafted and emotionally effective dramas, albeit ones in a studiously low key; his characters might be going through hell, but you wouldn't know it. While his third also eschews anything akin to passion, it could well be his most commercial yet, due to a shift of focus from late middle-aged men to a teenage girl, and an appealing, break-out performance by its young lead.
Karelle Tremblay handles the challenge, the nuances of the role and the constant screen time with aplomb
Indeed, the film's opening shot – the strikingly red-jacketed heroine Léo (Karelle Tremblay) alone on the streets, as composer Philippe Brault's strings virtually swirl around her with Bernard Herrmann levels of import – has a deliberate frisson that suggests that the director is well aware of his ace card.
When her mother and stepfather host a restaurant dinner for her 17th birthday, Léo arrives late and sneaks away before she's eaten a morsel, giving herself time only to mock the table's interest in her plans when she leaves school. "It's not 1960 anymore, Godmother," she says. "Today kids try not to think of the future."
Léo is a very unhappy bunny. She's disrespectful of her mother (Marie-France Marcotte) and positively hates her stepfather (François Papineau), an odiously populist radio presenter. She has little obvious affinity with her school friends, declares the town to be a dead end and herself a misanthrope, full of anger and hate.
That's not strictly true, however. She has a warm relationship with her father, a trade union leader who had to leave town in disgrace after his factory was shut down, returning just for brief visits. And when she meets thirty-something musician Steve (Pierre-Luc Brilliant), a loner who lives with his mother, the pair forge a close, if unlikely bond.
Buoyed by that friendship, Léo knuckles down to a normative summer: working hard for her exams, taking a summer job at a local sports field and guitar lessons with Steve. In this way, she is a typical Pilote character, getting on with what needs to be done, regardless of how they might feel. It's this trait that creates the dramatic tension in his films, which at times feels quite radical.
Unlike so many screen teens, Léo is not quirky or precociously smart; she's loved by her parents; she's pretty, likeable; she conforms. She's only an outsider inside her head. This places a lot of responsibility on Tremblay's shoulders; the actress has to maintain the sense of underlying disaffection during her character's more feelgood moments and, in the absence of melodrama, it's up to her to keep a hold of the audience.
Tremblay handles the challenge, the nuances of the role and the constant screen time with aplomb. Familiar to film and, particularly TV audiences in Canada, she has something of compatriot Ellen Page's naturalness, self-possession and dry delivery (the superior Juno occasionally comes to mind here). She has a model's assurance with wardrobe changes that lends Pilote's work a fresh, cool veneer; and aside from a few overly self-conscious close-ups, she offers the camera a feast of emotional ambiguity.
Pilote also elicits good work from Pierre-Luc Brilliant, who brings his musical chops to bear in some lovely scenes in which Steve gets to show off his talents as both guitarist and – even more impressively – air drummer. But despite some laidback humour, the drip feed of tangible reasons for Léo's discontent and a revelation towards the end, it really wouldn't hurt the director to put the film's pacing through some gear changes.
The film's title is borrowed from Pasolini's essay about fascism, which opened with his reflection on the disappearance of fireflies in the Italian countryside at the beginning of the Sixties, due to pollution. Pilote's loan may seem fanciful, though it helps him deliver a tidy punchline that suggests that his heroine is finally taking her life in her own hands.
Production company: Corporation ACPAV inc
International sales: Seville International, sevilleinternational@filmsseville.com
Producers: Bernadette Payeur, Marc Daigle
Screenplay: Sébastian Pilote
Production design: Eric Barbeau
Editing: Stéphane Lafleu
Cinematography: Michel La Veaux
Music: Philippe Brault
Main cast: Karelle Tremblay, Pierre-Luc Brilliant, François Papineau, Luc Picard, Marie-France Marcotte