Dir. Anna Rose Holmer, US/Italy, 2015, 72 minutes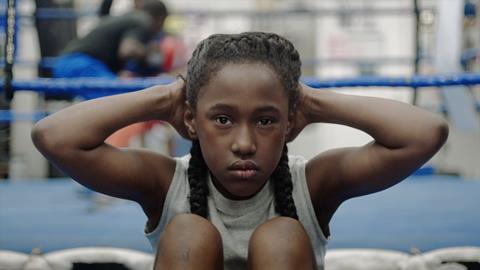 In The Fits, learning to dance with a team is a coming of age experience for a young girl. Yet dancing can also be toxic in this unusual and charming debut, a Venice Biennale project which played in Sundance's low-budget NEXT sidebar. Anna Rose Holmer's bare-boned first feature seems to take pride in its unfinished nature as a girl of eleven finds her way among other, older girls. Like growing up and fitting in, dancing in a group is all about moving from awkwardness toward coordination and harmony. It's also fun to watch.
In a scant 72 minutes and in a few locations, Hormer has found a dignity in her appealing subjects, and a mystery
The Fits introduces a new director with an odd mix of cinema. It's a story of a pre-adolescent finding her way, or trying to, at an awkward age. It's also an amalgam of visual turns, some of them strikingly graceful, that might be expected more from an art video than from a story that's set mostly in a gym. The cocktail might not always feel right, but it shows plenty of promise for Holmer and for her radiant young lead, Royalty Hightower, who plays the young Toni.
It's hard to predict what commercial outlet The Fits might have, since the film doesn't seem to have been made with any commercial intentions (the Venice Biennale gives a filmmaker a budget of 150,000 euros to make a film within a year). Still, Venice, Sundance and the upcoming New Directors/New Films at New York's MOMA will give the small film a special pedigree, and it was picked up pre-Sundance for US release by Oscilloscope Pictures.
In Holmer's script, Toni's challenge is to shift from boxing, which her brother teaches her, towards the dance moves of a local troupe called The Lionesses, who play in Cincinnati's West End. She's already been formed by pugilistics, to the point where her toned arms win her the nickname Guns from another girl joining the dance team, the playful Beezy (Alexis Neblett).
The film's title seizes on another predicament. Older girls in the troupe are collapsing from fainting spells. No cause is given, although some suspect the water. But these unexplained fits and the fears that they stoke are another test of Toni's mettle, as if this were a girl's version of The 400 Blows.
The Fits is about the hardnosed determination of a beautiful child, yet it is also about innocence. We watch as Toni and Beezy take in everything from dance steps to the older girls' conversations about boys. Their eyes widen with discovery, observed delicately by the camera of DP Paul Yee, who makes the film look like anything but a project that Holmer's team rushed to the finish line.
In a scant 72 minutes and in a few locations, Holmer has found a dignity in her appealing subjects, and a mystery. The Fits benefits from scrapping a three-act structure and avoiding crescendos and easy moralism. At eleven, life gives you many more chances to observe and learn. Holmer and the beguiling young Hightower will no doubt be back with some of them.
Production companies: Oscilloscope Laboratories, La Biennale di Venezia , Yes Ma'am!
International sales: Mongrel Media charlotte@mongrelmedia.com
Producers: Anna Rose Holmer, Lisa Kjerulff
Screenwriter: Anna Rose Holmer
Cinematography: Paul Yee
Production designer: Charlotte Royer
Editor: Saela Davis
Music: Danny Bensi, Saunder Jurriaans
Main Cast: Royalty Hightower, Alexis Neblett, Da'Sean Minor, Lauren Gibson, Makyla Burnam, Inayah Rodgers, Antonio A.B. Grant Jr.