Dir: Renato De Maria. Italy/Belgium. 2009. 100 mins.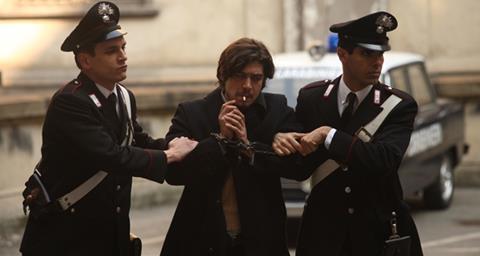 It wasn't until the country's mood turned against ideology of all hues that Italy's home-grown terrorists of the 1970s became good cinematic subjects. But although well-crafted, well-acted and fitfully involving, Renato De Maria's The Front Line is too immersed in the pathos of this lost generation to fully work as a drama.
It's like watching a civil war through the wrong end of a telescope.
His film doesn't glamorise terrorism like, perhaps, The Baader Meinhof Complex; neither does it have the fine dramatic edge of Goodmorning Night, Marco Bellocchio's take on the Red Brigades' kidnapping of Aldo Moro. All of The Front Line is pitched in third-act confessional mode; and this has the effect of taking away from the immediacy of its story, which centres on a love affair between two terrorists from the Prima Linea group, active between 1976 and 1981.
Opening in Italy on 20 November on around 150 screens, this decent film should post reasonable takings at home thanks partly to the local pulling power of leads Riccardo Scamarcio and Giovanna Mezzogiorno, and partly to the subject's appeal to older Italians who lived through the anni di piombo ('years of lead'). Internationally, though, it will struggle to persuade audiences that another tale of misguided young gun-toting ideologues in the 1970s is worth investing in.
The film begins with simulated prison interview footage in which the protagonist – young radical hothead turned political assassin Sergio Segio (Scamarcio) – explains the birth of armed left-wing movements like Prima Linea and the Red Brigades, and addresses a mea culpa direct to camera: "we'd mistaken dusk for dawn; we thought we were the new partisans".
Then it's straight into preparations for the jailbreak attempt that gives the film its dramatic structure. In January 1982, Sergio and a group of co-militants travelled from Venice to Rovigo in an attempt to spring four female terrorists out of jail – including Susanna Ronconi (Mezzogiorno), who pays the Bonnie to Sergio's Clyde.
We see the preparations, the journey and the jailbreak itself in sometimes excessive detail – though once the convoy gets on the road, the tension picks up and there are even glimpses of a certain 'Italian Job' quality that helps to leaven the overridingly intense tone. However, the jailbreak timeline is abandoned for long stretches as the script fills us in on Sergio's gradual passage from picketing and leafletting in his hometown of Milan to taking up arms, going underground, meeting and romancing Susanna and eventually committing his first murder – something that leaves him racked with guilt.
It's a tricksy structure, and while the transitions are managed fairly elegantly, the story's Chinese boxes tend to distance an audience already struggling to assign sympathy to a group of politically confused militants who were not even particularly loved by the workers they were supposedly standing up for. Intimate camerawork and Max Richter's melancholy, Moby-like score make the case that this is a tragedy of misguided ideals, and at times – thanks also to Scamarcio and Mezzogiorno – it does play that way.
But in the end it's impossible for the film to avoid falling prey to the same fatalistic sense of 'what were we so angry about?' that slowly swamps its would-be revolutionary subjects. It's like watching a civil war through the wrong end of a telescope.
To sign up for Screen's weekly Reviews Newsletter with all the week's new releases, international openings and full festival reviews delivered free to your mailbox every Friday, please click HERE
Production companies
Lucky Red
Les Films du Fleuve
RTBF
International sales
The Works International
+ 44 (0)20 7612 0090
Producers
Andrea Occhipinti
Jean-Pierre Dardenne
Luc Dardenne
Screenplay
Sandro Petraglia
Ivan Cotroneo
Fidel Signorile
Based on the book Sergio Segio by Miccia Corta
Cinematography
Gian Filippo Corticelli
Production design
Igor Gabriel
Alessandra Mula
Editor
Marco Spoletini
Music
Max Richter
Main cast
Riccardo Scamarcio
Giovanna Mezzogiorno
Fabrizio Rongione