Dir/scr. Raúl Arévalo. Spain, 2016, 91 mins.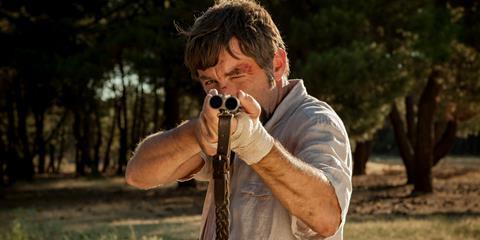 Versatile Goya Award-winning actor Raúl Arévalo (I'm So Excited, Marshland) applies the same resourcefulness to his directorial debut, co-written with fellow first-timer David Pulido. The vengeance-laden The Fury of a Patient Man progresses from gritty, naturalistic beginnings to become a poised, polished thriller. The end result might not shy away from its western leanings, yet it doesn't meekly adhere to convention either.
As two complicated, conflicted and clashing characters drive from town to town, the film treks through recognisable but still emotionally resonant terrain.
Starting out with an urgent, shaky vision of a robbery going wrong before settling into a pensive groove, and showcasing cinematographer Arnau Valls Colomer's adaptability in the process, the movie's aesthetic confidence should help it gain traction after its premiere in Venice's Horizons section and subsequent showing at Toronto. In between festival berths, the feature will release at home in Spain where it is likely to attract acclaim and interest comparable to Arévalo and de la Torre's previous collaboration.
Indeed, as its taut tale charts the intersecting paths of getaway driver Curro (Luis Callejo), his girlfriend Ana (Ruth Díaz) and unassuming stranger José (fellow Marshland star Antonio de la Torre), The Fury of a Patient Man not only harks back to the stalking, roaming oaters of decades gone by, but also bears narrative similarities to neo-noirs such as Nicolas Winding Refn's Drive. And yet, it is Arévalo's ability to bring a familiar yet still twist-filled storyline to the screen with an evolving stylistic approach that helps the film to make a strong impression.
Following frantic footage of the aforementioned jewellery store heist, The Fury of a Patient Man finds Curro serving eight years for his criminal proclivities, while Ana raises their son, works with her chatty, bar-owning brother Juanjo (Raúl Jiménez) in a Madrid barrio, and slowly warms to regular customer José's gentle charms. As the film starts to unravel in simply-titled chapters ("The Bar", "The Family", "Ana" and "Curro"), José attends family parties, discusses personal matters, and probes Ana about Curro's wrongdoings — even broaching the subject during a post-coital embrace.
Then Curro is released. He's wary, angry and on-edge after his lengthy incarceration, with his fiery temper soon sending Ana fleeing to the safety of José's country house. Alas, as glimpses of the latter's furtive home life foreshadow, their rift plays into his plans. Handy with a weapon and armed with a deep-seeded need for revenge, he uses Ana's whereabouts as leverage to force Curro to track down his former burgling acquaintances.
It's here that The Fury of a Patient Man makes its title plain, as well as hammers home its western-influenced elements. As two complicated, conflicted and clashing characters drive from town to town — one strong-armed into trying to earn redemption through betrayal and the other single-mindedly seeking justice through violence — the film treks through recognisable but still emotionally resonant terrain. Fists and bullets fly, as do the consequences of letting grudges dictate one's decisions.
The movie's second half is also where the full force of de la Torre's arresting lead performance is felt, with the veteran proving as enterprising as his director. Where the feature morphs from jittery and immediate to calculating and more composed, his central performance follows the opposite trajectory. Starting with restraint in a stoic but amiable manner, de la Torre gradually lets his character's inner ire rise to the surface. In fact, that's where the film's tensions lie; if The Fury of a Patient Man's genre fondness sometimes makes its tale a little too easy to predict, not knowing just when de la Torre's reserved facade will fracture, even slightly, ensures it retains a level of suspense from start to finish.
Production company: La Canica Films, Agosto, la película A.I.E.
Sales: Film Factory Entertainment, info@filmfactory.es
Producer: Beatriz Bodegas
Screenplay: Raúl Arévalo, David Pulido
Cinematography: Arnau Valls Colomer
Editor: Ángel Hernández Zoido
Music: Lucio Godoy, Vanessa Garde
Production Designer: Antón Laguna
Cast:Antonio de la Torre, Luis Callejo, Ruth Díaz.