Dir: Daniel Dencik. Denmark 2015. 114 mins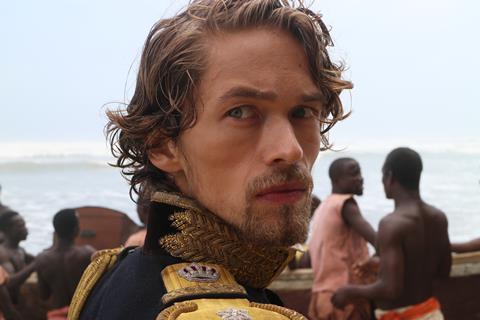 Swedish-born Daniel Dencik makes his fiction feature debut with The Gold Coast (Guldkysten), a dense and visceral exploration of a dark time in European history, namely the Danish involvement in the slave trade on the African coast during the 1830s. Undoubtedly a politically charged affair, this film is also an intense portrait of obsession and individual morality.
Performances are strong, with Jakob Oftebro in particular proving himself as a gifted and charismatic lead.
Supported by the Danish Film Institute, The Gold Coast – which premiered at Karlovy Vary – looks set to attract international art house distribution, capitalising on the relative success of films such as Joachim Rønning and Espen Sandberg's Kon-Tiki and the palpable interest in Scandinavian historical drama. The Gold Coast's distinct aesthetic and strong performances should win it a following internationally.
The film is told through the eyes of Wulff Frederick Wulff (Jakob Oftebro), a young idealist who is sent to Danish Guinea (also known as the Danish Gold coast, or today's Southeast Ghana) to establish a new coffee plantation. There he becomes enamoured with the potential of this new land while working closely with the natives. Wulff's anti-colonial idealism is soon put to the test when – after striking a deal in order to repel attacks from an indigenous tribe – he discovers a web of conspiracy and exploitation.
The film plays out almost like a fever dream as it veers between stark realism and hazy surrealism. There are many moments in which Denick's background in documentary film-making are evident (his two previous features, both docs, have also competed at Karlovy Vary). Scenes in which Wulff explores the natural beauty of his new surroundings (much of the filming was undertaken in Ghana) are replete with lingering shots of the majesty of nature and echo Wulff's amazement at the world in which he finds himself. Later on these moments of wonder turn into something more oppressive as Wulff finds his idealism being challenged in an atmosphere dank with heat and sweat. This visceral feel makes the film compelling and – on one or two occasions – almost uncomfortable to watch.
Performances are strong, with Oftebro in particular proving himself as a gifted and charismatic lead. His performance is one of juxtapositions: from weak prisoner to strong arbiter of morality, from humble servant to passionate crusader against injustice. These contradictions give his character – and the rest of the film - a narrative and emotional richness. The score from frequent David Lynch collaborator Angelo Badalamenti adds enormously to the 'otherworldy' feeling that the film attempts to invoke.
Yet, aside from its often aesthetic brilliance, the film's biggest resonance comes in terms of shining a light on a shadowy moment in European history. While The Gold Coast avoids being didactic, it still manages to examine human morality in a way that shas much relevance to today.
Production companies: Haslund, Dencik Entertainment, Film i Väst, InGenius Africa
International sales: Danish Film Institute, dfi@DFI.dk
Producer: Michael Haslund-Christensen
Screenplay: Daniel Dencik and Sara Isabella Jønsson
Cinematography: Martin Munch
Production design: Liselotte Justesen
Editors: Theis Schmidt, Rebekka Lønqvist
Music: Angelo Badalamenti
Website: www.guldkysten.com
Main Cast: Jakob Oftebro, Danica Curcic, John Aggrey, Adam Ild Rohweder, Anders Heinrichsen, Morten Holst, Luise Skov, Mikkel Hilgart, Wakefield Ackuaku