A serial killer plies his trade in 1970s Hamburg in Fatih Akin's grim drama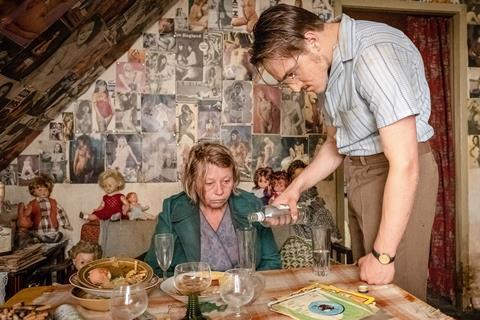 Dir Fatih Akin. Germany. 2019. 110 mins
In an era in which filmmakers remain unaccountably fascinated by serial killers, and are still apt to glamorise them, Fatih Akin takes the opposite approach. But did The Golden Glove really have to be such a soul-sapping symphony of grimness? Based on a real-life killer who prowled the dive bars of Hamburg in the 1970s, there is not one frame of this film which isn't ugly.
With his pulverised face and scurrying crab's gait, Fritz Honka is like a hack screenwriter's idea of a serial killer
There will be no Bundy-style think pieces about whether it is OK to fancy Fritz Honka (Jonas Dassler, unrecognisable under a layer of facial prosthetics and psychotic rage). It's a gruelling viewing experience which Akin tackles with a doggedly unflinching lens, forcing us to confront the messy savagery of Honka's crimes against vulnerable women. But perhaps, rather than wallow in the deaths in this way, the preferable option in this case would be to look away.
The film is adapted from the best-selling novel of the same name by Heinz Strunk. And it's in German language territories, where familiarity with both the original case and with Strunk's award-winning book will raise awareness, that the film is likely to best connect with an audience. Akin's reputation should ensure further festival interest, however the picture's approach to violence against women may make it a controversial program addition.
Honka's world – his flyblown attic flat, with its clammy walls, defeated piles of empty schnapps bottles and nude pinups furiously hacked from porn magazines – is recreated with impressive work from production designer Tamo Kunz. There's a collection of discarded dolls gazing impassively as Honka attempts to hacksaw his latest victim in to pieces, the better to store her in his cadaver cupboard under the rafters. The doll detail seems a little too much – a B movie horror design cliche – but scene of crime pictures, shown in the closing credits, reveal that Honka actually did have a collection of dolls. With his pulverised face and scurrying crab's gait, Fritz Honka is like a hack screenwriter's idea of a serial killer.
But while the film is fascinated by the degraded details of Honka's life, what's missing is much sense of what shaped him into the monster he became. There are hints of a dysfunctional family background, of past trauma. But then, there are not many people in the film, particularly among the living-dead clientele at Honka's drinking den of choice, The Golden Glove, who don't bear the scars of a hard life. The Golden Glove is full of scabbed and patched-up broken people who washed up in in this last resort dive bar because nowhere else will serve them. The reeling photography has a smeary quality, as if the picture has been mauled by decades of unwashed fingers. It's the ideal hunting ground for Honka – the people here have nothing left in their lives but alcohol.
There are many damaged women who catch Honka's eye, but, the way the film frames it, only one who counts. A lissom blonde schoolgirl who becomes the object of Honka's fantasies is the only potential victim whose fate, the film assumes, we will care deeply about. As such, there is not much difference between the way Honka views his victims and the way the film does – they are, to all intents and purposes, meat. Here's the thing about viewing humanity through the eyes of someone pathologically inhuman – victims who have already been robbed of their lives, are also robbed of their right to be viewed as people. Perhaps the question is not whether the film needed to be so relentlessly grim, but rather whether it needed to be made at all.
Production companies: Bombero international
International sales: Match Factory info@matchfactory.de
Producer: Nurhan Sekerci-Porst, Fatih Akin, Herman Weigel
Screenplay: Fatih Akin
Production design: Tamo Kunz
Editing: Andrew Bird, Franziska Schmidt-Kärner
Cinematography: Rainer Klausmann
Music: FM Einheit
Main cast: Jonas Dassler, Margarethe Tiesel, Katja Studt, Martina Eitner-Acheampong, Hark Bohm, Jessica Kosmalla, Barbara Krabbe, Tilla Kratochwil, Uwe Rohde, Marc Hosemann