Sigourney Weaver, Kevin Kline co-star in this New England-set domestic drama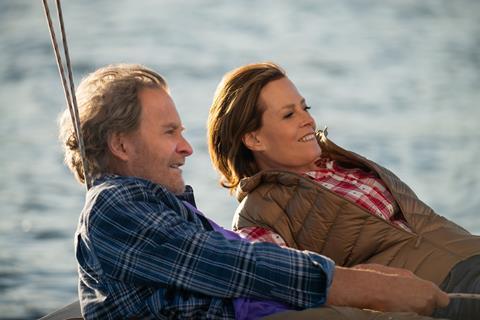 Dirs. Maya Forbes, Wallace Wolodarsky. US. 2021. 114 mins
A curiously timeless picture which leans utterly into its lead actor, Sigourney Weaver, The Good House is old-fashioned film-making about an ageing professional woman - mother and grandmother - trying and failing to make her peace with the world. With a striking performance by Weaver in the central role of a waspy realtor who is far too dependent on booze to fuel her chaotic personal life and business, Maya Forbes and Wallace Wolodarsky's film - adapted by them and Thomas Bezucha from a novel by Ann Leary - has a sedate cadence, allowing the performer her space to shine. And for many older-skewing audiences, drawn by Weaver's pairing with the stalwart Kevin Kline, it will be about time.
An acting masterclass from Sigourney Weaver as a smart woman in denial
Beneath its calm surface, The Good House can be as entertainingly prickly as Hildy (Weaver) herself. Breaking the fourth wall, Hildy haughtily pieces together her own story, set in the wealthy New England town of Wendover, her family's home for almost three centuries. She introduces the characters in her life — her ex-husband Scott, who left her for a man and to whom she still pays alimony; her two daughters and grandchild; her former business partner turned rival; and her ex-flame Frank (Kline), a self-made man who turned his profits in waste. Competition is stiff to sell the picturesque town's mega-properties, and Hildy is very much in the game and under considerable financial stress. "I just need a good year," she sighs. Or later, during an intervention: "If we're really going to do this, I need a drink."
Weaver takes all of Hildy's sharp, funny and cynical edges and moulds them into a sympathetic person who may be the smartest in the room but is her own worst enemy nonetheless. Forbes and Wolodarsky (The Polka King) start their film by almost sympathising with Hildy's fondness for a relaxing drink after work - even sharing her sense of outrage at her family's intervention. Aren't they being unreasonable, uptight? She only drinks wine, and she has a lot to deal with, after all - so many demands on her time and patience. It's only incrementally that we see the extent of Hildy's upmarket alcoholism. She's supposed to have stopped drinking, but she sneaks hidden bottles up from an outhouse and, as she lives alone, nobody is the wiser.
As one secret drink turns to three — which Hildy admits is her starting point - she starts to veer alarmingly off track. Complicating matters, although depicted in a restrained, off-hand way, is a secret affair between a neighbour (Morena Baccarin) to whom she recently sold a house and Hildy's old friend and potential client Peter (Rob Delaney). Loose-lipped and by now suffering from blackouts, Hildy becomes entangled in their web of deceit. Her only ally seems to be Frank (a grizzled Kline), and she's even stretching his patience beyond its mild-mannered limits.
The film never talks down to Hildy, or portrays her as a tragic, pitiable figure even if her actions are increasingly self-sabotaging and unsympathetic. As a viewing experience, The Good House is capable if unexciting, as tastefully waspish as its millieu, with a damped-down pace and a muted score. As an acting masterclass from Sigourney Weaver as a smart woman in denial, though, it's impressive. She brings the pace, the humour, the danger and the pathos to The Good House, and much of its intelligence. Whether that's enough to see this almost retro film - a sales title at Toronto - break out remains to be seen, but Weaver deserves plaudits for her performance before she goes on to action spectacular Avatar. 2. Like Hildy in a professional crisis, she raises the game.
Production company: Amblin Partners
International sales: UTA/ICM Partners
Producer: Jane Rosenthal, Berry Walsh, Aaron Ryder
Screenplay: Thomas Bezucha and Maya Forbes & Wallace Wolodarski
Production design: Carl Sprague
Cinematography: Andrei Bowden-Schwartz
Editing: Catherine Haight
Music: Theodore Shapiro
Main cast: Sigourney Weaver, Kevin Kline, Rob Delaney, Morena Baccarin, Beverly D'Angel