Dir. Maite Alberdi. Chile/The Netherlands/France, 2016, 80 mins.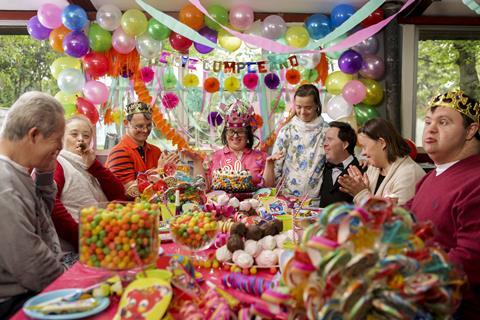 The Grown-Ups is entitled Los Ninos (The Kids) in Spanish-language markets, including its native Chile, reflecting the situation in which its subjects find themselves mired. Maite Alberdi has spent much time with the long-term students at a school for people with Down's Syndrome. Lifelong friends, they're reaching the age of fifty with varying degrees of frustration: why can't they enjoy the freedom of grown-ups when society still insists on treating them like the kids?
The school prepares its students for an adult life which it is becoming increasingly clear they will never properly lead
Once Alberdi hands over her picture to the main characters and dispenses with an insistently whimsical score, The Grown-Ups becomes a fascinating parade of strong characters – feisty Anita, entrepreneurial Ricardo, suave Andres, and Rita, "smarter than your average bear" - each confronting a series of touching challenges as Alberdi looks at lives lived under never-ending restraint.
When these adults start to outlive their parents – a common occurance, as the risk of Down's Syndrome increases with maternal age – they are forced to rely on siblings and more distant relatives for support (if any remain). It's a situation dealt with fictionally in the UK this year with My Feral Heart, and The Grown-Ups is a lighter look at similar issues, but no less memorable for its subtle sensitivity. Destined for TV and festival play through Cat&Docs, The Grown-Ups could find its way into small theatrical release in its co-production territories of Chile, the Netherlands and France.
Anita is the star of this film; she's a strong-minded woman who is desperate to take her place in the world, whether it be as class president (she runs against Ricardo), or marrying man-about-town Andres, who confesses to being a reformed womaniser. Anita is bored with the school, fed up of making the same cakes in its bakery for the last forty-odd years ("it's stupid"), and chafes at the restraints placed upon her by the centre's kind but unseen orderlies. One of the film's best scenes is when she acts upon her boyfriend's cake-related fantasy; one of the more poignant is when he tries to buy her an engagement ring. And in the middle of Alberdi's nicely-constructed narrative, her father dies.
Everyone in this film is allowed their own, strong, personality; Rita just wants to sneak chocolate into her apron and get a Barbie doll for her birthday. Ricardo wants to save money and works at two jobs, for which he is poorly paid. "What scares me most," he says, "is that life is so short and complex."
All the while, the school prepares its students for an adult life it is becoming increasingly clear they will never properly lead. Alberdi tells a story about people who are approaching old age while still unable to make any progress - even the low level of their pay stacks the cards against them having a say in their own destiny. Still, though, The Grown-Ups is as generally cheerful as its endearing stars, Alberdi delivering a bright film which is full of colour, judiciously edited to make its points with a light touch
Production companies: Micromundo Producciones, Volya Films, Mandra Films
International sales: Cat&Docs, moelle@catndocs.com
Producers: Maire Alberdi, Denis Vaslin, Fleur Knoepperts, Sebastian Brahm
Cinematography: Pablo Valdes
Editors: Juan Eduardo Marillo, Menno Boerema
Music: Miguel Miranda, Jose Miguel Tabar