Dir: Anne Fletcher. US. 2012. 93mins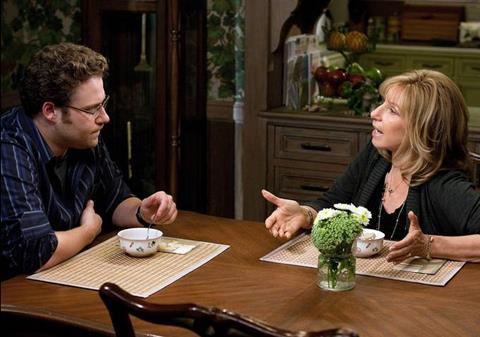 In her first starring role in more than 15 years, Barbra Streisand tweaks the cheeks of Seth Rogen, starring as his worrywart mother in The Guilt Trip, a good-natured road movie of pantomimed meddling and make-nice closure that doesn't fully root down into its characters and pay off its revelations in truly substantive fashion. Small stakes and consistently tame inclinations mark screenwriter Dan Fogelman's effort, which gives off an ambling vibe that would be more at home in an independent production.
Streisand exhibits some crackerjack comic timing.
Nevertheless, the unusual cross-generational pairing of its stars should make for solid box office returns in what analysts characterise as multiple quadrants. Boomer audiences may not have taken to Jane Fonda's genial yet estranged hippie mother in the indie release Peace, Love and Misunderstanding, but the heft of studio backing (and thousands more screens) give The Guilt Trip an easy leg up. And while it will battle with Les Misérables and Zero Dark Thirty for adult viewers, The Guilt Trip is out of the starting gate in advance of each of those, giving it the time to carve out an eight-figure theatrical nut.
Rogen stars as Andy Brewster, a struggling young inventor trying to carve out an inroad for his all-natural, environmentally friendly cleaning product, Scieo-Clean. After deciding to start his lengthy road trip of business pitch meetings with a quick visit to see his widowed mom, Joyce (Streisand), Andy is floored by a revelation from her regarding an old crush, and decides to invite her along.
The duo takes to the road, Andy suffering through Jeffrey Eugenides' Middlesex on audiobook as they head west. A layover at a steakhouse in Texas finds Joyce on the receiving end of the attentions of a handsome suitor (Brett Cullen), while Andy struggles with trying to hide the unsuccessful nature of his sales appointments from his mother.
Despite its conceit, The Guilt Trip doesn't devolve into cartoonish set pieces, or even spend much time on its stopover to visit Andy's now-married high school girlfriend (Yvonne Strahovski), whom Joyce is convinced (and not entirely unreasonably) holds the key to her son's relationship difficulties.
Depending on one's perspective and expectation, this is either a missed opportunity or a refreshing change of pace — or maybe a bit of both. Largely eschewing any of the mannered or more overt wackiness of movies like Road Trip, Little Miss Sunshine and Due Date, The Guilt Trip trends more toward the familial and reconciliatory feeling of Everybody's Fine and About Schmidt, though a pinch less bittersweet.
Still, the movie is characterized throughout by an unresolved tension as to what sort of story it's supposed to be telling (a scene at a topless bar where none of the dancers are topless, for instance), and indeed, whose tale is the real focus.
The story is inspired by a real cross-country drive writer Fogelman took with his own late mother (to whom the movie is dedicated), so it's perhaps not so shocking that Rogen's character seems an adjunct, the hapless ride-along in a celebration of awakened twilight adulthood. Andy feels like hopelessly under-sketched — a bundle of clichéd irritations. He's not good at parrying his mother's henpecking queries and unsolicited advice, in the manner that an emotionally arrested but self-sufficient guy would truly be.
The more interesting film would have funneled even more of its action through Joyce's perspective, because hers is frankly the much more interesting story here. As is, The Guilt Trip feels fairly thin and aimless throughout, if never necessarily grating. Complications arise, but the movie dances along the edge of something deeper and true, without ever taking the plunge.
Director Anne Fletcher (The Proposal) seems a somewhat awkward fit for the material given her background in choreography, and she oversees a professional but bland technical package that doesn't leave much of any impression, apart from cinematographer Oliver Stapleton's flatly captured stagings.
If Rogen somewhat tempers the tone of his normal spitfire observational patter, he never really solves his character, or locates a believable softening or arc. Streisand, though, exhibits some crackerjack comic timing. In her whimsical doting, she captures the fitful inner rhythms of a parent who can't quite disentangle from hover-and-help mode, no matter her child's age. Other recognisable faces pop up in supporting roles, but never for more than a scene or two.
Production companies: Skydance Productions, Michaels/Goldwyn Productions
Domestic distribution: Paramount Pictures
Producers: Lorne Michaels, John Goldwyn, Evan Goldberg
Executive producers: Seth Rogen, Barbra Streisand, Mary McLaglen, Dan Fogelman, David Ellison, Dana Goldberg, Paul Schwake
Co-producers: James Weaver, Hilary Maraz
Associate producer: Erin Doyle
Screenplay: Dan Fogelman
Cinematography: Oliver Stapleton
Editors: Dana Glauberman, Priscilla Nedd-Friendly
Production designer: Nelson Coates
Music: Christophe Beck
Website: www.GuiltTripMovie.com
Main cast: Seth Rogen, Barbra Streisand, Brett Cullen, Colin Hanks, Yvonne Strahovski, Rick Gonzalez, Kathy Najimy, Miriam Margolyes, Nora Dunn, Pedro Lopez, Adam Scott, Ari Graynor