A striking debut from South Africa's Etienne Kallos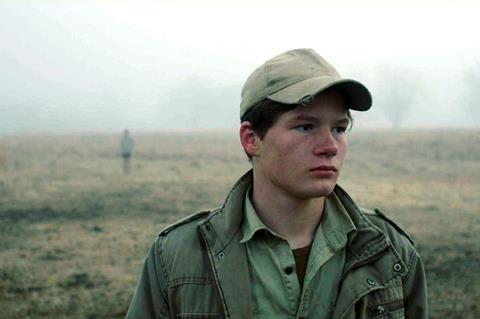 Dir. Etienne Kallos. South Africa/Greece/France/Poland. 2018. 106 mins
Set in the conservative Afrikaner farming country of South Africa's Free State, 'The Harvesters' is a brooding drama which pits the teenaged son of a deeply religious family against the adopted orphan he believes will usurp him. Although austere and restrained in its approach, this assured feature debut effectively hints at a churning savagery beneath the surface, which is every bit as unforgiving as the stark landscape.
An impressive calling card for director with a knack for understated intimacy
Etienne Kallos' film captures the ache of alienation felt by both boys, neither of whom quite fit into the tightly proscribed male roles of this vigorously macho culture. And while the character motivations are a little clouded in a muddy third act, this film will nonetheless register as an impressive calling card for director with a knack for understated intimacy.
There is a kinship here with John Trengove's The Wound, also from South Africa. Both stories unfold within closed communities, both place closeted gay characters within rigidly homophobic cultures, both make creative use the striking South African landscape. But while Trengove's film favoured a confrontational candour, particularly when it came to the sex scenes, this film has the hazy quality of a fable, a hint of something that could be described as fairytale.
Janno (Brent Vermeulen) is a burly, rugby-playing farmboy. But there is a softness to his face which shows the wounds inflicted by his family – the senile grandfather who fails to recognise him, the mother whose whispered prayers plead with God to make her son strong. It's never explicitly stated, but in the quizzical glance from his mother (Juliana Venter), from the way his friends turn on him when roughhousing together, it's clear that Janno is seen as somehow lacking. Compliant, God-fearing, Janno 'does everything right'. And yet, deep down, he too feels that he is an imposter in this world. Which is why, when his mother announces that the stranger in the living room is a new brother whom he must love and accept, Janno immediately fears that he is being replaced.
Thirteen-year-old Pieter (Alex van Dyk) has a face which her been carved into wary hollows and angles by life as a rent boy on the city streets. Sallow and silent, his changeling-child features and streetwise demeanour unsettles Janno's father, whose parenting technique errs toward tough rather than love. But while at first they seem like opposites, it becomes clear that there are uneasy parallels between Janno and Pieter – they are, in some ways, two sides of the same coin. When Janno's mother, fervent in her belief in salvation for the unsaveable, claims that Janno will "make him whole", what's implied is that Pieter will return the favour for Janno. The film's slightly unsettling atmosphere is bolstered by a minimal score which hangs in the air like a question.
Kallos' screenplay, which was developed both at the Cannes Cinéfondation Residence program and the Sundance Screenwriting lab, was acclaimed even before the film went into production. It won the Gan Foundation's 'Prix opening Shot Prize' for best screenplay at Cannes and the Mahindra 'Global Filmmaker Award' at Sundance. His short film, Firstborn, also set within the Afrikaans community, won the Golden Lion at Venice for best short film. While this feature debut a little too low-key to register far beyond the festival circuit, it proves that Kallos is undoubtedly a talent to watch.
Production companies: Cinema Defacto, Spier Films, Heretic, Lava Films
International sales: Pyramide International avalentin@pyramidefilms.com
Producers: Sophie Erbs, Tom Dercourt, Thembisa Cochrane, Michael Auret, Giorgos Karnavas, Konstantinos Kontovrakis, Mariusz Wlodarski
Screenplay: Etienne Kallos
Production design: Barri Parvess
Editing: Muriel Breton
Cinematography: Michal Englert
Music: Evgueni et Sacha Galperine
Main cast: Brent Vermeulen, Alex van Dyk, Juliana Venter, Morne Visser