Dir/scr. Magnus von Horn. Sweden-Poland-France 2015. 102 mins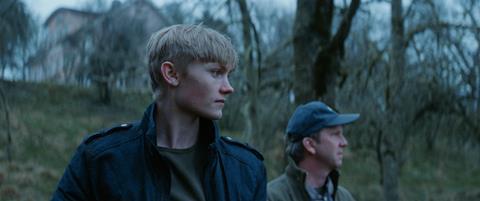 Two European traditions of cinematic severity come together in The Here After, the debut feature of Magnus von Horn, a Swedish director trained at the Polish National Film School in Lodz. Von Horn's psychological narrative is as starkly economical as you might expect from his pedigree, but he develops a distinctive take on the 'less is more' aesthetic in this story of a teenage outsider carrying the stigma of a terrible crime. Spare, controlled direction, a rewarding emotional payoff and a powerful performance by young lead Ulrik Munther – all the more eloquent for being so inscrutable – should give The Here After a strong festival presence, as well as appeal for niche distributors canny enough to make the most of the film's hybrid arthouse/thriller register.
It's a whole hour in that the backstory is fully revealed, by which time we've long been hooked.
The film's young hero is John, a delicately handsome teenager – he could easily be Kirsten Dunst's kid brother – whose impassive features and intense reserve signal emotional trauma. The casting of Ulrik Munther is astute, as the young actor – making his big-screen debut – is known in Sweden as a chart-topping pop singer, and the film plays intriguingly on the gap between John's closed-off exterior and the actor's nonetheless evident charisma. John is first seen checking out of the institution where he's been staying and returning to his rural community to move back in with farmer dad Martin (Blomgren) and Filip (Alexander Nordgren), the admiring younger brother who has some growing pains of his own in the offing.
John chooses to return to his old school, but his schoolmates aren't happy with him being around. Scenes of refectory and locker room bullying may at first smack of generic high school psychodrama, but von Horn's control gradually racks up the tension so that's it's genuinely shocking when the conflict breaks out beyond the school gates to become more brutal, affecting the whole community.
Meanwhile, John forms a connection with tough female classmate Malin (Loa Ek); new to the community, she's attracted to his outsider status and willing to take on whatever baggage John carries. The film's subtlety is such that, while we might guess John's secret early on, von Horn only hits the high-drama button some 20 minutes in – with a sudden confrontation in a supermarket – and it's a whole hour in that the backstory is fully revealed, by which time we've long been hooked.
Von Horn and DoP Lukasz Zal (who previously worked on Pawlikowski's Ida) establish a rigorous camera style that privileges distance and restraint, often shooting through doorways or through closed glass doors that obscure dialogue. They favour long takes, as in a scene shot at a distance through a car windshield; what might initially seem like a formal exercise in Haneke-like dramatic detachment pays off in one of the film's most unsettling dramatic moments. The final shot closes the film on a teasing note of non-resolution, but gives viewers a haunting image to take away with them – especially if they're teenage fans of Munther, whose pretty face has taken a fair few knocks by this point.
Production companies: Lava Films, Zentropa International Sweden, Cinéma Defacto
International sales: Trust Nordisk, info@trustnordisk.com
Producers: Mariusz Wlodarski, Madeleine Ekman, Sophie Erbs
Screenplay: Magnus von Horn
Cinematography: Lukasz Zal
Editor: Agnieszka Glinska
Production design: Jagna Dobesz, Henrik Ryhlande
Main cast: Ulrik Munther, Mats Blomgren, Alexander Nordgren, Wieslaw Komasa, Loa Ek