Dir/scr. Dalibor Matanic. Croatia/Slovenia/Serbia. 2015. 123mins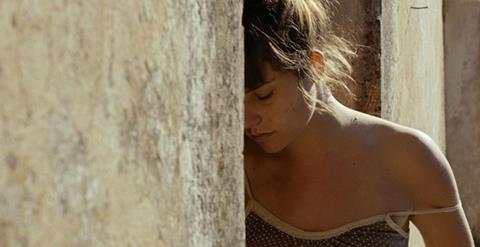 Love fights a constant battle against centuries of deep-rooted ethnic hatred in The High Sun (Zvizdan), an expertly crafted drama that has its own struggle with diminishing audience engagement across three stories set over three decades in two neighbouring Balkan villages, one Croatian and one Serbian.
There is a glimmer of hope at the end of this long, languid production but the fact that the first story is easily the most arresting and tightly constructed leaves the remainder of the film struggling in its wake. The subject matter and slow-burning approach will inevitably see The High Sun labelled as a hard sell, suggesting a brighter future in festival appearances than extensive theatrical interest.
Setting each of the stories on glorious summer days provides a ready visual contrast to the dark undercurrents of intolerance.
Impossible love is the binding theme across three stories which take place every decade from 1991 to 2011. All star the same two actors as romantic leads and also feature recurring visual motifs, from a distant, watchful dog, to underwater swims.
In 1991, Jelena (Tihana Lazovic) and Ivan (Goran Markovic) spend a sunny, carefree afternoon at the edge of a lake before preparing to leave their respective villages the next day. A new life in the city beckons but gun wielding hoodlums are erecting roadblocks around the area and looking for any excuse to fire the first shot.
In 2001, Natasha (Lazovic) and her mother (Nives Ivanovic) return to a village home that is little more than a ruin. Croatian handyman Ante (Markovic) is hired to start the renovations but Natasha can barely stand to be in his presence. Each of them has a reason to resent the other in a land where memories are long and wounded pride is never allowed to heal.
Finally, in 2011, Luka (Markovic) returns to the village for a summer rave, visiting his parents and the woman he once abandoned although Marija (Lazovic) shows little happiness at his return.
Setting each of the stories on glorious summer days provides a ready visual contrast to the dark undercurrents of intolerance. The widescreen cinematography from Marko Brdar captures a feel for a beautiful landscape scarred only by the prejudices and follies of its human occupants.
The second and third stories are more ponderously paced and predictable than their predecessor with Matanic and Brdar indulging in lengthy rave scenes in the 2011 sequence and lingering over the growing tension between Natasha and Ante in 2001. Some further editing could tighten both narratives.
Goran Markovic is particularly effective as the desperate, lovelorn Ivan in 1991 but Tihana Lazovic makes a strong impression with each of her three characters; recklessly committed to love as Jelena, steely and unforgiving as Natasha and weary and wary as Marija. The film's entire emotional arc is neatly encapsulated in her three distinctive performances.
Production companies: Kinorama, Gustav Film, See Film Pro
International sales: Cercamon sebastian@cercamon.biz
Producer: Ankica Juric Tilic
Cinematography: Marko Brdar
Editor: Tomislav Pavlic
Production design: Mladen Ozbolt
Music: Alen Sinkauz, Nenad Sinkauz
Main cast: Tihana Lazovic, Goran Markovic, Nives Ivankovic, Dado Cosic