Dir: Radu Mihaileanu. France/Canada. 2016. 134mins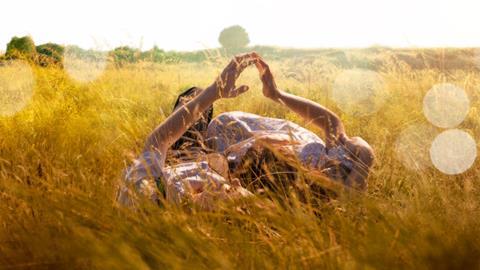 Clunky in places, accomplished and affecting in others, the ping-ponging unevenness of The History of Love almost doesn't matter given the satisfying if (very!) long-in-coming conclusion. Director Radu Mihaileanu has warned audiences: "You may not understand what's going on until the closing credits." Certainly this smart-looking adaptation of Nicole Krauss' 2005 novel which spans 60 or so years of entanglements, misunderstandings, passion and betrayal from a shtetl in Poland to post-war Chile to New York City sometimes feels - literally - all over the map.
Deliberately fractured storytelling often feels like scattered and frustrating storytelling.
Derek Jacobi's performance as a now-elderly Jewish man named Leo who vowed eternal love for his youthful sweetheart Alma (a fine Gemma Arterton across the decades) is the glue that holds things together. Widely sold by Wild Bunch, The History of Love is Mihaileanu's (Live and Become; The Concert) first in English and comes out on November 9 in France. As the film is awash in quirkiness, happenstance and schmaltz, most critics will be underwhelmed but ordinary filmgoers, particularly those old enough to perk up at the mention of Elliott Gould, may be more generous.
It's not news that Europe's Jews suffered horribly during WWII but this intricate tale puts the power of language on a par with the power of feelings in the struggle to survive. Be it dip-pen on paper writing in Yiddish from Minsk in the 1940s or sheets of paper in a manual typewriter in NYC in 2006 or a Spanish-language volume from Chile being translated via computer, the importance of fashioning and transmitting words runs through the story with a brand of cinematic heft no text message is likely to equal.
Jacobi's Leo Gursky, a retired locksmith, is among the last Jews in New York's Chinatown, along with his childhood friend Bruno (Elliott Gould) who lives in the same building. Gould's performance is more than slightly over the top for reasons that don't become clear for a very long time. The narrative actually doles out details at a deliberate pace. But because the viewer is always — on purpose — missing information until the last quarter hour of a 2 hour and 14 minute venture, deliberately fractured storytelling often feels like scattered and frustrating storytelling.
In their tiny Polish village in the late 1930s, beautiful, headstrong Alma Mereminski tells her three suitors, Leo (Mark Rendall), Bruno and Zvi that rather than choose one of them, she'll marry each in turn for 10 years. Leo is the most gifted writer and when Alma's family sends her to New York in 1942 for safety, Leo promises to write to her. Which he does until he has to run for his life. The scenes of German-caused carnage are very convincing.
When Leo, ardent as ever, finally makes it to NY years later, he learns that Alma — who gave birth to his child not long after arriving in America — thought he was dead and so married another man. This wrenching encounter, a little over an hour into the film, is beautifully played and hints at what the director can do with two good actors and a well-written scene. Alas, such sequences are outnumbered by less deft goings-on. (It's impossible to say whether Alfonso Cuaron, who was originally announced to direct, would have handled the overall material better.)
Alma makes Leo promise that he will never make himself known to their son since such a revelation would kill him.
In a parallel story set elsewhere in New York in 2006, 15-year-old Alma Singer (Sophie Nélisse) and her devoutly religious brother Bird (William Ainscough) live with their kooky widowed mother, Charlotte (Tori Higginson). Her late husband had given her a Spanish-language book called The History of Love whose heroine, a certain Alma, had, ahem, been loved more than any woman had ever been loved. Mum is a hopeless romantic but her daughter is a pragmatic soul, playing hard-to-get with a Russia-born suitor, unconvinced that this love stuff is worth it.
A request arrives in the mail (this is a story with envelopes galore) requesting the book be translated fromSpanish to English for the princely sum of $100,000 to be paid in four installments.
Who is the mysterious individual who commissions the translation at this fortuitous juncture and is there a connection to Leo who is putting the finishing touches on a manuscript of his own?
The two convoluted stories eventually dovetail in pleasing ways and nobody who's been paying attention will be dry-eyed by the end. But getting there is a bumpy ride full of borderline-annoying digressions which may be useful pieces of a puzzle but don't come across that way when introduced.
Jacobi is solid, as are Arterton and Rendall. Other performances vary. Nélisse, who has understandably grown much taller since her wonderful turn in The Book Thief, manages to convey a range of teen emotions but her Alma is saddled with some awkward dialogue and inexplicable behaviour.
The scope of this unapologetically old-fashioned movie and its multi-pronged subject, centered on the enduring power of love, ultimately carry the day.
Production companies: Oi Oi Oi Productions, 2.4.7 Films
International sales: Wild Bunch
Producers: Marc-Antoine Robert, Xavier Rigault, Radu Mihaileanu
Screenplay: Radu Mihaileanu, Marcia Romano
based on the novel by Nicole Krauss
Cinematography: Laurent Dailland
Editor: Ludo Troch
Production design: Christian Niculescu
Music: Armand Amar
Main cast: Derek Jacobi, Sophie Nélisse, Gemma Arterton, Elliott Gould, Mark Rendall, William Ainscough, Tori Higginson