Odd couple Ryan Reynolds and Samuel L. Jackson return for more of the same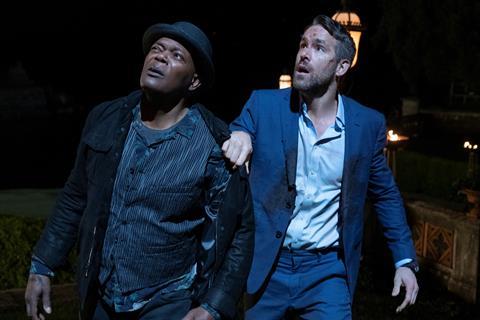 Dir: Patrick Hughes. US. 2020. 98 mins.
Wisecracks and gunshots ricochet around Hitman's Wife's Bodyguard, the smirky followup to the rambunctiously violent 2017 original. This action-comedy makes no apologies for its vulgar, ultra-cool vibe, reuniting Ryan Reynolds and Samuel L. Jackson as frenemies who must once again work together, this time joined by Salma Hayek in a larger role than The Hitman's Bodyguard. For audiences craving shoot-'em-up carnage, the sequel contains an abundance of explosions, car crashes and kill shots, although the strained air of hip irreverence soon turns suffocatingly stale.
As knowingly over-the-top as its predecessor, practically parodying the adrenalised pyrotechnics of most globetrotting action-thrillers
Opening in the UK on June 14 and the US two days later, the film hopes to capitalise on the success of the moderately-budgeted The Hitman's Bodyguard, which grossed an impressive $177 million worldwide. The star firepower will help, and the addition of Antonio Banderas and Morgan Freeman should only add to the commercial appeal.
Elite bodyguard Michael (Reynolds) is in therapy after the events of the first film, deciding he will give up guns as part of his mental and emotional growth. But that pledge proves hard to uphold once con-artist Sonia (Hayek) recruits him to rescue her husband, top-notch hitman Darius (Jackson), who has been taken hostage. They free him, forcing Michael and Darius to be in close proximity to one another again — something neither man wants — and are then tapped by Bobby (Frank Grillo), an Interpol agent, to go after Aristotle (Banderas), a Greek megalomaniac who dreams of destroying the rest of Europe.
The first film was a quintessential odd-couple action-comedy in which two natural foes — a man charged with protecting important people, and a man who makes his living killing such individuals — learned how to work as a team to fight a common evil. The bickering rapport between Reynolds and Jackson had its foul-mouthed pleasures, but The Hitman's Bodyguard mostly felt like one more sleek, John Wick-style extravaganza with a huge body count and snide one-liners.
Unfortunately, The Hitman's Wife's Bodyguard is more of the same, only amplified, as Sonia now jaws with the two men as passionately as they went after one another in the original. Tom O'Connor, who penned The Hitman's Bodyguard, is one of the sequel's screenwriters, and the verbal abuse has been cranked up, with most of the humour based around the characters screaming at each other. Specifically, Sonia is mad at Darius for ruining their honeymoon by taking an assignment, while Michael and Darius yell about the fact that they still don't get along.
Often, the putdowns take place during high-octane shootouts, and returning director Patrick Hughes gives both the comedic dialogue and the action set pieces a brutal propulsion, accentuated by Jack Hutchings and Michael J. Dutchie's whiplash editing. In small doses, the picture's kinetic, snarky tone can be a kick, but eventually a sameness sets in, diminishing the live-wire spark.
To be sure, Hitman's Wife's Bodyguard is as knowingly over-the-top as its predecessor, practically parodying the adrenalised pyrotechnics of most globetrotting action-thrillers. But because Michael and Darius are such fundamentally dull characters, the actors can't do much beyond lean on their well-established personas. As their fans will certainly agree, Reynolds' smart-ass demeanour and Jackson's short-fused volatility have been more effectively implemented elsewhere.
The actual plot, involving a top-secret briefcase and a doomsday device contained within, isn't very engaging, and Banderas fails to bring much menace as the vengeful villain who shares a history with Sonia. (Speaking of Hayek, she's just as electric as her costars with a gun, although she too is saddled with a familiar spy-film role.)
The primary problem is that the script is jokey instead of legitimately funny, so much so that even a game Freeman, who shows up to play an important figure in Michael's past, feels trapped by a film that's overly proud of how clever and impudent it thinks it is. The Hitman's Wife's Bodyguard is the sort of picture that responds to even the slightest hint of sincerity with sarcasm, juxtaposing intense fight scenes with cheesy pop songs on the soundtrack for cheap laughs. The idea is to mock the pretentiousness of action films, but what it mostly does is underline the sequel's irrelevance and lazy comedic instincts.
Production companies: Millennium Media, Nu Boyana Film Studios
International sales: Millennium Media, info@millennium-media.net
Producers: Matt O'Toole, Les Weldon, Yariv Lerner
Screenplay: Tom O'Connor and Phillip Murphy & Brandon Murphy, story by Tom O'Connor, based on characters created by Tom O'Connor
Production design: Russell De Rozario
Editing: Jack Hutchings, Michael J. Dutchie
Cinematography: Terry Stacey
Music: Atli Orvarsson
Main cast: Ryan Reynolds, Samuel L. Jackson, Salma Hayek, Antonio Banderas, Morgan Freeman, Frank Grillo, Richard E. Grant