Jack Black and Cate Blanchett head up Eli Roth's adaptation of the fantasy novel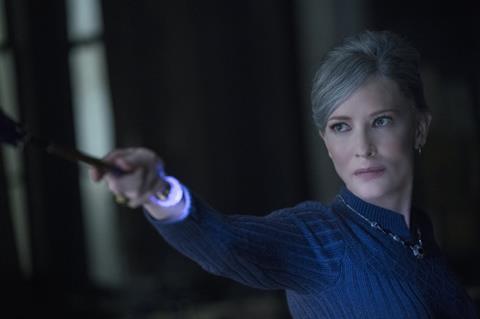 Dir: Eli Roth. US. 2018. 105 mins
Magic and mania abound in Eli Roth's lavish adaptation of John Bellairs' 1973 novel about a young orphan boy who moves in with his eccentric uncle, only to discover that his new home is an epicentre of witchcraft and wizardry. Yet, despite a fantastical premise and some truly eye-popping effects, The House With A Clock In Its Walls suffers from post-Potter fatigue; there's simply nothing here, visual or thematic, that hasn't been done before.
Resoundingly family-friendly entertainment
That likely won't be enough to scupper House's box office potential. With both the book's built-in fan-base and the considerable commercial heft of stars Jack Black (whose last wide release, 2017's fantasy effort Jumanji: Welcome To The Jungle, scored nearly $1bn worldwide) and double Oscar-winner Cate Blanchett, it should find a healthy audience when it opens in both the UK and USA on September 21. While a term-time bow and lacklustre reviews may be a slight hindrance, the film will likely prove a popular stop-gap for fantasy fans eagerly awaiting the arrival of Fantastic Beasts: The Crimes of Grindelwald on November 16.
Looking exactly like a pocket Rocketeer with his button-down vest and large goggles, the charming, quirky Owen Vaccaro (Daddy's Home 2) plays Lewis Barnavelt who, after losing both his parents in an accident, is sent to live with his estranged Uncle Jonathan (Black). On arrival, Lewis finds a sprawling mansion stuffed with clocks, and it's not long before he realises that is not the only unusual thing about his new abode. Chairs behave like dogs, a stained glass window shows the future and a clock ticks endlessly in the dead of night.
Soon, Jonathan is forced to come clean to his young charge; he is a warlock, kindly next door neighbour Mrs Zimmerman (Blanchett) is a powerful witch and the house has been cursed by its previous occupant, the dastardly Isaac Izard (Kyle MacLachlan). When Lewis inadvertently brings Izard back from the dead — a misguided attempt to impress a new classmate and secure longed-for social acceptance — the trio find themselves facing up against a powerful black magic that threatens to destroy all life on earth.
It's a world away from the gory niche in which Eli Roth made his name with films like Cabin Fever, Hostel and Knock Knock. And, while it may deal with dark themes of death, grief and apocalyptic mayhem, the director certainly hasn't attempted to imbue House with any of that trademark dread. This is resoundingly family-friendly entertainment, where the loss of a parent is the catalyst for a journey of self-discovery, the bad guy is (fairly) easily bested and a happy ending is guaranteed.
As with the original book (the first in a series of 12; franchise potential is writ large here), at the core of House is that tried-and-tested adolescent adage of self-belief. Lewis simply has to reach inside himself to find the courage, strength and acceptance that will, quite literally, save the world. As the young hero, Vaccaro more than holds his own on screen, his vulnerability and dogged determination sharply recalling that of another young boy wizard.
And this, perhaps, is the film's biggest problem. Despite the other-worldly narrative and the cacophony of weird and wonderful CGI set pieces — there are moving fireplaces, doomsday devices and a seriously creepy band of life-size wind up toys — it's all so… familiar. There's absolutely nothing to make House stand out from the legions of Potter-inspired product including Fantastic Beasts, Percy Jackson or Miss Peregrine's Home For Peculiar Children, which makes the experience of watching it strangely pedestrian.
Still, Black has a blast as Jonathan, in a role that recalls his part in 2015's similar 'Goosebumps (a sequel to which arrives at Hallowe'en). Blanchett's reserved, particular manner is a welcome counterpoint to Black's zaniness, and she brings a sense of pathos to a character whose tragic backstory is referenced in brief memories of a lost family, and a glimpse of POW numbers etched on her arm. There is also a surprising amount of entertainment to be found in watching Blanchett explode marauding Halloween pumpkins with shots fired from the end of her magic umbrella.
Production companies: Dreamworks, Amblin Entertainment, Mythology Entertainment
Worldwide distribution: Universal Pictures
Producers: Brad Fischer, Eric Kripke, James Vanderbilt
Screenplay: Eric Kripke, based on the novel by John Bellairs
Production Design: Jon Hutman
Editing: Andrew S Eisen, Fred Raskin
Cinematography: Rogier Stoffers
Music: Nathan Barr
Main cast: Jack Black, Cate Blanchett, Owen Vaccaro, Kyle MacLachlan, Renee Elise Goldsberry