Louis Garrel's fourth feature is a contrived charmer full of fizzy pleasures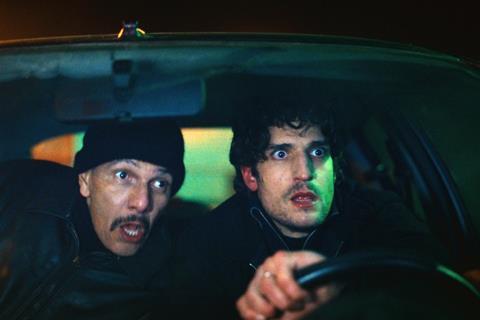 Dir: Louis Garrel. France. 2022. 99 mins.
The crime-comedy-romance The Innocent stars director Louis Garrel as a protective son who is worried about his mother marrying a career crook — only to discover that an occasional heist might actually bring some spice to his own life. This likeable, terribly contrived charmer is helped by a game cast that almost gets away clean, ultimately hampered by a script that impishly (but not always confidently) switches between tones.
The Innocent is filled with goofy good cheer
Garrel's fourth feature screens Out of Competition at this year's Cannes (it was the 75th anniversary special selection), where he's also appearing in Valeria Bruni Tedeschi's Competition entry Forever Young. He's joined by Roschdy Zem, Noémie Merlant and Anouk Grinberg, and the film's appealing date-night trappings should make it a solid theatrical performer. (The Innocent arrives in French theatres on October 12.)
As the story begins, widowed ichthyologist Abel (Garrel) is being informed by his impetuous actress mother Sylvie (Grinberg) that she is once again remarrying — this time to Michel (Zem), a criminal she met while teaching theatre in prison. After being incarcerated for five years, he's about to get out, which fills Abel with trepidation: is marrying a recividist burglar a smart idea? Consequently, Abel is immediately suspicious of his new stepfather, despite the insistence of his flirty friend Clémence (Merlant) that Michel seems harmless.
Because Zem plays Michel with such weary grace, adamant that he's a changed man, the character automatically seems too good to be true, and Abel's worries will turn out to be well-founded. It would be unsporting to reveal precisely what Michel is plotting, but his next scheme will end up involving Abel and Clémence, who are working through their own complicated feelings for one another. (She clearly fancies him, but he's still mourning his wife, whom he lost in a car accident while he was behind the wheel.)
The Innocent sports ample fizzy pleasures, including the zesty rapport between Garrel and Merlant, whose characters seems to have an inevitable destiny. Then there's the screenplay, cowritten by Garrel, which includes some coy commentary about the similarities between acting and crime, all the while manufacturing excuses for Abel and Clémence to be in close proximity to one another once Michel's purposed heist faces predictable complications.
To be sure, the film emphasises laughs and love over suspense, and Garrel directs the material with a breezy confidence that suggests the audience should simply savour the time in the company of such delightfully flawed characters. Even so, The Innocent is so lightweight — and its twists and turns so flimsily constructed — that it shortchanges the emotional undercurrent coursing through the picture.
Beneath the slick surface — the crime-caper plot, the unexpected gunplay — the picture is chiefly focused on the anxieties of opening oneself up to love. Abel disapproves of his mother's constant rushing into new marriages — she's had three in the last 10 years — while, conversely, he's so scarred by the death of his wife that he has closed himself off from possible new relationships, even though Clémence is right there in front of him. As Sylvie, Grinberg is luminous playing a resilient, enthusiastic woman who has never given up on the idea of finding happiness, no matter how many times it has eluded her in the past. Subtly, the film hints that Abel has learned to be so cautious about love, in part, because he views his mother as being so reckless about matters of the heart.
Although The Innocent is filled with goofy good cheer, Garrel tends to overdo the story's playful ludicrousness, allowing what's potentially romantic about the scenario to get lost in the narrative busyness. The central heist is meant to be a bit of audience misdirection, but it can distract from the most fetching elements of this genre mashup.
Production companies: Les Films des Tournelles, Arte France Cinéma, Auvergne Rhône-Alpes Cinéma
International sales: Wild Bunch International, edevos@wbinter.eu
Producer: Anne-Dominique Toussaint
Screenplay: Louis Garrel, Tanguy Viel
Production design: Jean Rabasse
Editing: Pierre Deschamps
Cinematography: Julien Poupard
Music: Grégoire Hetzel
Main cast: Roschdy Zem, Anouk Grinberg, Noémie Merlant, Louis Garrel