Dir. Anne Fontaine. France, Poland, 2016. 115 min.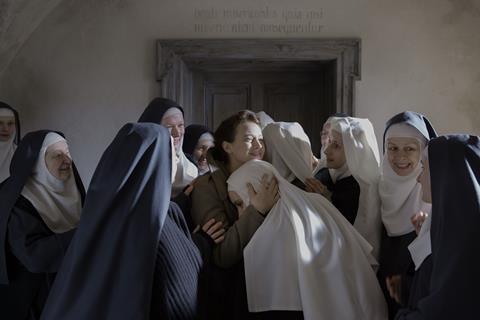 Based on a true story and set in a ravaged Poland in the immediate aftermath of the seconf world war, this satisfying melodrama follows a French female doctor (Lou De Laâge) who finds herself entangled in the lives of several traumatised nuns who are concealing a dark and disturbing secret.
Veteran French director Anne Fontaine (Coco Before Chanel) isn't reinventing the wheel with this classic tale of faith vs science,but with plenty of winning characters and well-earned heart-tugging moments, Agnus Dei should satisfy traditional art-house audiences, both in the U.S. and in international markets. Already set for release next month in France through Mars Distribution, Agnus Dei, also known as The Innocents, will likely travel far and wide, those it's not as exquisitely crafted as Poland's recent Oscar-winner Ida, to which it may inevitably be compared.
The film begins mysteriously enough as a young nun flees the cloistered walls of her convent in the middle of winter, trekking to a nearby village to find a doctor—"not a Polish or Russian one," she maintains. Though first unconvinced, pretty French Red Cross medic Mathilde (De Laâge) agrees to go with her to the convent where she soon encounters her first shock: one of the nuns is about to go into labor.
When the Mother Superior (Ida actor Agata Kulesza) finds out her consecrated walls have been violated by an outsider, she is resistant to let Mathilde continue to take care of the new mother and child. Mathilde threatens to report the incident, so the Mother Superior and a French-speaking nun named Maria (Agata Buzek) agree to let her inside—not just into the convent, but their story, as well. At the end of the war, they tell her, several of the nuns were raped and impregnated by occupying Soviet soldiers. Hence, this won't be the first woman or child that Mathilde will need to tend to. Can Mathilde save the nuns without revealing their secret?
Much of the ensuing drama involves two strands. On the one hand, Mathilde clashes with the Mother Superior and the other nuns about what needs to be done to care for them ("Can't we set God aside?" she asks at one point.) On the other, the nuns experience bouts of internal conflict and self-torment, as their very faith in God is tested. Not only must they confront the trauma they experienced, but also their inevitable role as mothers.
To lighten up these dour proceedings, Fontaine, working from a script co-written by Pascal Bonitzer, directs some charming scenes between Mathilde and a cynical French Jewish doctor (Vincent Macaigne), whose inelegant attempts at seduction work better than expected. The scenes flesh out Mathilde's character, making her more human, but moreover, they help balance an otherwise heavy-handed drama, which includes at least one death and one terrible betrayal.
Indeed, despite the pleasing screen presence of De Laâge's Mathilde, she is more of an enabler: the real story belongs to the nuns, who gain individuality and dimension as the film unfolds. Maria speaks about her past with men ("I liked men and men liked me," she says); another confesses to Mathilde her desire to leave and find her fiancé; and then there are those who want to be mothers, and those that don't. That's not to forget Kulesza's wonderfully hard-nosed, unrepentant Mother Superior, who is so steadfast in her traditional ways it's literally poisoning her from the inside.
While Agnus Dei deals with some hefty themes, about post-war life, the devastation of rape, and the struggles of faith, it resolves these issues a little too easily. Cynics might have a hard time with that, but Agnus Dei's filmmakers ultimately embrace the sin of over-simplification. And audiences, grabbing for their tissues, will likely forgive them of it.
Production Companies: Mandarin Cinema, Aeroplan Film
International Sales: Films Distribution, info@filmsdistribution.com
Producers: Eric Altmayer, Nicolas Altmayer
Screenwriters: Sabrina B. Karine, Alice Vial, Pascal Bonitzer
Cinematographer: Caroline Champetier
Editor: Annette Dutertre
Music: Grégoire Hetzel
Principal Cast: Lou de Laâge, Agata Kulesza, Agata Buzek, Vincent Macaigne, Joanna Kulig, Katarzyna Dabrowska