Two sisters are forced to live apart in 1950s Rio de Janiero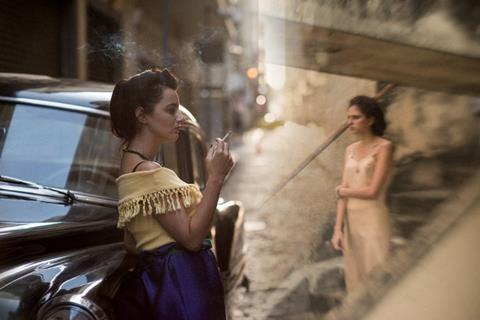 Dir: Karim Aïnouz. Brazil. 2019. 139mins
Melodrama is a neglected genre, often delivered with a post-modern twist these days. Brazilian director Karim Aïnouz proves in this stirring, heart-wrenching period film that it can be served straight up and still work a treat. In time-honoured tradition, this tale of two sisters is a women's story, one that takes its source material – a 2015 novel by Martha Batalha – and transforms it utterly, abandoning its comic slant for a much darker approach.
Looks certain to travel beyond Brazil and Portugese language territories.
Aïnouz and his scriptwriters know full well that melodramas don't just get by on sympathy – they need our anger as well. The Invisible Life manages the meld with some finesse, first establishing sisters Euridice (Carol Duarte) and Guida (Julia Stockler) as likeable free spirits in the masculine world of 1950s Brazil, then showing how that culture subtly or unsubtly, over more than half a century, crushes their dreams and keeps them apart.
By the time veteran Brazilian actress Fernanda Montenegro is introduced in an affecting turn as the elderly Euridice at the end of the film, taking the baton from equally strong leads Duarte and Stockler, the audience isn't just tearing up, it's fired up as well. Aïnouz doesn't have anything like the brand recognition of Almodovar, one of the few contemporary directors who can sneak melodrama into arthouse cinemas. But with the strong critical reaction and word-of-mouth that this tough, good-looking family saga seems likely to generate, his film looks certain to travel beyond Brazil and Portugese language territories.
Aged 18 and 20 when the film begins in 1950, Euridice and Guida are as close as sisters can be, living on top of each other in the cramped Rio house they share with their controlling baker father and submissive housewife mother. A talented pianist, Euridice dreams of studying at the conservatory in Vienna; she's an intriguing mix of self-doubt and wilfullness, passivity and power. Her older sister Guida has all the self-confidence that Euridice lacks. A headstrong, live-wire party girl, she will soon elope to Athens with her Greek sailor lover.
And as far as Euridice knows, that's where she stays. In reality, after discovering her mariner beau to be the scoundrel we always suspected him to be, the pregnant Guida comes back Rio before the year is out. She is equally deceived about Euridice – thanks to a cruel lie told by her father when he throws Guida out of the house, telling her never to come back. Two sisters, living in the same sprawling city, each desperate to find the other, while assuming the other is somewhere on the other side of the ocean. It may be a corny premise, but it's also a highly effective foundation for a story which is all about how women's desires, dreams and even identities are erased in this male-dominated society.
With a voiceover dereived from never-delivered letters between Guida and Euridice, the film charts two difficult but resilient female lives. The film's buzzy Rio setting and background, its vibrant colour palette, DoP Hélène Louvart's warm, camerawork, music that takes its cue from the passionate, rhapsodic classical melodies favoured by Euridice – all act as a tantalising reminder of the self-expression the two sisters should rightly have achieved. But thy are also a tribute to their irrepressible spirit, and psychic bond. A brilliant, chilling late scene that plays out at a hospital clinic after Euridice has suffered a breakdown of sorts captures her out of focus, looking like a ghoul with her smudged mascara. For the years-later coda that comes next, you'd better have a handkerchief at the ready.
Production companies: RT Features, Pola Pandora, Sony Pictures, Canal Brasil
International sales: The Match Factory, info@matchfactory.de
Producers: Rodrigo Teixera, Michael Weber, Viola Fügen
Screenplay: Murilo Hauser, based on the book by Martha Batalha
Production design: Rodrigo Martirena
Editing: Heike Parplies
Cinematography: Hélène Louvart
Music: Benedikt Schiefer
Main cast: Carol Duarte, Julia Stockler, Gregorio Duvivier, Barbara Santos, Flavia Gusmao, Fernanda Montenegro