Experimental filmmaker Ben Russell takes the viewer on a physical and spiritual journey through Finland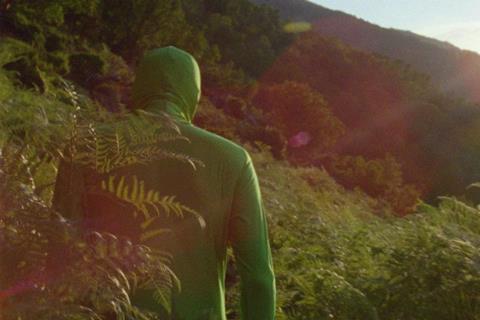 Dir/scr: Ben Russell. US. 2021. 83mins
World cinema's shaman-in-residence Ben Russell concocts yet another idiosyncratic incantation in The Invisible Mountain. A road-movie-on-foot, it follows the physical and spiritual journey of a thirtysomething Finnish fellow whose meanderings are interspersed with musical performances by Helsinki all-female trio Olimpia Splendid. Yearning for and occasionally reaching zones of trippy transcendence, this is a likeably artisanal, hand-crafted, 16mm-shot affair—even the subtitles are manually scribbled—which will tickle long-time Russell aficionados and help widen the prolific, globetrotting Los Angeles resident's cultish fanbase.
What matters here, of course, is the journey itself rather than any particular destination or resolution
Revered in cinephile circles for loose-limbed psycho-geographic works like Let Each One Go Where He May (2009) and Good Luck (2017) plus his collaborations with English kindred-spirit Ben Rivers—who contributes black-and-white camerawork here—including 2013's well-received A Spell to Ward Off the Darkness, Russell has always been a highly music-oriented artist. The Invisible Mountain, which could plausibly be programmed at gig-oriented as well as more conventional venues, begins in arresting style at an Olimpia Splendid concert.
Russell captures the performers (all of them art-school graduates) in beatific close-up, bathed in purple-blue light. The trio socks over one of their doomily hypnotic, rhythmical numbers which combine detuned guitars, drum-machine loops and ethereal vocals. The aftermath of the concert then casually introduces us to their roadie Tuomo Tuovinen, a slim, balding, bespectacled, bearded fellow who bears a passing resemblance to mid-1960s Donald Pleasance. The title-card drops at the 15-minute mark, after which Toivanen unassumingly emerges as the main "protagonist" of this brisk, episodically freewheeling 83-minute picture.
Inspired by the writings of René Daumal, whose experimental, unfinished, posthumously-published 1952 novel Mount Analogue (subtitled A Novel of Symbolically Authentic Non-Euclidean Adventures in Mountain Climbing) is the film's touchstone text as Toivanen scours various picturesque and remote corners of Europe from Finland to Greece in search of…. enlightenment? Himself? The truth is out there, somewhere: "The gateway to the visible must be visible," Daumal counsels.
What matters here, of course, is the journey itself rather than any particular destination or resolution. Expressing the film's preoccupations verbally ("I don't know what this feeling is, or if I have feelings at this point…" muses Toivanen, "I want to see what is behind the horizon") doesn't really help clarify matters a great deal. Our laconic hero is always a little bit of a blank, his philosophical self-examinations repeatedly overshadowed by less tangible sensory stimulations. What makes the film really sing are Olimpia Splendid's atmospheric stylings, the sublime romantic glories of unpopulated landscapes, and the way Russell (working as his own editor) combines the two.
This cutting sometimes achieves genuine grace-notes of concentrated euphoria, such as Tuovinen's jump into an icy lake. A virtuoso percussive montage thrillingly recaps the "action" so far in a 120-second burst of rapid-fire imagery accompanied by and propelled onwards by ecstatic drumming. By this point the film has abandoned any pretense of fly-on-the-wall detachment, Russell entering his own frame to accompany and converse with his subject somewhere in the windblown wilds of Finland.
Shot before and edited during the pandemic, Russell's adventurous but accessible film completes a cross-disciplinary triptych which began with La Montaña invisible in 2019 (a Mexico City installation co-created with Nicolas Becker) and continued with La montagne invisible last year (an exhibition held at Le Plateau in Paris). This culminatory manifestation will strike chords with many for whom the epochal events of spring 2020 and after have triggered a reassessment of priorities.
Production company: VSBL MTN
International sales: Ben Russell (br@dimeshow.com)
Producers: Ben Russell, Christos V. Konstantakopoulos
Editing: Ben Russell
Cinematography: Ben Rivers, Ben Russell