Fabrizio Maltese accepts an invitation from Abderrahmane Sissako to continue the late Pol Cruchten's unfinished film in Mauritania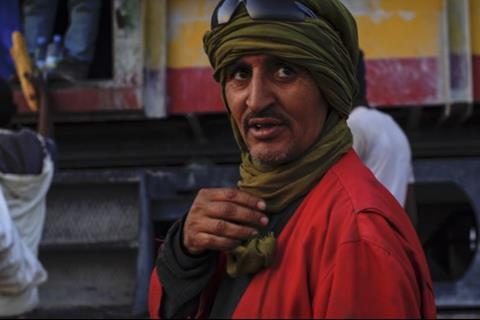 Dir: Fabrizio Maltese
. Luxembourg. 2022. 78 mins.
The journey becomes the destination in Fabrizio Maltese's haunting film, The Invitation (L'invitation), in which the Luxembourg-based Italian director/co-writer tries and fails to meet up with revered auteur Abderrahmane Sissako in his homeland of Mauritania. While far from being a conventional documentary about Sissako, this dreamlike and occasionally troubling travelogue will be of interest to cinephiles and thus festival programmers. Its stately surveys of West African riverscapes, cityscapes and landscapes will meanwhile prove transporting for audiences entirely unfamiliar with the elusive director's work.


That the ordinary Mauritanians are often seen but seldom heard, amid extensive voice-over in the language of the country's colonisers (French), creates a certain distance between the filmmaker and the filmed.
The film itself evolved out of a previous project, Visage(s) d'Afrique, on which Maltese — also renowned as a portrait photographer specialising in cinema-related subjects — was set to work as DoP. An initiative of Luxemburgisch director Pol Cruchten, it was intended to focus on his amicable bond with Sissako, with the latter functioning as a "marabout" (a kind of holy hermit) figure. But when, in 2019, Cruchten suddenly died during pre-production, Maltese — whose fifth feature-length documentary this is —took over the reins.


What results is a film made up of presences and absences; Cruchten is mentioned frequently in Maltese's ruminative, poetic narration, and becomes a kind of guiding spirit for the enterprise. Sissako, meanwhile, is always one step ahead of his pursuer, leaving gently encouraging voice and text messages (the latter of which pop up somewhat incongruously on screen, Hollywood-style) promising an imminent rendezvous that never quite comes to pass. 


This outcome is entirely appropriate, given that Sissako is of the planet's most elusive major filmmakers: his output (including 2002's Waiting For Happiness and 2006's Bamako) is a small one; he has completed just one feature-length work, Timbuktu (2014), in the last decade and a half.


The realisation eventually dawns upon Maltese that he is engaged on an exquisite form of wild goose chase, albeit one with gloriously ample compensations in that it forces him to traverse Mauritania and discover people and places he would never otherwise have met.


These discoveries are rendered via a range of widescreen camera techniques, from hand-held to Steadicam to drone-work (the latter executed in collaboration with Sidi Mohamed Cheiguer Jr). Working as his own cinematographer, Maltese displays a veteran's eye for effective composition; colour-correction by Kim El Ouardi is the finishing touch to a work of consistent visual splendour.


The disparate footage, seemingly encompassing all of Mauritania's underappreciated diversity, is cut together by the experienced Qutaiba Barhamji into a free-flowing, impressionistic 78 minutes punctuated with some remarkable interludes, including the sight of the white-glowing crescent moon visible over the Mauritanian capital Nouakchott.
The cumulative aesthetic impact can be overwhelming, even if the poetic impulse — echoing sound-effects, touches of slow-motion — is, like Emre Sevindik's near-incessant score, sometimes laid on just a little thick, especially in the latter stages. In addition, the fact that the ordinary Mauritanians are often seen but seldom heard, amid extensive voice-over in the language of the country's colonisers (French), creates a certain distance between the filmmaker and the filmed. 


Maltese's images can sometimes veer towards a familiar, National Geographic or photography-magazine approach towards exotic locales, with villagers and farmers staring cautiously into his lens as they hold still poses (he speaks of the "wise gaze" of elders).
 He does mention encounters with the Mauritanians ("the exchanges nourished me"), and there is a conversation with an aged villager accustomed to living without electricity, running water and medical attention which sketches a decidedly tough existence in just a few lines: "Not just anyone can live here… we heal ourselves with fire, we heal ourselves with knives." 


It could be that Maltese's decision to exclude so many such encounters from the film is the result of privacy-respecting tact, a deliberate separation of his art from his human interaction. Cinema may be able to quickly capture landscapes with immersive, transcendent clarity (this film does demand the big-screen experience); but can any extract really do justice to a single conversation among kindred spirits?


One also senses an ongoing desire to retain Sissako as the absent focus of The Invitation: while never seen, he features intermittently on the soundtrack, issuing philosophical statements and apercus that carry a certain aura of ex cathedra majesty. "When you look for someone," he intones at one point, "the quest to find the other is always a quest to find oneself, always." By no means the first serious, top-drawer filmmaker to understand and emphasise the power of evasive mystique, Sissako becomes to Maltese what Jean-Luc Godard was to Agnes Varda at the end of Faces, Places (2017): a sly chimera, forever gone with the wind.


Production companies: Red Lion, Joli Rideau Media
International sales: Joli Rideau Media, jrm@fabriziomaltese.com
Producers: Jeanne Geiben, Fabrizio Maltese
Screenplay: Stephan Roelants, Fabrizio Maltese, based on an idea by
Editing: Qutaiba Barhamji
Cinematography: Fabrizio Maltese
Music: Emre Sevindik