A brooding father-son relationship is explored with bone dry humour and playful visuals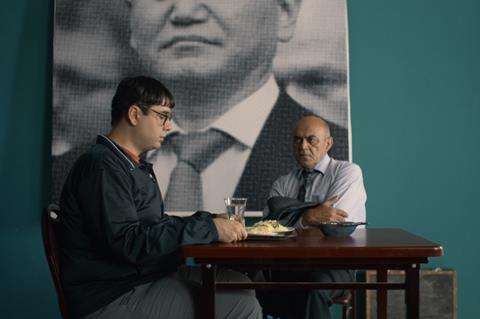 Dir. Ru Hasanov. Azerbaijan/France. 2020. 79 Mins.
Burly, inscrutable and taciturn, Seymour Tahirbekov (Orkhan Ata) lets his chess playing and his father speak for him. Not that he has much choice in the matter. Tahirbekov senior (Khanlar to his friends, if he had any) is a hectoring, overbearing bully who dominates his son's life. This study of a father-son relationship at snapping point is compellingly textured, up until the point where Seymour breaks out from under the yoke of parental expectation and hides out on a largely deserted island. There the character finds himself, but the film rather loses momentum.
Hasanov uses colour to pleasing effect.
The second feature film from Azerbaijan-born Ru Hasanov (his first, Chameleon, was co-directed with Elvin Adigozel and premiered in Locarno 2013), The Island Within premieres in competition in the Sarajevo Film Festival, which switched from a physical to a digital-only incarnation just over a week before the event was due to commence. With its brooding pacing and occasional flashes of bone dry humour, this is the kind of film which is tailor-made for the festival circuit and will likely be hit hard by the impact of the pandemic on the smaller European events which would normally have provided the picture with its natural home. A life on a curated arthouse streaming platform is not out of the question but the film's strong points – in particular its playfully symbolic visual sense and expressive use of colour – are those which might be best appreciated on a big screen.
The film opens with digital home video footage of a family gathering to celebrate the circumcision of the young Seymour. Khanlar (Vidadi Hasanov) gives a speech, hailing a "joyful day" then proceeds to oversee the procedure. "Stop crying!" he barks at the child. "Men don't cry." We rejoin Seymour as an adult, and it becomes clear that his father has brow-beaten pretty much everything resembling an emotion out of him. He pierces his own ear, gazing impassively at his throbbing lobe.
A photo shoot to accompany a newspaper article titled "Seymour: A chess master for the post computer age" is temporarily derailed when Khanlar shoulders in and declares that the prop, a model knight chess piece, is too small and thus insufficiently masculine. Lit to deepen the displeasure that is etched into his face, Khanlar is all short fuse and self-importance. A terrific shot later in the film of Khanlar scowling as he wrestles with the problem of his now missing son creates a teasing visual harmony between the geometric pattern of the sofa upholstery and Khanlar's deeply carved frown lines.
Seymour, meanwhile, is disconnected from the world around him. His team assumes that his mind is on the game – he is a serious contender in a world chess tournament – but it's equally likely that he has just learned to tune out Khanlar's goading. With a character this blankly inexpressive, the filmmakers must find other ways for the audience to understand him. Hasanov uses colour to pleasing effect. A scene between Seymour and his elderly grandfather (Khanlar has stomped off to take care of business) drapes both in similar coloured blankets, establishing a kinship and explaining why his grandfather's story, of a peninsula which became an island, becomes the focus of Seymour's plans to escape.
And escape he does, to a wilderness inhabited by wild horses, cows and a man who is, if anything, even less talkative than he is. And while we cheer for Seymour's act of rebellion, the absence of the toxic frisson of Khanlar's sheer unpleasantness makes for an underpowered final act.
Production Company: Coyote, Arizona Productions
International sales: Arizona Productions benedicte@arizonafilms.net
Producers: Ru Hasanov, Kamal Hasanov, Rufat Hasanov, Mushfig Hatamov, Guillaume De Seille
Cinematography: Orkhan Abbasoff
Screenwriter: Ru Hasanov
Editor: Ru Hasanov, Orkhan Abbasoff
Production Design: Elturan Mammadov
Music: Katya Yonder, Farhad Farzali
Main cast: Orkhan Ata, Vidadi Hasanov, Rafig Azimov, Elvin Adigozel, Leyla Madatkhanova, Gurban Ismayilov