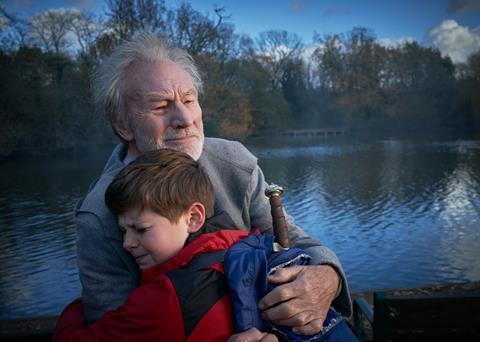 Dir/scr. Joe Cornish. UK/US. 2019. 120 mins.
A modern-day Excalibur fantasy which ruminates broadly on the importance of hope and unity in Brexit-era Britain, Joe Cornish's follow up to cult hit Attack the Block swaps alien invasions for Arthurian escapades and delivers another lively, adventurous underdog story. Arriving eight years after the writer/director's first film, with which it shares an upbeat energy and easy charm, The Kid Who Would Be King skews younger, and it should win delighted fans amongst its intended demographic.
An earnest, entertaining and imaginative old-meets-new adventure
Bowing in Australia on January 17 before the US on January 25 and the UK on February 15, The Kid Who Would Be King is clearly inspired not only by stories of the Knights of the Round Table, but also by the Amblin-produced quests that lit up the silver screen in Cornish's formative years. It's the type of film that cheering kids will want to re-watch, re-live and play-act, bearing well for post-theatrical streaming and home-release prospects.
Taking cues from Spielberg and '80s fare is hardly unique, as Super 8 and Stranger Things keep demonstrating; however Cornish's feature directs its nostalgic flavour towards its primary audience. Adults will smile at elements from The Goonies and E.T. the Extra-Terrestrial, and at Electric Wave Bureau's synth score, but references to Harry Potter and Game of Thrones are just as prominent. When dutiful sidekick Bedders (Dean Chaumoo) tells protagonist Alex (Louis Ashbourne Serkis) that they're akin to Frodo and Samwise, Han and Chewbacca, and Shrek and Donkey, the movie cleverly aligns with today's youthful viewers over yesterday's kids turned retro-loving adults.
A polite 12 year-old Londoner with a doting mother (Denise Gough) and absent father, Alex first plays the hero by saving Bedders from older bullies Kaye (Rhianna Doris) and Lance (Tom Taylor). The next time Alex intersects with his tormentors they're at a construction site, where he stumbles upon a sword in stone (or, more accurately, in a broken concrete pylon). Courtesy of an animated introduction-cum-Arthurian primer, audiences young and old know where the narrative is headed from there.
As if classic The Sword In The Stone was given the Son Of Rambow treatment, King sets Alex, Bedders and company on a journey to wield Excalibur to save the nation. Their threat comes via King Arthur's resurgent, power-hungry half-sister Morgana (Rebecca Ferguson), while wise wizarding counsel arrives from Merlin — mostly as a wildly gesturing 16 year-old (Angus Imrie), sometimes as an owl, and occasionally appearing as a Led Zeppelin t-shirt-wearing Patrick Stewart. A trip to Cornwall and back via Stonehenge sparks a series of episodic jaunts, spanning street chases, training sequences with sentient trees, battles against fiery skeleton horsemen and multiple rendezvous with the Lady of the Lake as the intrepid group learns to band together for the common good.
With modest, well-deployed CGI, plus Bill Pope on lensing duties, King hits above its budget visually, with Cornish building an engaging world that proves both smartly thought-out and straightforward enough for its young audience. And if the movie's questing and fighting sequences hew close to The Lord of the Rings, that feels by design — and incredibly apt given its star's father is Andy Serkis, who embodied Gollum so memorably.
Young Serkis is a likeable, relatable lead who capably embodies the movie's central message: that in bleak, divisive times, everyone can be a hero, make an impact and spawn their own myths. In this earnest, entertaining and imaginative old-meets-new adventure, that statement has room for the scene-stealing flair of Imrie — son of Celia, and King's obvious standout — while also giving the rest of the adolescent cast their moments.
Production companies: Working Title Films, Big Talk Pictures
International distribution: 20th Century Fox
Producers: Tim Bevan, Eric Fellner, Nira Park
Cinematography: Bill Pope
Editing: Jonathan Amos, Paul Machliss
Music: Electric Wave Bureau
Production design: Marcus Rowland
Main cast: Louis Ashbourne Serkis, Dean Chaumoo, Tom Taylor, Rhianna Dorris, Angus Imrie, Patrick Stewart, Denise Gough, Rebecca Ferguson