Timothée Chalamet stars as King Henry V in David Michôd's revisionist historical epic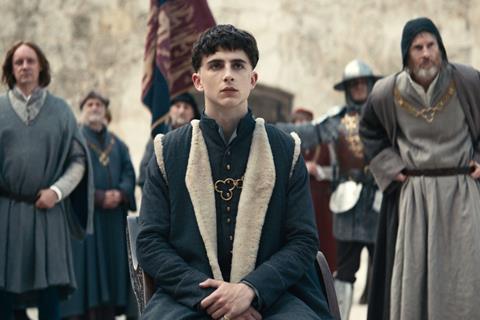 Dir. David Michôd. US/Australia. 2019. 133mins
Forget all your well-learned Shakespearean lore – the Bard's familiar characterisations and conceptions of history, together with his language, have been comprehensively junked in David Michôd's The King. This is a revisionist take on the story of Prince Hal, the slacker tyro who radically cleaned up his no-goodnik act (and, per the Bard, it was an act) to become King Henry V, deathless figurehead of English triumph in battle. Flouting the nobility-of-war theme of the History Plays, and the iconic dimension that made Laurence Olivier's 1944 Henry V a rallying post for the British war effort in World War Two, Michôd's film is a determinedly solemn and violent affair, which makes a sober political point at the end – but not before it has treated us to two hours of bleakly realistic historical reconstruction and some lugubrious drama.
Overall, the determinedly deglamorising intent makes it a rather dispiriting visual experience
The King is dreary miles away from the imaginative sharpness of Michôd's career-making Animal Kingdom, or even his overwrought but vivid Australian futurescape The Rover. Whether or not viewers will head for this lavish Netflix offering will depend largely on the figurehead appeal of Timothée Chalamet, although his somewhat one-note performance suggests that he isn't yet up to carrying a project of this dimension.
There are two significant surprises in this version of the story. One is that we see little of Hal as the hedonistic ne'er-do-well whose volte-face transformation – after much dissolute carousing – makes him such a bracing shock to the nation once he dons the crown. Although we first see him dozing abed like a rock star recovering from a heavy after-party, this prince is determined and battle-ready for the start; eager to go mano a mano with Hotspur, rebel foe of his father Henry IV (Ben Mendelsohn).
The other surprise is this film's Falstaff, miles from the roisteringly theatrical windbag we're used to (and so memorably incarnated by Orson Welles in Chimes at Midnight). This Sir John, played with winning gravitas and a Northern accent by the film's co-writer Joel Edgerton, is more like a slightly boozy but very capable football manager; a man of few words and a canny strategist who, instead of being rejected by young Henry (the famously pathetic "Old man, I know thee not") is instead enlisted by him to play advisor and eventually war hero at Agincourt.
Large stretches of the film are steeped in glowering solemnity. Men stand arms crossed, or stooped with hands on backs, pondering the wisdom of taking up arms. Henry, set up as a young opponent of war who'd rather fight an enemy in person than sacrifice unnecessary lives, nevertheless emerges as a ruthless leader who'll instantly decapitate his cousin if he feels betrayed. Matters come to a head after an insult from the French Dauphin and evidence of an assassination plot, and Henry leads a battle force into France – and this is where the film finally comes to life.
After an altogether ludicrous turn by Robert Pattinson as a sneering, foppish Dauphin – his accent very much in the "do-you-'ave-a-rheum?" tradition – the battle begins, and it's a thunderous affair, an orgy of mud, blood and clashing metal, more like a massive rugby scrum than the glorious, glowing spectacle of Olivier's film. Fans of large-scale screen combat and military history will get a huge kick from seeing battle staged in the old cinematic grand style, and presumably with considerable accuracy.
This is the only time, however, when the film truly comes alive. Overall, the determinedly de-glamorising intent (there's no truck with the knowing, arty anachronisms of recent dramas such as Mary, Queen of Scots) makes it a rather dispiriting visual experience, DoP Adam Arkapaw and designer Fiona Crombie cloaking castle exteriors in sombre shades of grey, interiors in oppressively acidic torchlight yellow.
Chalamet scowlingly hints at a slow-burning inner violence, but he doesn't have enough variety to his facial and vocal repertoire to make his character really breathe, either as Henry or Hal. Alongside Sean Harris, in grizzled elder statesman mode as William, the cast member who emerges with most credit is Edgerton, as a gentler, less clownish Falstaff than usual. And in a very male film, Lily-Rose Depp has a featured moment as the French princess laying down her own rules to Henry, while Tara Fitzgerald stands out in a peppery role that roughly approximates to Shakespeare's tavern queen Mistress Quickly.
As for the script, Michôd and Edgerton deserve credit for a literate, unashamedly wordy but well-crafted creation that manages at once to bypass standard-issue fustian while having fun with eccentric verbal tweaks: 'Megiddo' (for 'Armageddon'), 'schloss', 'timorous slithering', 'the canker of Lollardy'. There's also an intriguing last-minute turnaround in a coda that introduces more contemporary political anxieties, touching on the manipulation of facts and patriotic feelings in the pursuance of ignoble interests. If only the film were livelier, one might almost leap at the chance to read it as a Brexit parable.
Production companies: Plan B Entertainment, Porchlight Films, Yoki Inc, Blue-Tongue Films, Netflix
Producers: Brad Pitt, Dede Gardner, Jeremy Kleiner, Liz Watts, David Michôd, Joel Edgerton
Screenplay: David Michôd, Joel Edgerton
Cinematography: Adam Arkapaw
Editor: Peter Sciberras
Production design: Fiona Crombie
Music: Nicholas Britell
Main cast: Timothée Chalamet, Joel Edgerton, Sean Harris, Robert Pattinson, Ben Mendelsohn