A sexually repressed divorcee has her passion ignited by a free-spirited chef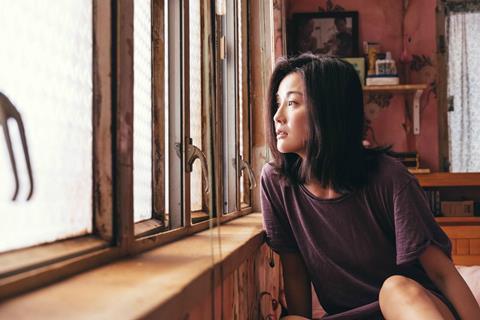 Dir: Tsang Tsui-shan. Hong Kong. 2019. 90mins
The Lady Improper is the softly lensed story of a young Hong Kong woman's journey towards sexual liberation — although appropriately for a city so famous for its food, the film's culinary sequences come the closest to real titillation. Part of the Hong Kong government's efforts to resuscitate the ailing local industry through its Film Production Grant project, this feature from Tsang Tsui-shan (Big Blue Lake) may strike a chord with local and Asian audiences, although its Eat Pray Love elements will be familiar in the West. A poignant undertow of going back to basics — eating locally sourced food in Hong Kong using old family recipes — is The Lady Improper's key comfort ingredient for local audiences stuck, like the characters, between the past and an unknown future. That slow-simmering nostalgia, coupled with a delicate performance from Charlene Choi in a tricky role should pique interest.
The Lady Improper is certainly never less than sincere and that honesty rings through
The rather frail shoulders of Choi's buttoned-down Siu Man carry Tsang's entire film; nothing here will work if audiences do not invest in her. The daughter of a failing old-time chef (charismatic veteran actor Lau Wing), the inert and unhappy Siu Man is sexually repressed to the point of being physically unable to make love with husband Kuen, who has left her. Opening sequences see her begging him for a second chance, brandishing a light-up dildo that unfortunately falls from her purse and starts to work overtime during a birthday dinner for Siu Man's dad.
The Lady Improper's weakest element is its demand that audiences accept Siu Man's reclusiveness — she wears a face mask to further shut out the world — without providing a reason why she should be quite so sexually damaged. Still, once hunky chef Jihao (Wu Kang Jen) joins her father's failing 'dai pai dong' and starts to recreate the restaurant's signature chilli oil, not to mention Hakka-style pork belly and stewed tofu using organic ingredients, the scene seems set for a sexual awakening.
Jihao's sensual handling of the vegetables overcomes his shortcomings: a wandering eye, mid-calf wellington boots, a plastic hairband, and a distressing tendency to smoke over the food. Soon enough, Siu Man is getting a roasting over a hot stove herself. Perhaps more interestingly, her path to freedom only really begins here; a touch of voyeurism is followed by a decision to learn how to pole dance. A repressed lady who has previously worn oatmeal-coloured smocks suddenly starts to eye up spandex panties and hooker heels. It's certainly a leap, and not just around a pole.
Apparently based on a true story, The Lady Improper is certainly never less than sincere and that honesty rings through, past a heavy-handed piano score through to an end-credit belter that is surely set to resound around the karaoke bars of Hong Kong before long. Sympathetically lensed throughout, moving from leached colours of Siu Man's daily life to the fiery warmth of her father's kitchen, this film also boasts some attractive Hong Kong exteriors.
Production companies Emperor Motion Pictures, River Vision
International sales: Emperor Motion Pictures, enquiry.emp@emperorgroup.com
Producers: Polly Yeung, Jason Siu
Screenplay: Link Sng, Tsang Tsui-shan from a story by Anna Lai
Cinematography: Jam Yau
Editing: Shan Hang
Production design: Silver Cheung
Music: Masamichi Shigeno
Main cast: Charlene Choi, Wu Kang Jen, Lau Wing, Tai Bo