Dir: Ed Gass-Donnelly. US. 2013. 88mins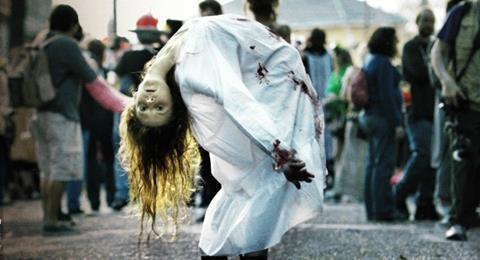 Somewhere deep inside The Last Exorcism Part II may lurk an intriguing idea for a character-based horror movie follow-up, but it never manages to quite tease it out. Ditching both the mock-doc framework of the original 2010 possession film (which was inventive but undone by some thunderously stupid editorial choices in the third act), as well as its flashes of dark humor, this technically efficient but wholly pointless follow-up fails to expand on its mooring mythology in as compelling a fashion as in something like the Saw and Paranormal Activity franchises.
Absent the relative resourcefulness of its predecessor, this effort feels like an off-key cover tune.
Powered by a savvy ad campaign and a $20 million opening weekend, The Last Exorcism eventually pulled in $41 million domestically and another $26.7 million abroad — more than 30 times its production budget. Accountant projections no doubt gerrymandered a financial recoupment for this effort, but genre fans beguiled by the original movie are unlikely to supply it the affection and word-of-mouth necessary to deliver anything approaching those previous box office totals.
Picking up months after the first film left off, this movie finds rural Louisiana teenager Nell Sweetzer (Ashley Bell) the lone, terrified survivor of a Satanic ritual in which she seemingly birthed the child of a demonic spirit known as Abalam. With most of her memories of the past several months erased, Nell is transferred to a girls' home where she's watched over by caretaker Frank Merle (Muse Watson). She starts to psychologically mend, making friends with Gwen (Julia Garner) and even nursing a crush on a guy, Chris (Spencer Treat Clark). Soon, however, Nell's beset by unsettling hallucinations, including visions of her dead father (Louis Herthum). Convinced there's still a piece of Abalam left inside her, she agrees to submit to another exorcism.
Taking over from Daniel Stamm, director Ed Gass-Donnelly trades in subdued methodology for much of the movie's running time, with out-of-focus background elements and long takes. In terms of creating little pockets of mood, this approach intermittently works.
But whereas The Last Exorcism had easily recognisable undercurrents of faith, doubt and burgeoning sexuality to match the white-hot urgency of its telling, this sequel chucks those in favor of extraordinarily clichéd foreboding and, finally, a frenzied and desultory final act.
Part of this obviously has to do with the conceit; there isn't the is-she-or-isn't-she uncertainty of the first film with regards to Nell's possession. But the supporting characterisations here never amount to much, and the sequel-friendly denouement feels cheap and under-explored.
Ergo, lacking much in the way of narrative invention and honestly built tension, Gass-Donnelly instead just decides to cash out on the premise in an orgiastic display of jump-scares (he also edited the movie) and clamorous aural cues, the latter abetted by composer Michael Wandmacher.
With her severe countenance, Bell's performance is also marked by look-at-me intensity; even her moments of vulnerability and relief seem laboriously constructed and telegraphed. Mostly, though, The Last Exorcism Part II is a failure of storytelling. Absent the relative resourcefulness of its predecessor, this effort feels like an off-key cover tune.
Production companies: Strike Entertainment, StudioCanal, Anton Capital Entertainment, Arcade Pictures
Domestic distribution: CBS Films
Executive producers: Gabrielle Neimand, Patty Long, Olivier Courson, Ron Halpern
Producers: Eric Newman, Eli Roth, Marc Abraham, Thomas Bliss
Screenplay: Damien Chazelle and Ed Gass-Donnelly, based on a story by Damien Chazelle and characters created by Huck Botko & Andrew Gurland
Cinematography: Brendan Steacy
Editor: Ed Gass-Donnelly
Production designer: Merideth Boswell
Music: Michael Wandmacher
Website: www.TheLastExorcism2.com
Main cast: Ashley Bell, Muse Watson, Julia Garner, Spencer Treat Clark, Louis Herthum, David Jensen