Dir: Chen Hung-i. Taiwan, 2017, 107 mins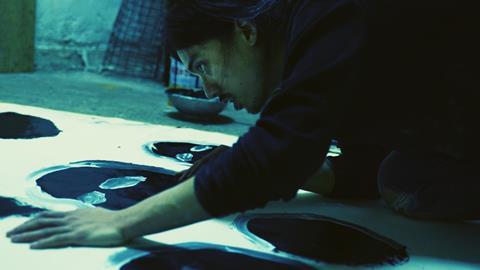 A torrid but intelligently offbeat hybrid, Taipei-set murder mystery The Last Painting vaguely resembles a collaboration between Brian De Palma and Peter Greenaway, if they happened to have recent Taiwanese politics high on their conceptual agenda. At moments graphically grisly, at others sexually raunchy, the film by Chen Hung-i (2008's Candy Rain, 2014's Design 7 Love) has a distinct touch of 80s erotic thriller, with a complex, sometimes confusing storyline. But it's crammed with enough ideas to fuel a whole Film Studies course on Genre and Gender, with a glamorous sheen that could take it onto a wider canvas than the Asian distribution scene.
It's strange that a film which overtly flies the flag for female empowerment is nevertheless built on that traditional MacGuffin of the patriarchal thriller, a woman's dead body of a woman as lurid objet trouvé.
The film starts on January 16 2016, the day of Taiwan's presidential elections (won by the Democratic Progressive Party and female leader Tsai Ing-wen). Police cluster at a crime scene - an artist's flat where a dead woman is found aesthetically daubed with paint, in the manner of an expressionist canvas, with her eyeballs removed.
The narrative then skips back four months to find the victim – an eager young student named Yang Chieh (Chang Ning) - arriving at the flat with her best friend, lingerie store assistant Nana (at first sight a ditzy good-time girl, later revealed as a transgender woman with issues, played by trans singing star Kiwebaby). The daughter of a rich family now determined to stand alone, Yang Chieh is moving in as flatmate to moody, long-haired male artist Jhong Jiang Ze (J.C. Lin). They don't remotely click, Yang Chieh quickly arousing the enmity of Jhong's cooler-than-thou girlfriend San San (Lin Wei Yi), with whom the artist enjoys loud nocturnal sex sessions.
But before long, the idealistic Yang Chieh discovers that Jhong's political history makes them natural allies: he was previously an activist, driven mad by his mistreatment by the authorities. Yang Chieh helps him regain his political mojo, influencing his return to politically angry canvases. Meanwhile, she seems on the verge of a strong connection with a smooth, fast-rising political candidate whom she idolises – but his motives prove to be disappointingly base. A narrative left turn seems to take the story way off course, but in fact Chen Hung-i closes the flashback circle in a way that's adroit, if not altogether dramatically satisfying.
For non-locals, the specific references to recent political events can be confusing, but the narrative essentially boils down to this: an energetic young feminist following her beliefs, tangling with other characters' traumas, and eventually coming a cropper. Yang Chieh's victim status makes for a contradictory narrative, given that she's essentially martyred for her beliefs – and it's strange that a film which overtly flies the flag for female empowerment is nevertheless built on that traditional MacGuffin of the patriarchal thriller, a woman's dead body of a woman as lurid objet trouvé. While the film is appealing in its use of a heroine who's not always sympathetic, at times rebarbatively priggish, the thing that's hardest to accept in Yang Chieh's character is her out-and-out dismissal of Jhong's more tormented work and her insistence that politic art is where it's at.
In fact, The Last Painting itself seems to stand for an artier form of expressionism, with the film structured around a series of chapter headings – relating to seven paintings by Jhong, each of which comes vividly alive with brushstrokes in 3D seeming to float off the screen. Yu Jing Ping's cinematography offers some smart chromatic twists, with the film's framing sequences being bled almost to monochrome, with touches of pastel. Among the cast, the strongest impressions are made by Lin Wei Yi as urbane vamp San San, and by Kiwebaby, who gives Nana the whole range from hedonist goofiness to agonised self-doubt – although the latter register involves some uncomfortable stereotyping.
The paintings themselves are by a real Taiwanese artist Jhong Jiang Ze, with whom the fictional painter confusingly shares a name - presumably by way of tribute. Elegantly minimalist string music by neo-chamber ensemble Cicada both sets the tone and breaks the fourth wall, with musicians sometimes making unexpected onscreen appearances.
Production companies: Swallow Wings Films, Red Society Films, TWR Entertainment, B'in Music
International sales: Wide Management, infos@widemanagement.com
Producers: Wei Ying-chuan, Gene Yao, Terrisa Chen
Screenplay: Chen Hung-i
Cinematography: Yu Jing Ping
Production designer: Huang Mei Ching, Liu Jeng Feng, Liang Shuo Lin
Editor: Chen Hung-i
Music: Jesy Chiang, Cicada, Ann Bai
Main cast: J.C. Lin, Chang Ning, Kiwebaby, Lin Wei-yi