Dirs: Alastair Fothergill, Keith Scholey. US. 2014. 78mins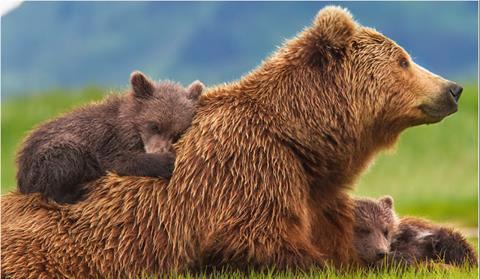 A tension between emotion and education again manifests in Bears, the fifth theatrical nature documentary release via a specialty arm of distributor Disney, who has carved out a nice niche pegged to annual Earth Day celebrations. Extraordinarily intimate and engaging throughout, co-directors Alastair Fothergill and Keith Scholey's stirringly captured movie unlocks a sincere sense of awe and reverence within viewers' hearts, even as it frustrates an audience looking for a bit more.
Bears showcases the work of nature documentarians who have a polished sense of how to shape an emotionally ripe narrative.
The first two DisneyNature releases, the broad-spectrum Earth and Oceans, grossed $109 and $83 million worldwide, respectively, while follow-ups African Cats and Chimpanzee received less of a push, and only pulled in $30-35 million, with far less of that business coming from overseas. Lacking the cutesy, pandering framing device of the sort found in December's Walking With Dinosaurs, which pulled in almost three-quarters of its $126 million box office receipts internationally, Bears should raid filmgoers' wallets for respectable but low eight-figure theatrical grosses in line with DisneyNature's last two offerings. Multi-generational shelf life, however, will give the movie strong and sustained ancillary value.
Narrated by John C. Reilly, Bears follows a family of three brown bears — single mother Sky and her two cubs, Scout and Amber — over the course of most of one year, as they emerge from hibernation in Alaska's Katmai National Park and Preserve. As they make their way down a mountain and toward the streams and meadows that provide sustenance, Sky's cubs learn that the world outside is exciting, but also full of danger — even for animals as big as bears.
Fothergill, the maestro of the DisneyNature series and executive producer of the BBC series The Blue Planet and Planet Earth, previously collaborated with Scholey on African Cats, and Bears shares some of same fuzzy voiceover issues of that film, which was narrated in dramatically exaggerated fashion by Samuel L. Jackson. Reilly has an immensely appealing timbre, but he alternates here between in-character asides, jokey first-person observational patter ("This guy looks like dad when he's watching television") and more generalised reflection, which creates a somewhat confusing tone.
The movie's biggest disappointment, though, again relates to the DisneyNature series' dearth of biological details, a condition which seems to have worsened with each release. While Bears tosses out a couple facts here and there — regarding, for instance, sensitivity of smell, the survival rate of cubs, and the amount of food per day that adult bears can eat, in preparation for a seasonal hibernation — they are distressingly few and far between.
Where is Scout and Amber's father, about which surely children will wonder? And what about bear cannibalism — is it as common as the movie makes it seem? There's also the matter of Scout's more pronounced curiosity and independence, which is contrasted with Amber, but never contextualised. Is there any evidence of gender playing a factor in cub behavior? Giving Bears some additional educational heft, in an effort to play to the head as well as the heart, would require so little effort, that it's disappointing Fothergill and Scholey don't even try.
Otherwise, though, Bears showcases the work of nature documentarians who have a polished sense of how to shape an emotionally ripe narrative. Technically, it's often rapturous, with gorgeous vistas and memorable footage, inclusive of slow-motion shots of bears' clumsy but efficient fishing. And on a more purely demonstrative level, it clicks, because it's about family. Fothergill and Scholey take a page from the book of another creature-based nature film that located seeming similarities to human traits like maternal protection and perseverance, March of the Penguins.
Composer George Fenton's score ably communicates situational menace, as when the rising tide threatens Scout, or wolf Tikaani or fellow bear Chinook show predatory inclinations toward Sky's cubs.
The film's closing credits, meanwhile, also showcase interesting behind-the-scenes footage that spotlights how some of Bears' amazing footage was captured.
Production company: DisneyNature
US distribution: Walt Disney Studios
Producers: Keith Scholey, Adam Chapman
Co-director: Adam Chapman
Music: George Fenton
Website: www.Nature.Disney.com/Bears
Narrator: John C. Reilly