Dir: Pang Ho-Cheung. Hong Kong. 2010. 95 mins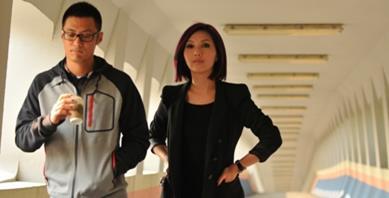 Pang Ho-Cheung, the man behind Hong Kong festival favourites Isabella and Exodus, returns with an achingly romantic comic two-hander crackling with pithy dialogue and witty observations on contemporary dating. The story of a couple who meet smoking behind the building where they both work and the first week of their burgeoning romance over cigarettes, Love In A Puff is set in a Hong Kong we rarely see: a fiercely modern cosmopolis where twenty and thirtysomethings work and socialise, smoke and drink, flirt and date around the city's streets, bars and coffee shops.
It is so charming, intelligently executed and universal in its themes that it deserves to score wide arthouse sales.
Reminiscent of Richard Linklater's Before Sunrise and Before Sunset with doffs of the cap to Woody Allen and Eric Rohmer, the film nevertheless has a unique flavour from its gleefully un-PC focus on smoking to a cheerfully vulgar streak. Opening this weekend (March 25) in Hong Kong after a world premiere at the Hong Kong International Film Festival, it should be a popular local title. And even though many local references and in-jokes will fly over the heads of international audiences (this reviewer included) it is so charming, intelligently executed and universal in its themes that it deserves to score wide arthouse sales.
Any smoker, former or current, will relate to its portrait of young men and woman huddled in alleyways and outside restaurants bonding over their shared addiction for nicotine. The film is set in February 2009, just days before cigarette prices shot through the roof, but two years after the Hong Kong Health Authority imposed a ban on smoking in any inside area.
In one such huddle in an alley behind a cluster of commercial buildings gathers a bunch of smokers including Cherie (Yeung), a young woman who works as a salesgirl in a Sephora branch, and Jimmy (Yue), an advertising executive in his twenties. Although they have never met before, the two bond quickly over tall takes and gossip.
Over the following days, they text and meet each other with increasing frequency as a clear attraction develops between them. Bored at a friend's birthday party, Cherie, dressed as a 1980s Madonna, texts Jimmy, who is having hot pot with some friends, and the two go for a walk, ending up doing karaoke at a bar. Another night, Jimmy comes to help Cherie comfort a friend who has been stood up by an internet date.
Cherie, it emerges, is in an ailing relationship, while Jimmy is single, getting over being dumped by his former girlfriend for a Frenchman. By day five, Cherie has moved out of her boyfriend's house but once Jimmy sees how fast it is moving, hesitation sets in.
Pang structures the film as a series of meetings between the two, peppered with some to-camera confessions from the leads and peripheral characters on their romantic experiences. The dialogue between the two leads is effortlessly natural and the two actors have humour and chemistry, especially since Yeung's Cherie is self-conscious about being older than Jimmy.
Yeung, the queen of Hong Kong comedy from films like Lover Undercover and My Lucky Star, and Yue, a versatile actor whose credits include Infernal Affairs II, both display a winning blend of vulnerability and confidence while smoking more cigarettes than have been seen on screen since the French New Wave.
Production company: Making Film
International sales: Media Asia Distribution
Producers: Pang Ho-Cheung, Subi Liang
Executive producer: John Chong
Screenplay: Pang Ho-Cheung, Howard Mak, from an original story by Pang
Cinematography: Jason Kwan
Production designer: Man Lim Chung (production design consultant), Leung Sze Wan (art director)
Editor: Wenders Li
Music: Alan Wong, Janet Wong
Main cast: Miriam Yeung, Shawn Yue, Cheung Tat Ming, Maio Felin, Chui Tien You