Dir/scr Liew Seng Tat. Malaysia-Netherlands-Germany-France. 2014. 93mins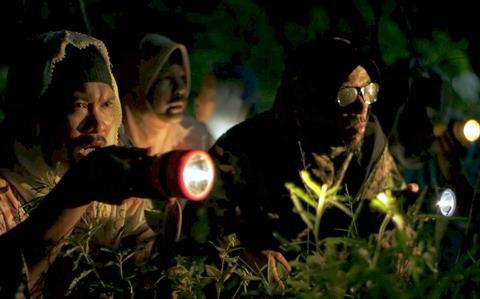 At first look Liew Seng Tat's beautifully shot film Men Who Save The World (Lelaki Harapan Dunia) looks as if will have all the whimsical qualities to pique international interest – Malay villagers think there is a ghost lurking in an abandoned house that they plan to move back to their village – but before long it resorts to broad and unsophisticated comedy devices to that may play well in the home territory but are likely to be unappealing to art house audiences.
The undercurrent of racism is hard to avoid despite some broad attempts at humour.
Initially there are some moments of appealing quirky humour, but then rather bizarrely the film heads into the territory of racism and homophobia (and to say nothing about the fact there are no roles for women, apart from background parts), which is even more strange given that the film has been made with the support of the likes of the Sundance Institute Feature Film Program, Torino Film Lab, Hubert Bals Fund, Netherlands Film Fund, World Cinema Fund and Vision Sud Est…all of whom one would assume would not favour the blatant lack of taste on show here.
The initial set up is quite engaging. In a quiet Malay village, locals (well, the men) want to help Pak Awang (Wan Hanafi Su) physically carry an abandoned house from the jungle to the village as a gift for his daughter who is getting married. House moving in this way is a common tradition in rural Malay villages, with stilt houses carried thanks to bamboo shafts under the building on the shoulders of any villagers.
All well and good, but things get complicated when African immigrant Solomon (Khalid Mboyelwa Hussein), on the run from police in Kuala Lumpur takes refuge in the house. Camp gay junkie Wan (Soffi Jikan) passes by the house, sees the shadow of Solomon and reports to villagers at the local mosque that there is a ghost in the house.
Soon panic is rife, and a witch doctor tells them that they are dealing with the devil called 'Oily Man', a black oily figure who hangs around at night ready to rape women. The villagers decide that cross-dressing is the only answer when it comes to a cunning plan to trap the Oily Man, but it all leaves Pak Awang increasingly frustrated as they refuse to move the house while it is haunted.
The undercurrent of racism is hard to avoid despite some broad attempts at humour (cross-dressing villagers etc), especially when there is some 'blacking up' as one character seeks to look like the Oily Man to scare villagers, or when a blind village elder pats Solomon's head and remarks on his metallic hair. It is all rather simplistic stuff and may well appeal to a local audience in terms of its attempt to be a spooky comedy, but it is hard to see why it might appeal to international backers. The fact that there is no strong role for a woman seeks equally odd given the mandate of the funding bodies involved with developing the project.
Production companies: Everything Films, Volya Films, Flying Moon Filmproduktion, Mandra Films
Contact: Sharon Gan, sharongan@yahoo.com
Producer: Sharon Gan
Co-producers: Denis Vaslin, Roshanak Behesht Nedjad, Eric Mabillon
Cinematography: Teoh Gay Hian
Editors: Patrick Minks, Liew Seng Tat
Production designer: Tunku Tommy Mansur
Music: Luka Kuncevic
Main cast: Wan Hanafi Su, Soffu Jikan, Harun Salim Bachik, Jalil Hamid, Azhan Rani, Azman Hassan, Roslan Salleh, Khalid Mboyelwa Hussein