Dir: Richard Loncraine US. 2014. 92mins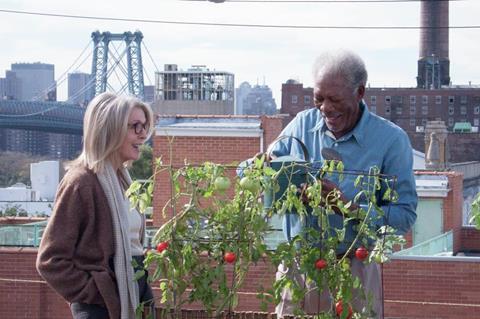 There are three unavoidable realities in New York City – death, taxes and real estate. Ruth & Alex confronts the third of those inevitabilities in today's hipsters' paradise of Brooklyn. Diane Keaton and Morgan Freeman play a couple who pioneered a life in the now-chic borough 40 years ago.
Keaton and Freeman are adequate, but not much more, to a drama that heretofore has been measured in dollars, interest rates and square feet.
Without an elevator, Alex, a painter, struggles to climb the stairs to their apartment, and they face the dreaded prospect of finding a new place to live. Their long farewell, written by Charlie Peters and directed by Richard Loncraine (Wimbledon, Firewall), puts a human face on a real household stuck in New York's real estate frenzy. And there's another face, the couple's ailing terrier. Cue the tears.
Ruth & Alex needs a serious reality check. The couple are relatively lucky, with a flat that could sell for $1 million, plus the film will face another discouraging box office truth - the characters played by Keaton and Freeman are at the high end of the age spectrum, so the audience for their plight is likely to be limited to the same age group.
However, Ruth & Alex could still be a marketer's dream, as a rare effort to put stars in a script about a crisis that's in the news every day. But even in New York's huge media market, the story could end up generating more letters to the editor than ticket sales.
The film also risks the prospect of being filed between Love Is Strange, Ira Sachs's recently released tale of a New York gay couple without a home, and Time Out Of Mind by Owen Moverman (also at TIFF 2014), where Richard Gere plays a homeless man.
In the script by Peters (My One And Only, Two Men And A Little Lady), the couple are goaded into considering a sale by a real estate agent, Ruth's niece (played with loathsome accuracy by Cynthia Nixon). Also feeding the tension is a stalled truck on the bridge to Manhattan that paralyses traffic and hints at an act of terrorism by a man who turns out to have been born in Uzbekistan. If they don't sell right away, prices will plummet, the couple is told.
Fear of terrorism, for all its easy drama, has not been a factor in weakening prices in New York - values in lower Manhattan surged back just months after 9/11 – but the rest of the couple's dilemma is real enough. The screenplay, however, portrays them as such innocents about the housing market that Ruth and Alex seem more clueless than unfortunate.
One achievement of Ruth & Alex clashes with the film's overcharged plot about old folks and overpriced property. Ruth is a white woman. Alex is a black man. Flashbacks to their early days together show family tensions and a neighbour's disdainful look, but the couple in the present is worrying a lot more about lodging than about race. If the bad news about Brooklyn is that it's becoming unaffordable, the good news is that an interracial couple lives with far less prejudice than they felt 40 years before.
Keaton and Freeman are adequate, but not much more, to a drama that heretofore has been measured in dollars, interest rates and square feet. Nixon as the heavy who fuels the price spiral feels like a knife in the gut to anyone who has bought or sold property. But the film falls short of its emotional potential. Failing to measure up to heartbreaking classics about the aged pushed out of their homes by the new – Leo McCarey's Make Way For Tomorrow (1937)and Vittorio de Sica's Umberto D (1952) - Ruth & Alex is mostly real estate lite.
Production companies: Revelations Entertainment, Latitude Entertainment, Manu Propria
International sales: Myriad Pictures, info@myriadpictures.com
Producers: Charlie Peters, Lori McCreary, Curtis Burch, Tracy Mercer
Executive producers: Morgan Freeman, Sam Hoffman, Richard Toussaint, Bob Gass, Judy Burch Gass, Wade Barker, Gary Ellis
Screenplay: Charlie Peters, based on the book by Jill Ciment
Cinematography: Jonathan Freeman
Editor: Andrew Marcus
Production designer: Brian Morris
Music: David Newman
Main cast: Michael Cristofer, Diane Keaton, Morgan Freeman, Cynthia Nixon, Claire van der Boom, Korey Jackson, Carrie Preston, Sterling Jerins, Josh Pais, Miriam Shor