Dir: Gabriele Salvatores. Italy. 2013. 105mins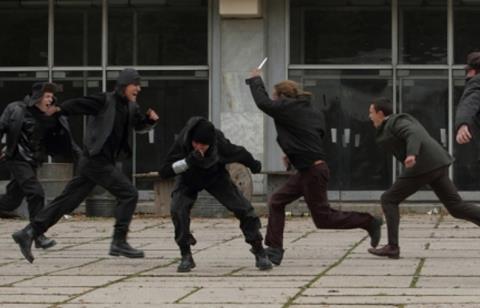 Dishing out the samovar and switchblade clichés with true Slavic generosity, Italian director Gabriele Salvatores' first English language project centres on a community of old-school Siberian criminals with a strict code of honour, and the souring of a friendship between two of its young blood brothers.
For all the slickness of the visual package, the colourful story ingredients never quite add up to a full bowl of borscht.
Adapted from a memoir by Nicolai Lilin which sold well in Italy, where the author has made his home, this ethno-chic tale of honour among thieves never once feels authentic – an impression compounded by the hammy English dialogue. Lush photography, spot-on production design and a quietly convincing lead performance by Lithuanian actor Arnas Fedaravicius help to sweeten the pill.
Wrapped and ready to go last autumn, the film's local release may have been held back in the hope of a Berlinale invitation which never came. Italian distributor 01 has put a brave face on it by putting Siberian Education out on a punchy 350 screens, but reviews have been mixed, and the film is unlikely to achieve the domestic box office success of another recent Italo English-language outing, Giuseppe Tornatore's The Best Offer.
That quirky number's international prospects may be hampered by its theatrical dialogue, but here the problem goes deeper, with certain choice passages in heavily accented Russian likely to provoke hilarity among Anglophone audiences.
The education of the title is that of Kolyma (Fedaravicius as an adult), who grows up in a community of displaced Siberian gangsters in south-west Russia where life is considered sacred – except in the case of policemen, politicians and bankers. Kolyma's moral arbiter in this Russian Sherwood Forest, which indulges Italy's current reaction against its ruling castes, is his steely-eyed grandfather Kuzya (Malkovich, taking his Russian accent from Rounders to new heights).
Grandpa tortures drug dealers but is a real softie in his dovecote; he tells Kolyma parables about wolves, gifts him the switchblade his umbilical cord was cut with, and lets him and best friend Gagarin (Tumalavicus as an adult) practice their blade-work on pig carcasses.
The early scenes of ghetto solidarity and quasi-religious ritual move along engagingly enough in a haze of tattoos, bathhouses, slo-mo dove flights, intricately carved switchblades and Klezmer music. And it has to be said that despite the distractions of his accent, Malkovich invests his bad grandpa – easily the film's most memorable character – with menacing depths. But with the introduction of fragile and not-all-there beauty Xenia (Tomlinson), a capricious child trapped in a young woman's body, a script which seemed to be developing into a broad-canvas Russian criminal education epic, a kind of shamanistic Goodfellas, suddenly becomes a baggy, unoriginal tale of brotherly betrayal.
The historical background (complete with shots of people breaking up the Berlin Wall) is sketched in without much conviction, moving us forward from what we guess is the early eighties up to the end of the nineties, where we find Kolyma serving, surprisingly, as a Russian soldier in Chechenya, for reasons that will become apparent. Scriptwriters Rullo and Petraglia did this kind of rangy, HBO-drama-style plotting much better in The Best Of Youth and Romanzo Criminale; here, for all the slickness of the visual package, the colourful story ingredients never quite add up to a full bowl of borscht.
Production companies: Cattleya, Rai Cinema
International sales: WestEnd Films, www.westendfilms.com
Producers: Riccardo Tozzi, Giovanni Stabilini, Marco Chimenz
Producer: Gina Gardini
Executive producer: Matteo De Laurentiis
Screenplay: Stefano Rulli, Sandro Petraglia, Gabriele Salvatores, based on the novel by Nicolai Lilin
Cinematography: Italo Petriccione
Editor: Massimo Fiocchi
Production designer: Rita Rabassini
Music: Mauro Pagani
Main cast: John Malkovich, Arnas Fedaravicius, Eleanor Tomlinson, Vilius Tumalavicius, Jonas Trukanas, Vitalji Porsnev, Peter Stormare